Description
To make the best beer possible, the brew house is the key. Our Brew house can fulfill various brewing technologies, variable tastes or specific capacities.From 100L-10000L.1HL-100HL,1BBL-100BBL, or even larger for customers.
The beer plant brewhouse system contains 4 functions tanks,which is Mash Tun , Lauter Tun, Brew Kettle, Whirlpool Tank.They can be combined freely,for 10BBL brewhouse, Mash Tun/Kettle+Lauter Tank+Whirlpool tank+Double size hot liquid tank is the common configuration.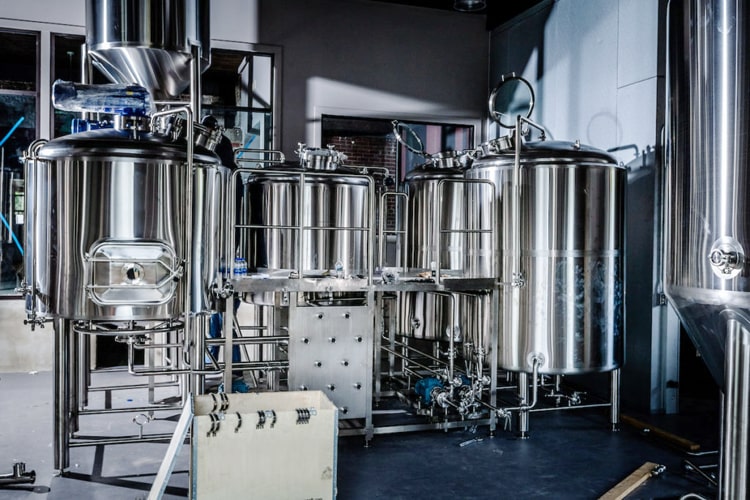 3-vessel beer brewhouse
1.Mash tun-Beer plant brewhouse
The mash tun is a key component of a brewhouse and is where grain, previously cracked in the grain mill, is combined with metered hot water to convert complex starches into more readily-fermentable simple sugars. The mash tun may stand alone or be combined with a lauter tun to create a mash tun/lauter tun combination.

beer mashing
2.Lauter tank-beer plant brewhouse
The Lauter Tun is a key component of a brewhouse and is used to recirculate wort over a grain bed in a clarifying process called vorlauf. Sugars are rinsed and extracted from the grain during the sparge cycle within the lauter tun. Wort being transferred to the brew kettle is lastly separated from grain, generally using a false bottom filter screen in the lauter tun.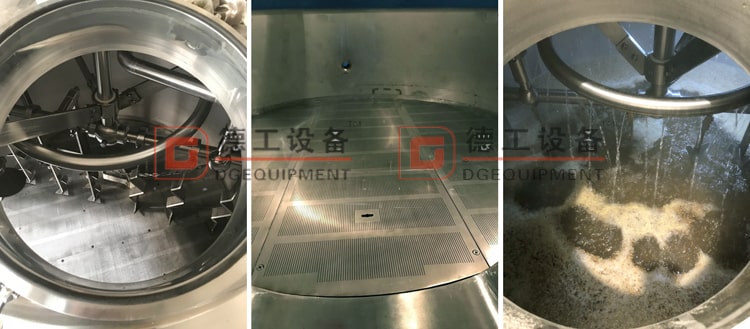 Beer lauter-false bottom
3.Beer boiling kettle-beer plant brewhouse
Brew Kettles, key components of any brewhouse, are where wort is boiled and reduced for approximately 60 to 90 minutes. During boil, initial hop additions are introduced into the brewing process. After boil is complete the wort is whirlpooled to separate unwanted solids from the desired liquid. It is generally recommended that brew kettles be made of stainless steel or some other sturdy, nonreactive material. In addition, brew kettles should be over-sized at a minimum of 40% to reduce the risk of boil-over.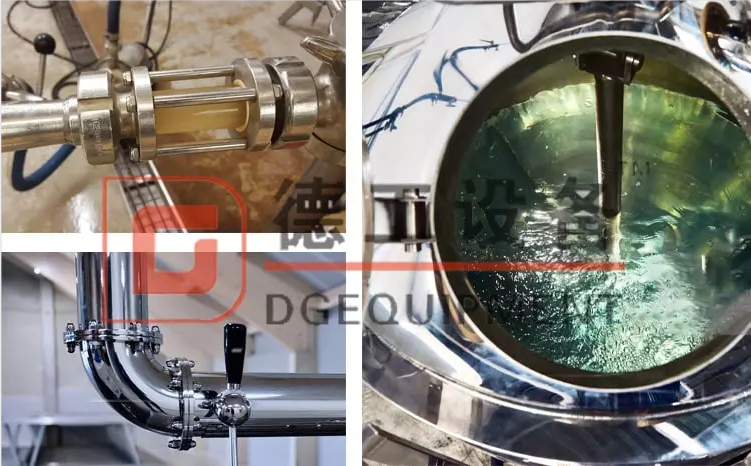 wort boiling
4. Whirlpool tank-beer plant brewhouse
Brewery whirlpools are key components of any brewhouse and are where boiled wort is precisely swirled to precipitate solids to accumulate them in a neat cone called a trub pile. Whirlpooling is the final brewing process before the wort is cooled in a wort chiller and yeast is pitched, initiating fermentation within a fermenter. Benefits of brewery whirlpools include clearer wort, faster cooling, increased hop aroma and flavor, and reduced dimethyl sulfide.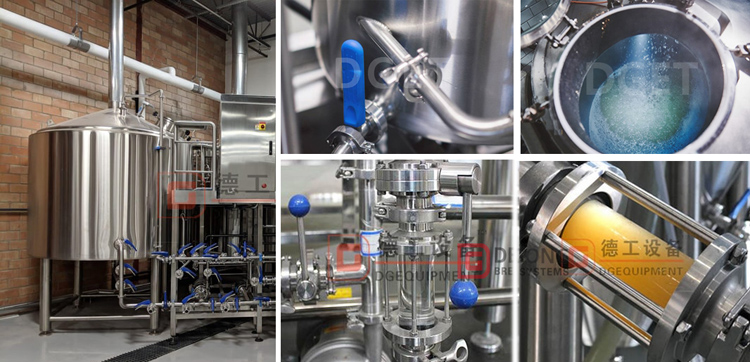 REMARK:The four tanks can be combinede freely according to your requirement,such as mash/lauter tank+boiling/whirlpool tank(For craft brewery equipment),mash/lauter tank+boiling tank+whirlpool tank(For middle size commercial brewery),or mash tank+lauter tank)+boiling tank+whirlpool tank(For large brewery industrial business)
Others:Except brewing tanks,DEGOGN brewhouse also contains hops back,plate heat exchanger with oxygenation device, wort pump,heating device,control panel etc.
Beer brewery equipment features
Two vessel brew house system ( three or four vessel is optional )
Available capacity in 1 – 60bbl systems
Steam heating ( electrical heating & direct fired heating is optional for small system)
100% TIG welded and sanitary polished surface
SUS304 inner shell ( 316 stainless steel inner shell is optional )
304 stainless steel outer cladding ( copper cladding is optional )
304 stainless steel brewing platform and stairs
Motor & reducer on top or at bottom is optional
PLC automatic control or semi-automatic controls
DEGONG information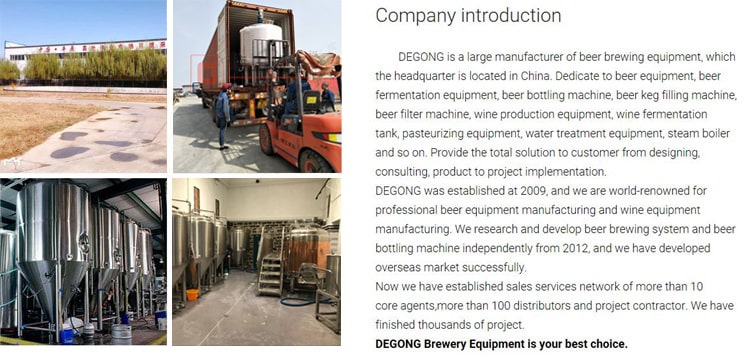 Our beer brewing equipment include malt crushing system, saccharification system, fermentation system, glycol system, CIP cleaning system, controlling system, packaging system and all complete set of bar selling system. We could provide customization service, OEM service. Different type of equipment configuration combination could be made as per customer's requirement.
If you have interest,please get in touch with me freely.