Description
The DEGONG "brewing system for sale" is made of high-quality food grade SUS304 with a high degree of polishing. The welds are polished to a sufficient degree.Heating control with overheat protection system and wort sticking. The heating shirt is thermally insulated with polyurethane foam and covered with an outer sheath of food grade stainless steel.

Beer brewhouse introduction
The brewhouse in the basic configuration consists of four units: the mash tank,lauter tank,wort kettle and whirlpool. The brewhouse can be combined to 2-vessels or 3 vessels or 4 vessels freely.
For 1000L brewing system for sale,3-vessels is a good choice.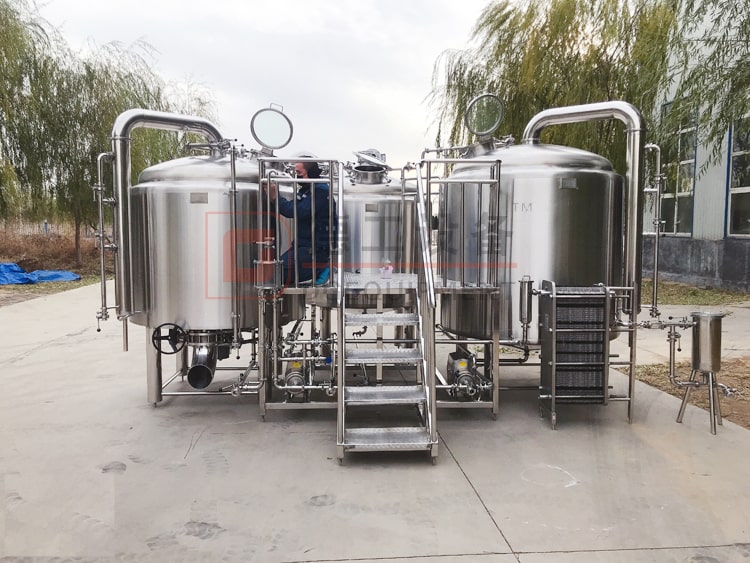 3-vessels steam heating/gas heating/electric heating brewhouse
Mash tun&boiling kettle
The function of the mash tun is for sacharification, so that water-insoluble substances become water-soluble sugars, which can be fermented to obtain alcohol. This tank is a multifunctional tank, which can be used for mashing tank, boiling tank, whirlpool tank, as well as a hot water tank to provide hot water for cleaning the tank.
---
Equipping:    ①Mash mixer with gearmotor  ②steam removal pipe   ③flow-through steam condenser
④Interior lighting   ⑤Glass manway on top   ⑥Light on top  ⑦Temperature sensor   ⑧Two rotary washing heads
⑨Thermal insulation (polyurethane foam)    ⑩two rotating washing balls with connection to a CIP-station
Lauter tank
The function of the lauter tank is to filter out the spent grain to obtain clear wort. The lauter tank has a high-precision filter plate composed of several separate filter plates, which is convenient for disassembly, installation and cleaning. All of our lauter tank has a backwash pipe to prevent clogging of the filter plate.
---
Equipping:  ①false bottom   ②sparging pipe for mash washing  ③gearmotor with grains raker  ④glass manway
⑤lighting inside    ⑥two rotary washing heads with connection to the CIP-station
⑦side hatch for unloading the grain       ⑧Backflush pipe
Whirlpool tank
The function of thewhirlpool tank is to remove some of thermal coagulum produced after boiling. After whirlpool, the thermal solidification will be concentrated at the bottom of the cone. Open the drain valve to drain these impurities. Discharge clean wort from the wort outlet that is higher than the sewage outlet
---
Equipping:  ①Interior lighting  ②One rotary washing head  ③Top glass manway  ④Tangential port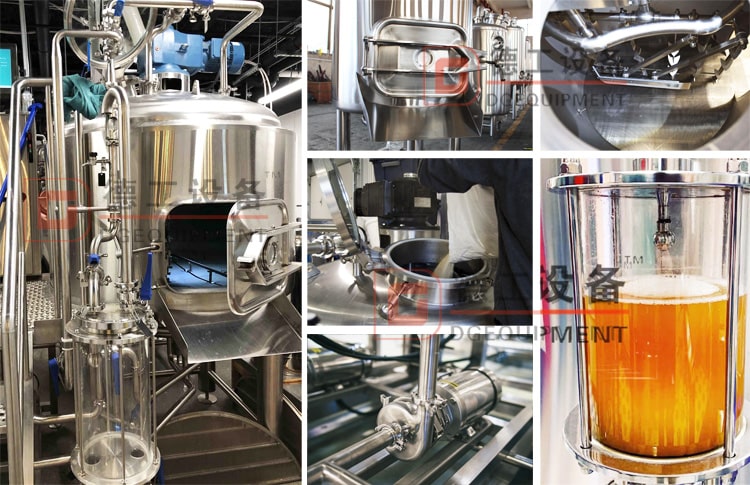 Other Equipping:
Pipeline butterfly valves;
Sight Glass;
Two pump for mash/wort/water
CIP-washing pipelines.
Brewhouse working platform with stairs
Except brewhouse, other systems of the complete brewing system for sale
Grinding System

Malt mill; screw feeder, grain hoppers, grist hydrator

1000L or 2000L Fermentation tanks and bright beer tank. 

Quantity is decided by you

Accessories:Vacuum  valve,hops adding port,CIP pipe,pressure gauge,mechanical regulation valve,sample valve,carbonation stone,temperature sensor,themometer,drain outlet.

Refrigeration System

Glycol water tank,circulate pump,chiller

The cooling capacity is according to the quantity and capacity of fermentation tank and bright beer tank.

CIP system

Alkali tank,sterilization tank and pump

Control System

 PLC control box

Others

Can also supply auto filling system, capping system, filtering system, water treatment system,  pasteurizer and so on.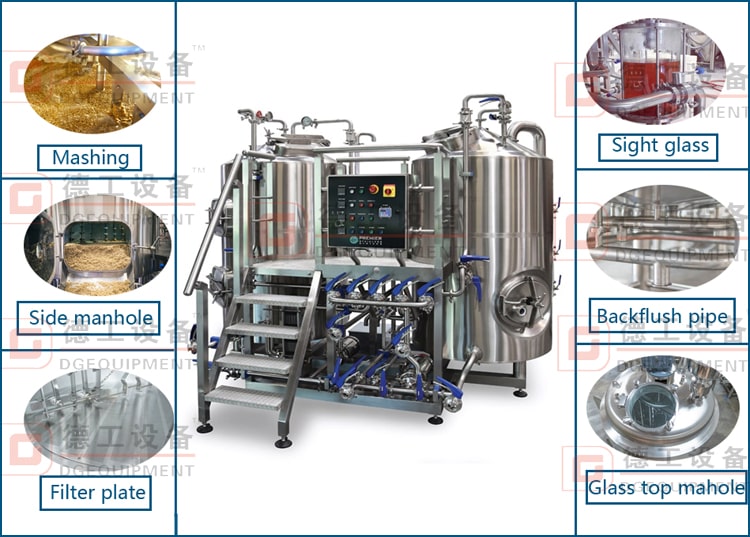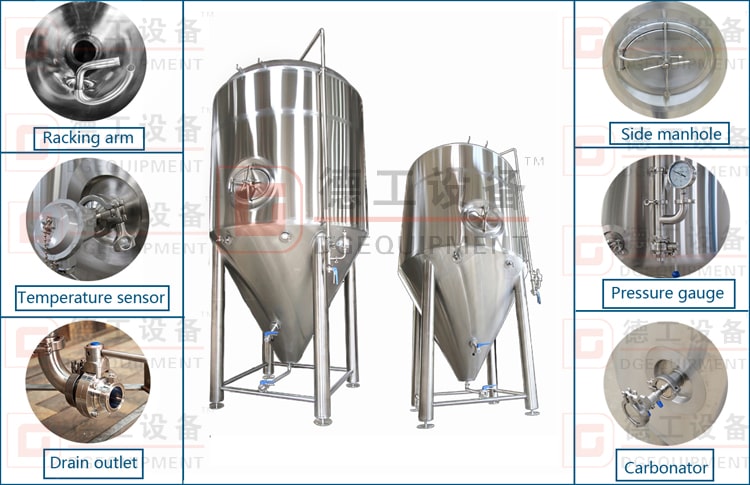 304 SS or 316LSS or copper.
30% head space at least for each tank
Motorized mash mixers, lauter rakes and spent-grain plow
ABB Siemens motors/pumps on the whole system
Stainless steel process piping, work cabinet and control cabinet
Siemens/Schneider/Omron electric element
Grirst hydrator bowl with hot/cold liquor blending
Sight level indicators on fermenting system.
Insulated with a minimum of 100mm Chloride-Free PU Insulation.
Interior Finish: Overall polishing to 0.4 μm without dead corner
Adjustable Levelers provide a level tank regardless of floor slope;