Description
Complete brewing equipment introduction
Beer brewhouse of complete brewing equipment
We offers flexible beer brewhouse designs to ensure that optimal efficiency is achieved while including all requirements that a customer may have (such as spacing, tank distribution, etc.) Producing a high quality beer requires consistent brews and although experience plays a crucial role in the process, the limiting factor is the quality of the Brewhouse being used. Having a high quality Brewhouse will ensure that you have the necessary tools to keep the same flavor profile with every batch!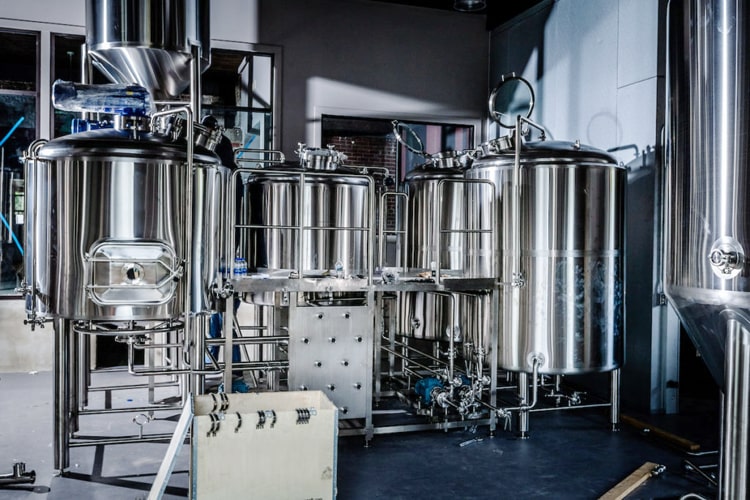 3-vessel beer brewhouse
Work Flow Process In 3-Vessels Brewhouse:Mash tank-lauter tnak-kettle/whirlpool tun:


Mashing is the process of combining a mix of milled grain and water and heating this mixture in a vessel called a "mash tun". Second process, you need transfer the mixture of grain and wort into Lauter tun. You can get clear wort from this vessel. Thirdly, let's pup the clear wort into a vessel named Kettle, in which will happen many key process including: wort boiling(usually 60 minutes), hops adding. At the end of the boil, the wort will be into whirlpooling, forcing the denser solids (coagulated proteins, vegetable matter from hops) into a cone in the center of the Kettle/Whirlpool tank.

3-Vessels 1000L Brewhouse Configuration:
3-Vessels Brewhouse

Mash tun

1000L (with 25% head space)

Top mounted manhole

Steam Jacket for optional

Lauter tun

1000L
(with 25% head space)

Side mounted grain outdoor with grain chute

Laser cutting V-wire False Bottom

Kettle/Whirlpool Tun

1000L
(with 30% head space)

Steam heating

Tangential whirlpool inlet

Hops filter

30L

Tri clamp aeration port with ball valve

Heat exchanger

25m2
(Effective area)

Completely 304 SS Corrugated plates

Wort Pump

5m3/h,

ABB, Sanitary SUS304, VFD control

Pipe and fittings

As design

completely SS304, Work Platform is included

Wort aeration device

As design

Features:

1. Stainless steel pipe assembly

2. Sight glass

3. 38 Sanitary tri-clamp connections

Built in sight glass

Wort grant

50L

stainless steel 304
Beer fermentation tank of complete brewing equipment
 We offers a wide array of fermenters(fermentation) and brite tanks(maturation) tanks that are designed accordingly to our customers' specifications and their needs. Our fermenter and brite tanks come in three different generalized builds (customizable tanks are also available): single wall, un-jacketed and jacketed. All of our tanks can be pressurized (unless otherwise requested) and the fermenters have an added bonus of functioning as both a fermenter and BBT tank.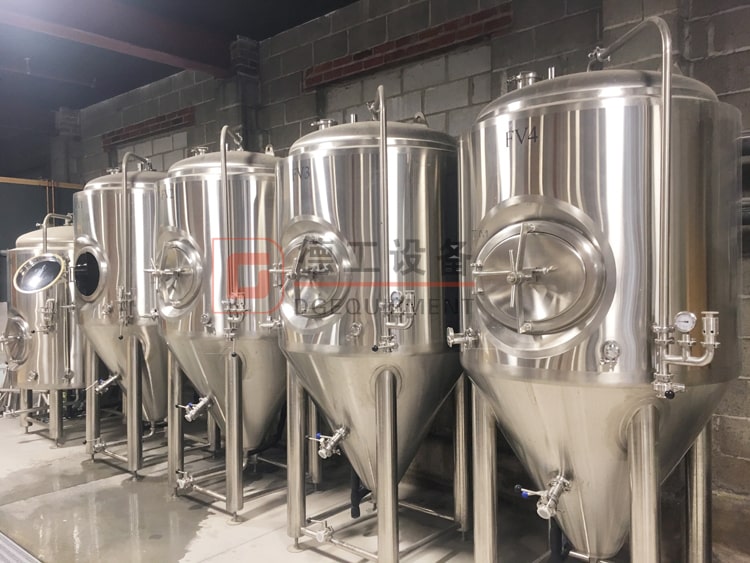 Technical Characteristics:
Specifications:

All AISI-304 Stainless Steel Construction

Jacketed & Insulated

Dual Zone Dimple Cooling Jacket

Dish Top & 60° Conical Bottom

4 Stainless Steel Legs with Leveling Ports

Working Capacity: 1000L

Total capacity:1300L

Inner Diameter: 1100 mm

Outside Diameter: 1300 mm

PU Insulation: 100mm

Cylindrical Height: 1000 mm

Total Height: 2550 mm

Dimension: L x W x H 1300 x 1300 x 2550 mm

Thickness: Inner: 3 mm, Dimple Jacket: 1.5 mm Cladding: 1.5 mm

1000L Fermenter Includes:

Top Manway or Side Shadow less Manway

Racking Port with Tri-Clover Butterfly Valve

Tri-Clover Outlets

CIP Arm and Spray Ball

Hops addling port

Sample Valve

Pressure Gauge

Safety Valve(Apunding valve and pressure release valve)

Thermowell with Tank Thermometer

Carbonation stone valve

Level gauge(Optional)

All fittings, clamps, and valves are included with tank.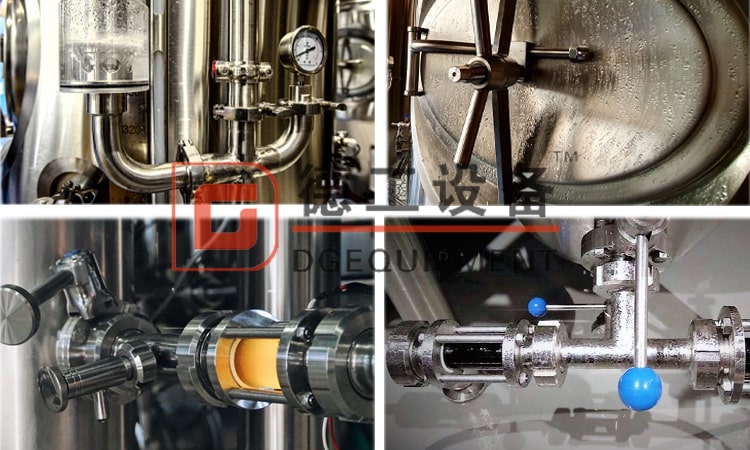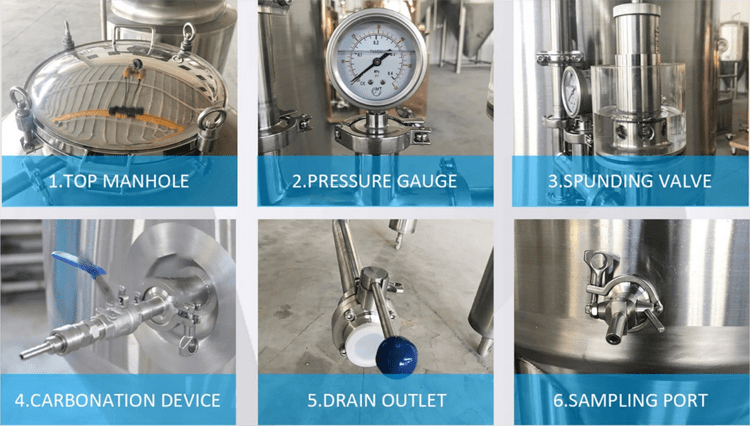 DEGONG company information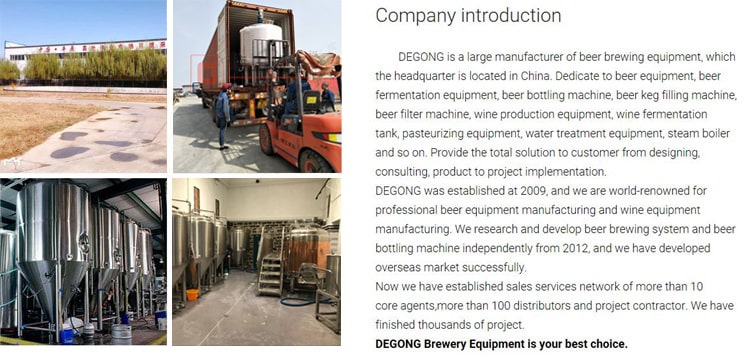 Our beer brewing equipment include malt crushing system, saccharification system, fermentation system, glycol system, CIP cleaning system, controlling system, packaging system and all complete set of bar selling system. We could provide customization service, OEM service. Different type of equipment configuration combination could be made as per customer's requirement.
If you have interest,please get in touch with me freely.