Description
The beer brewing equipment is complete with all equipment. All equipment are with high standard an very simple to use. According to the requirements of different customers, the beer brewing system can be customized according to the different standard.
Beer brewhouse of beer brewing equipoment introduction
Based on quantity of tank,the brewhouse can be divided into 2/3/4 vessels brewhouse.
2-vessel:mash/lauter tank+kettle/whirlpool tank+hot liquid tank
3-vessel:mash tank+lauter tank+kettle/whirlpool tank
2 tank 3 vessels:Combined mash/lauter tank (above of hot water tank)&hot water tank (at below of mash/lauter tank)+kettle/whirlpool tank
4-vessel:mash tank+lauter tank+kettle tank+whirlpool tank+hot liquid tank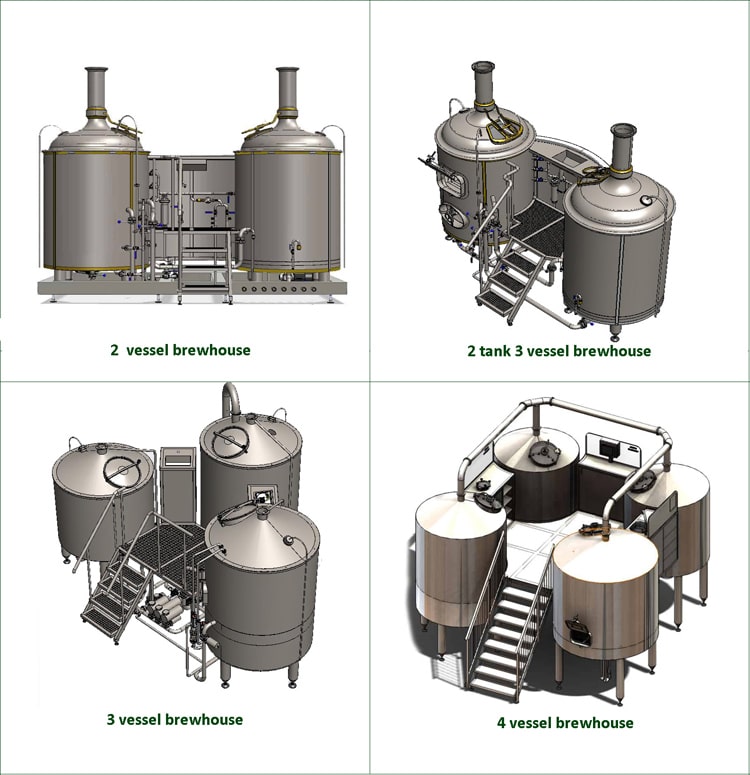 A 3 vessel brewhouse as the basic configuration, which make two brews per day without problem. The system is also flexible for both infusion and decoction brewing.
Basic configuration:
1000 liter mash tun+1000 liter lauter tun+1000 liter kettle/whirlpool tun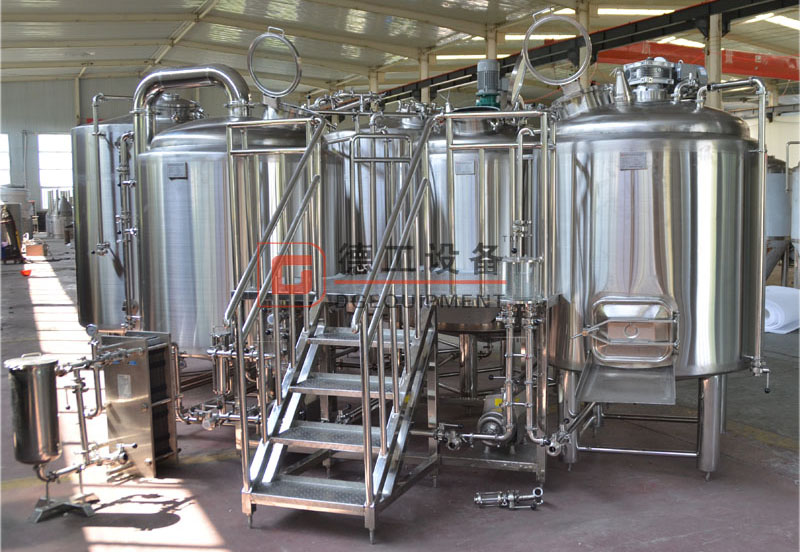 The mash tun is electric or steam heating with paddle type agitator.
The lauter tun with a wedge wired filter plate offers 12% filtration area. As customers preference, the blade direction and speed can be adjusted. Spent grain can be achieved from side.
As the actual production process, a buffer tank can be configured and aligned with the lauter tun design avoiding vacuum effect during the lautering process which also extend the using life of lauter tun.
The kettle/whirlpool tank is with electric heating or steam heating. Wort inlet for whirlpool tank is tangent with different bigger inlet and smaller outlet size,which improves the flow rate after wort goes into the tank.
Heat exchanger specification will be defined as the actual brew data like wort/water inlet/outlet temperature etc.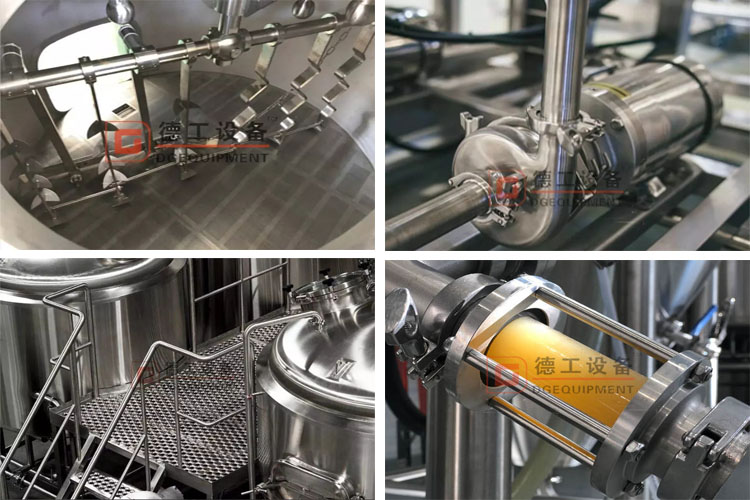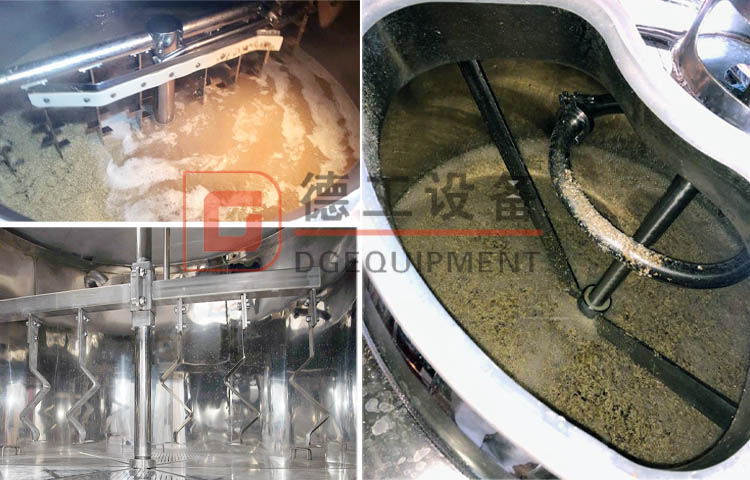 The brew house will be completely installed before delivery for works inspection. All connections/fittings for water pipe, gas and electrical, exhaust vapour, chimney and waste discharge must be done by the client in order to start the production.
Beer fermentation tank of beer brewing equipment
All fermenters use dimple jacket technology and multiple zones to maximize glycol cooling performance, allowing the brewer to crash cool beers and maintain lagering temperatures. We manufacture fermenters in all the most popular sizes, and we can create any volume you wish. Horizontal lagering tanks are available as well. A controls package is available which includes a temperature controller that mounts directly to tank and a glycol solenoid valve.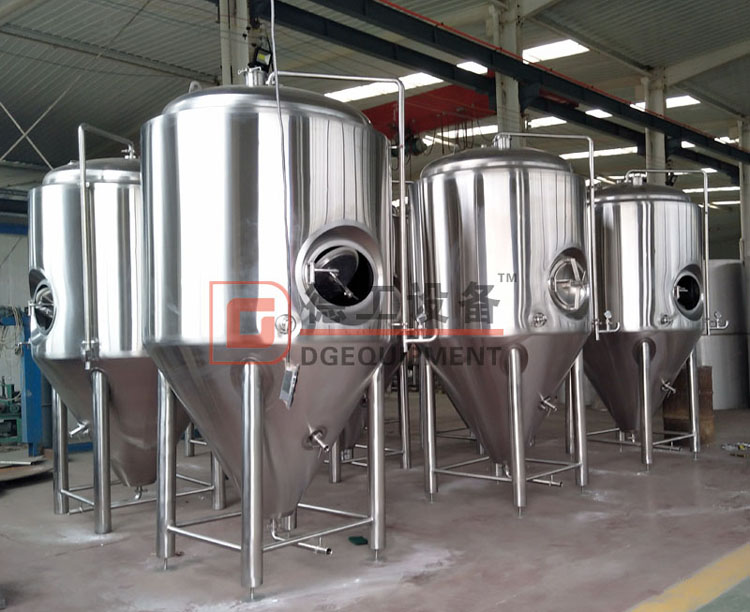 All of our fermentation tank are pressure tested, 100% sanitary welded, jacketed and insulated.  Outter shell: SUS304, thickness 1.5mm, brushed finished
Inner container: SUS304, thickness 3mm, smooth ground welds – 2B finish
Glycol jacket: SUS304, thickness 2mm, dimple welded
Insulation material: polyurethane, 80 mm thickness
Head space: 25% over stated size
Pressure rating: 1.5bar working pressure
Connections: PVRV, multi-zone coolant inlet/outlet, Pt100 interface, sample valve, shadowless side man-door, hop port, carb stone, separate blow-off pipe, rotating CIP ball and piping, rotating racking arm, analog temperature gauge, and over-sized yeast dump port.
Company information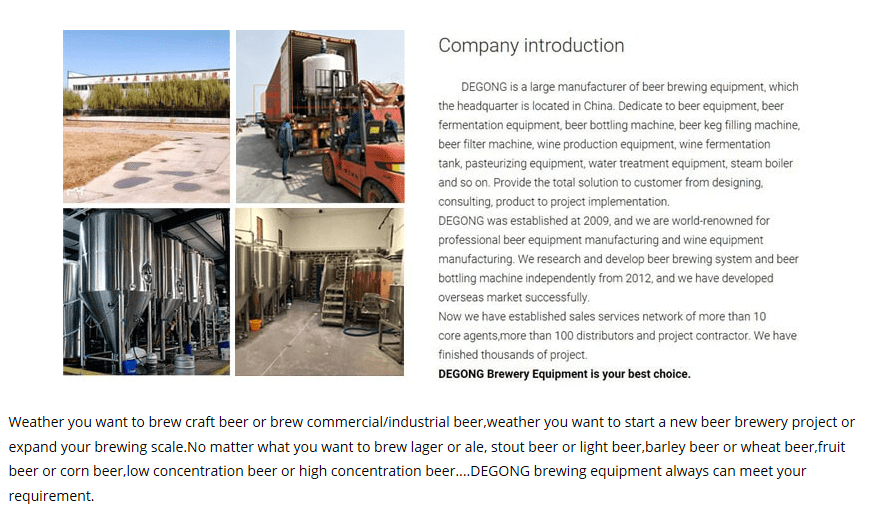 If you have interest in DEGONG beer brewing equipment,welcome to contact me freely.