Description
DEGONG is a beer brewing equipment manufacturer integrating design, production, installation and commissioning.After we receive the customer's inquiry, we will first confirm with the customer whether he has detailed requirements. If not, we will recommend several suitable schemes based on customer's output demand.After confirming the specific configuration, we will design the dimension of tank according to the size of brewery building (length, width and height) and begin to design the layout.After customer receive the brewing equipment, we will arrange the engineer to install the brewing system. If the customer has no experience in brewing, we can also teach the customer how to brew beer.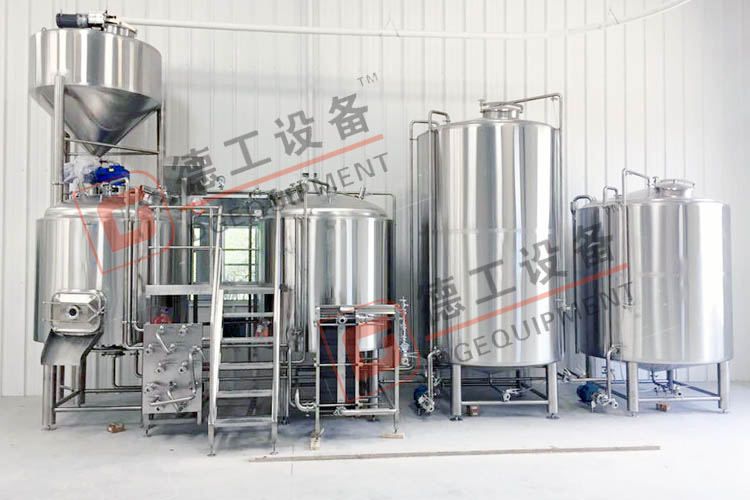 1000L beer brewing equipment 3-Vessel Brewhouse/beer mashing system
These steam-powered brewhouses can come in 2-vessel,3-vessel or 4-vessel configurations and include a Mash Tun, Lauter Tun, Wort Kettle and Whirlpool.
Features:
Mash Tun :convert your mash into wort-with a cone head, shell bottom, heat jacket and an interior agitator, made with 304 stainless steel.
Lauter Tun:separate the wort from the grain -with cone head, false bottom and raker inside, made with 304 stainless steel.
Wort Kettle:boiling wort-with cone head, cone bottom and an steam jacket for heating, made with 304 stainless steel.
Whirlpool: separate of trub and clear wort-with cone head and slope bottom made with 304 stainless steel.
Balance Device with sight glass made with 304 stainless steel.
Sanitary Centrifugal Pumps
Wort Cooler plate-type heat exchanger for cooling wort, made with 304 stainless steel.
Hot Water Tank with cone head, cone bottom and steam jacket, made of 304 stainless steel.
Cold Liquor Tank with cone head and cone bottom, made of 304 stainless steel.
Brewhouse includes a platform for observing the vessels from above, along with supporting staircase and safety handrails.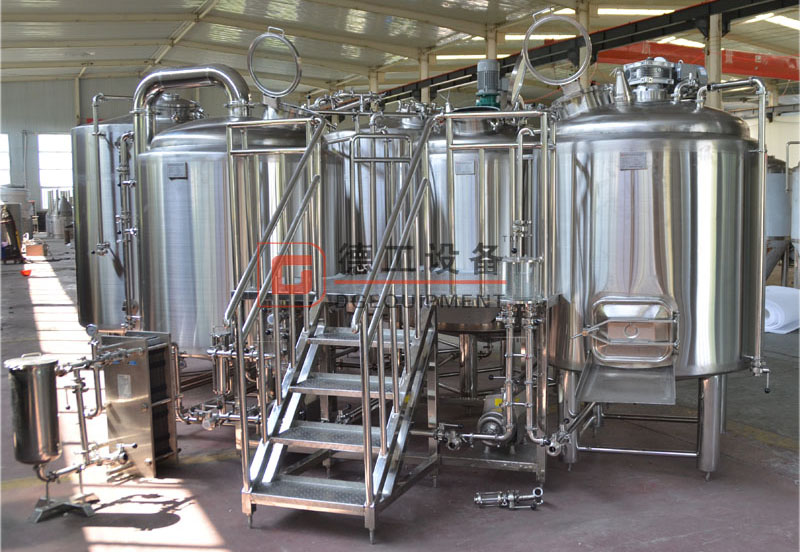 1000L brewery equipment 3-vessel beer brewhouse:mash tun/lauter tank/kettle whirlpool tank  
What systems does the complete 1000L beer brewing equipment contain
1000L brewery equipment

Components

Specification 

Miller(300kg/hr)

  1set

Boiler(For steam heating)

  1set

1000L 3 Vessels+HLT Brewhouse

  1set

Fermentation Tank 

  6pcs

Bright beer tank

  2pcs

Cooling system

(2000L Glycol tank+10HP Chiller)

 

  1set

 

100L CIP(Two tanks)

  1set

Control Cabinet 

  1set

1-Station Keg Filler

1set

2-Station 2-Tank Auto Keg Rinser

1set

Filtration Unit

1set

8-Station Semiauto Bottling Machine

1set
This configruation is just a normal configuration,all of the system can be customized according to your brewing plan,such as brewhouse heating method,quantity of fermentaiton tank and bright beer tank.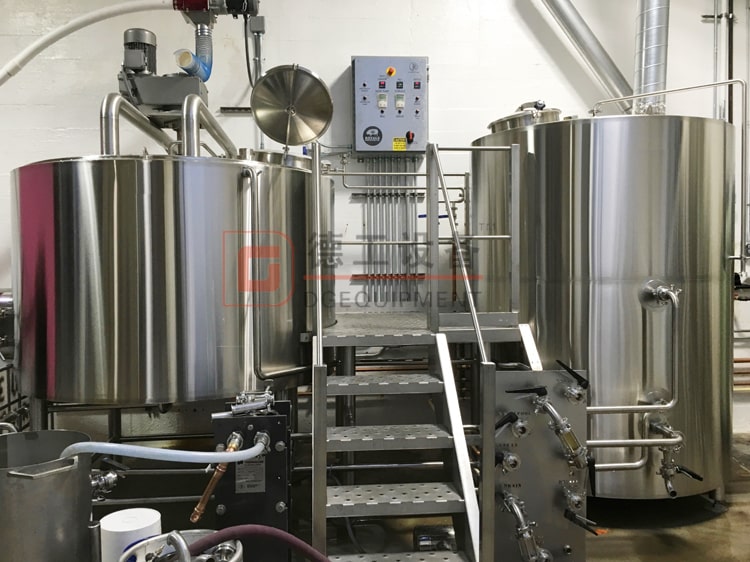 Combined Beer brewhouse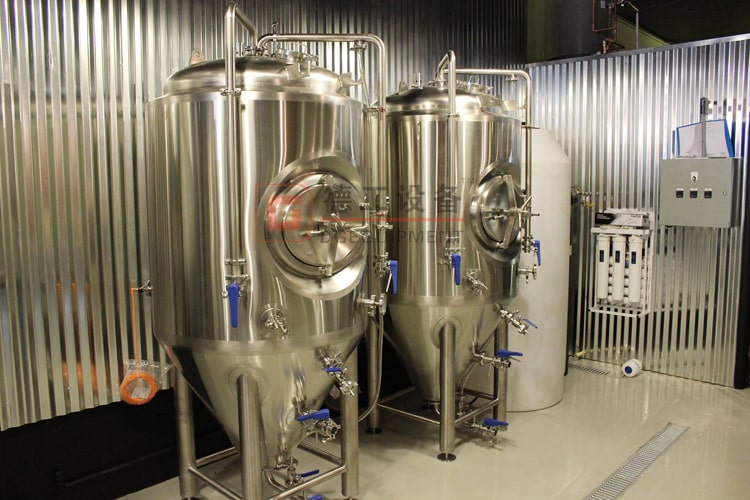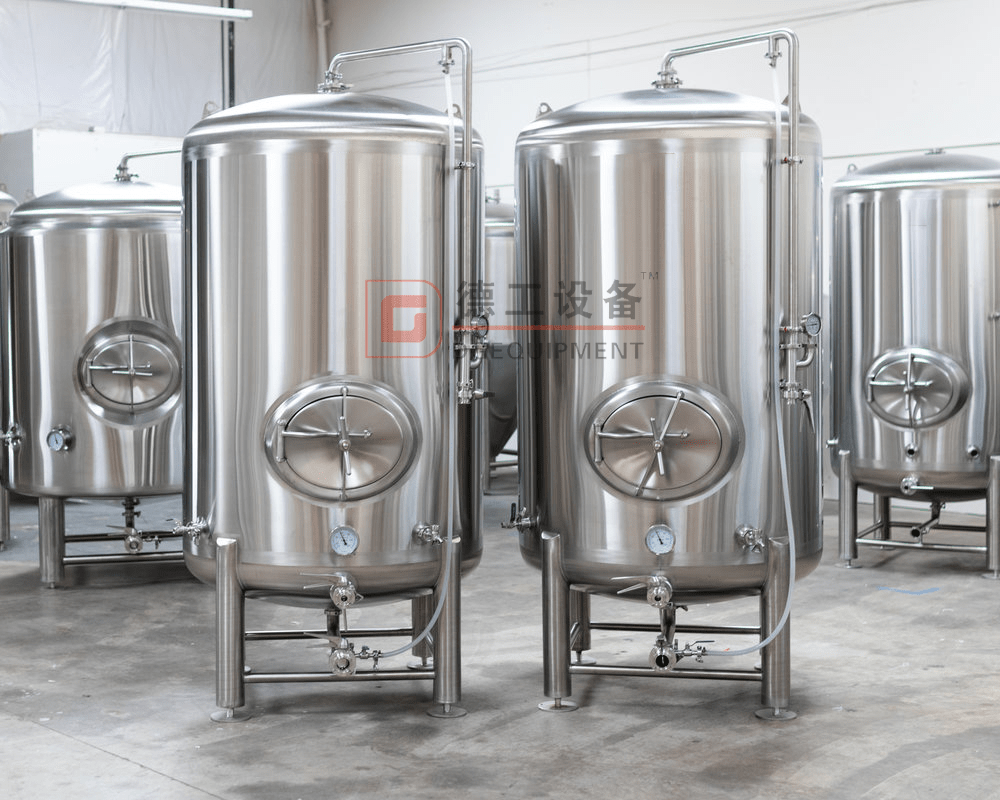 Bright beer tank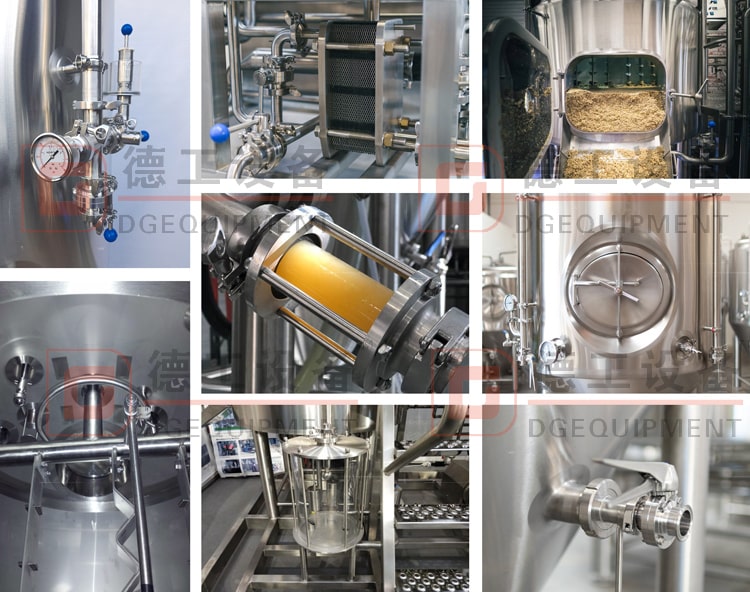 Beer brewing equipment details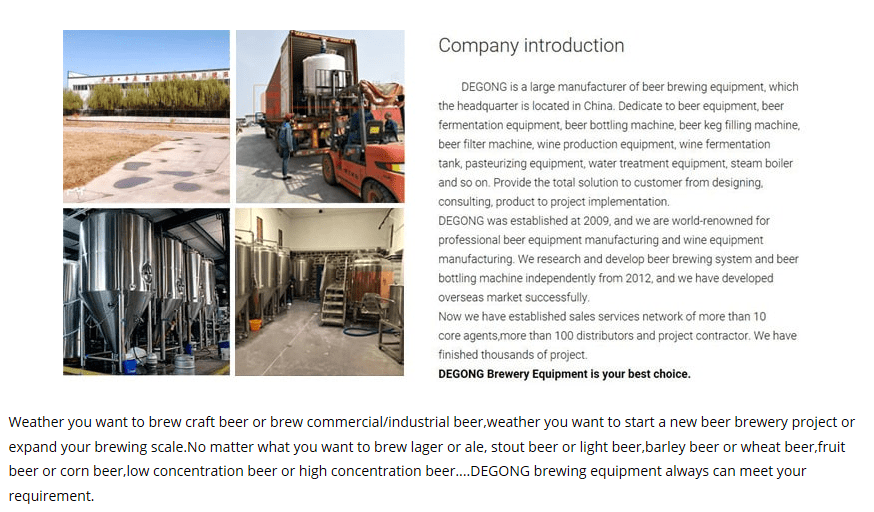 If you have interest in DEGONG 1000L brewery equipment,welcome to contact me freely