Description
Constituent part of 1000L brewery equipment
All grain brewing equipment brewhouse
Option A: 2-vessel(M/L+B/W+H), Its cost is relatively low, so it is suitable for customers with less budget.
Option B:3-vessel(M/L+B+W+H),this combination helps to improve the efficiency of mash.
Heating method: steam/electric/direct fire, for 1000L brewhouse, most of our customers choose steam heating, because it heats more evenly.
all grain brewing equipment brewhouse
All grain brewing equipment fermentation system
Inner wall stainless steel 304, 3.0mm;
surface wall stainless steel 304, 2.0mm
Dome top, conical bottom,
Top mounted manway
Insulation: polyurethane 100mm
Glycol cooling jackets on both cylinder and cone
With Inside 360 degree rotating CIP washing ball,CIP arm,Pressure gauge,relief&vacuum valve on top,dry hops port on top,sample valve,raking arm,thermometer(temperature PT100),carbonation stone (optional)
100% TIG welding with pure argon gas shield
Interior Finish:Mirror polishing to 0.4~0.6μm without dead corner
Testing pressure: 3 bar, working pressure: 1.5 bar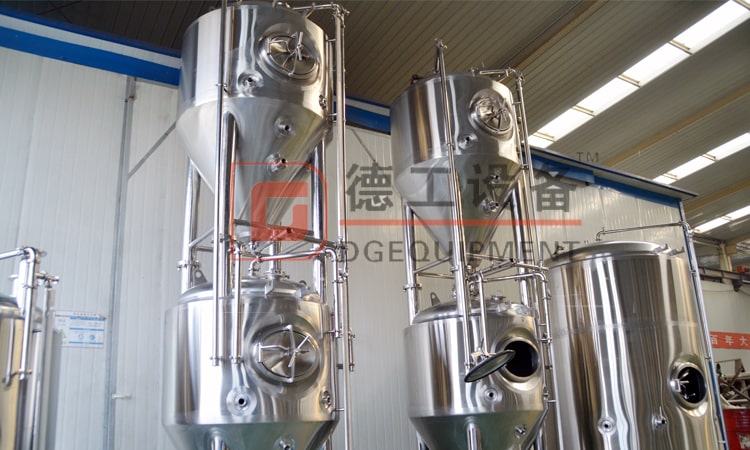 stacked conical fermenter
top glass manhole
mechanical regulation valve
Beer storage tank
Bright beer tank/serving tank, jacketed or non-jacketed, 150 degree bottom cone,with carbonization device assort.
Cleaning system
CIP cleaning, movable with wheel.
all grain brewing equipment CIP system
Optional:
Beer bottling line: bottle washing machine, filling machine, capping machine,
pasteurization tank, labelling machine.
Kegs washer and filler.(one head or double head)
Beer kegs(20L,30L,50L…).
Steam boiler.(steam heating)
      All grain brewing equipment auxiliary equipment

Plate heat exchanger

Effective cooling area

One stage for cold liquor or two stage for city water and cold liquor

Material:SUS304 or 316

Customize connection

Hot water tank

For hot water storage

Insulation:rock wool

Insulation thickness:80mm

Interior thickness:3mm

Exterior thickness:2mm

Heating:electric or steam heating

Dished top,top mounted man way

Sanitary liquid indicator

CIP 360°rotary spray device

Temperature sensor

Completely SUS304 heavy duty legs with leveling pad

Yeast adding tank

Inner tank polished, outside abrasive blasting

Stainless Steel 304, brushed outer shell

With valves and accessories

Control cabinet

PLC Siemens or digital display

Material: spraying plastic

Electrical Parts: World wide brand

Temperature Sensor assorted