Description
1000L commercial beer brewery equipment is typically applied to breweries that are much smaller than large-scale corporate breweries and are independently owned. Such commercial beer brewery are generally characterized by their emphasis on flavor and brewing technique. We offer a commercial beer brewery equipment with the productivity of 1000L (10 hl) to 5000L (50hl) per brew. The service includes: complete set of microbrewery equipment, installation turn key, recipes and technology of branded beers, staff training and more.
The turnkey commercial beer brewery equipment includes milling, mashing system, fermentation system, cooling system, CIP and control system.Every system is indispensable and variable.In other words, the system with same size has thousands of different configurations.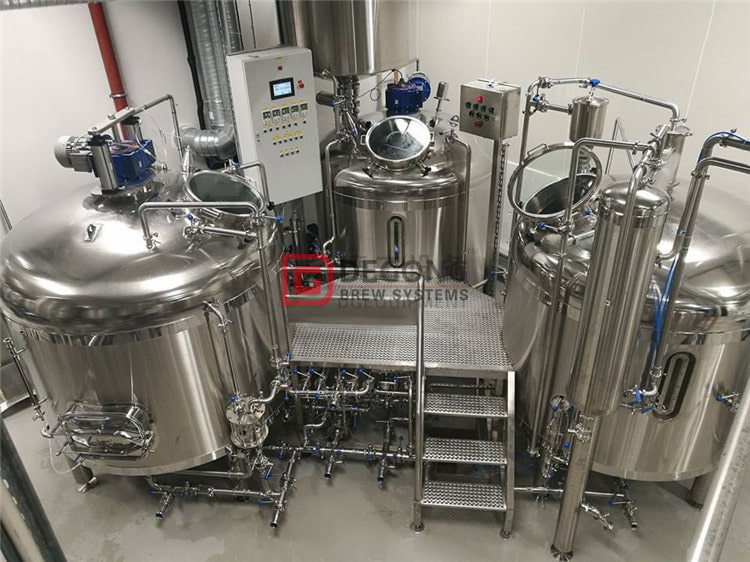 Component

Malt Milling

Particle adjustable rolling crusher

Flexible or steel auger to directly lift the milled grain to mash tun


Brewhouse

Mash tun, Lauter tun, Boiling Kettle, Whirlpool tun in various combination

Hot water tank and cold water tank for optional in special combinations

Stainless steel are popular because of easy maintenance and clean, copper cladding for optional

Two stages or single stage heat exchanger for wort cooling

Completely stainless steel integrated work platform

Sanitary and efficiency wort pump

All pipings and fittings

Fermentation

Standard stainless steel conical cylindrical fermentation tanks

Single size or double size as brewhouse

Tanks quantity is exactly calculated by fermentation cycle for various beers

All manhole, valves, pressure gauges, fittings etc are included

Beer Filter

Craft beer is no need filtration which will keg filling for quickly consumption

Plate-Frame or Candle type DE (diatomite earth) filter is used for clarify the beer

Bright Beer Tank

Standard stainless steel bright tanks for beer maturation, conditioning, service, carbonation

Single size or double size as fermenter 

All manhole, valves, stone, gauges, fittings etc are included

Cooling System

Insulated glycol water tank with or without copper coil for glycol liquid holding and mixing

Efficiency chillers or refrigerators with fryon to supply cooling energy

Sanitary centrifugal pump for glycol water recycle among tanks and heat exchanger

All pipes, fitting, insulation materials are included

Controlling Unit




Electrical controlling cabinet with temperature, on-off controlling thermocouple, solenoid valves etc are included

PLC with touch screen panel for special request

 

Beer Dispense




Keg filling and rinsing machine

Semiauto bottling machine with rinsing, filling, capping, labeling etc

Flash pasteurizer or tunnel pasteurizer is available

Other Facilities




Portable or fixed CIP system for cleaning the tanks

Steam boiler for brewhouse heating

Water treatment for brew water

Oil free air compressor

Brewery lab instruments for beer quality test
Product features
This set of commercial beer brewery equipment is for micro brewery, especially for pub, restaurant, hotel, etc…
Novel structure and attractive appearance
More competitive price and better quality
CE, ISO, TUV approved equipment
More humanized design which allow you to operate easily
Compact design saving your space
All the materials touching the beer directly are all top quality food grade stainless steel.
We use the first rate valves and manholes for all our equipments.
I am here to guarantee all our customers that the materials are nonmagnetic.
The thickness of the material exactly fit in with what showed in the specification sheet.
If you are a new comer to the beer making field, Don't worry, I will give you our professional recommendations.
Engineer is always available to make the relative 2D and 3D drawings for you for your reference.
1000L 2 vessels beer berwhouse
The 2 vessels beer brewhouse contains mash/lauter tankwith hot liquid tank.It is a normal configuration for most microbrewery.
Of course you can choose the other configuration:
3 vessels beer brewhouse:mash/boiling tank+lauter tank+whirlpool tank
4 vessels beer brewhouse:mash tank+lauter tank+boiling tank+whirlpool tank
Hot liquid tank and cold liquid tank is optional
Heating method is electirc heating,steam heating or direct fire heating.
1000L stainless steel fermentation tank(Side manhole or top manhole)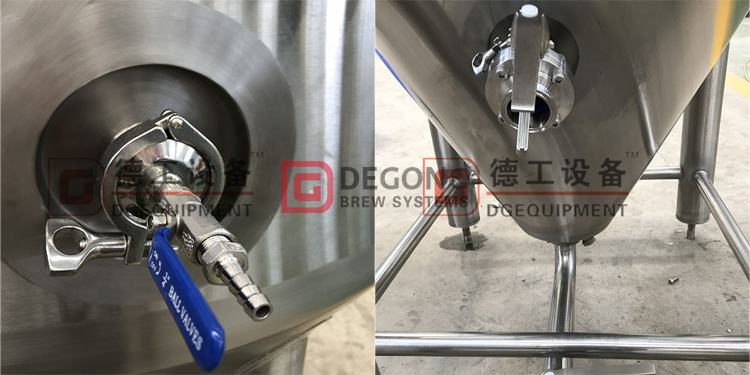 Delivery&Packing
We will choose Wooden case to protect the equipment from being damaged in transit.If the equipment's height exceed the container's height,we will put down the equipment and fix it by iron frame.
Service
1.Design suitable brewing system and system's connection  layout accrodging to customer's brewery.
2.Dispatch technical engineer to customer's country to install equipment
3.Debug the brewing equipment after installation
4.Teach customer how to use the machine and how to brew beer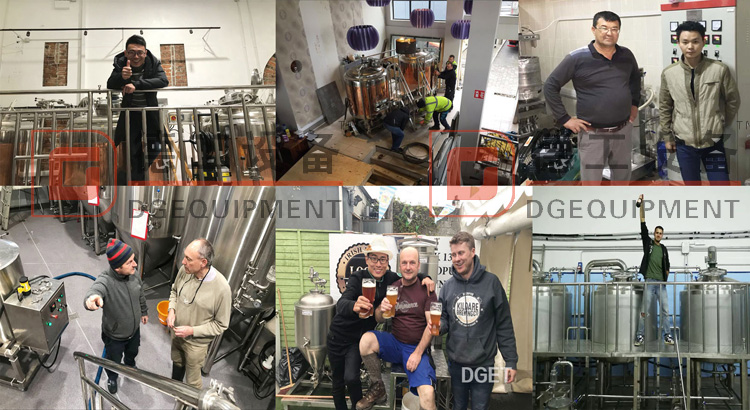 Certification
Why choose us
1.Use the stainless steel plate of the Chinese best-known stainless steel manufacturing enterprise, quality of steel plate is approved by Chinese testing organizations.
2. Use the Chinese famous brand YUANAN pump (ABB motor), use the wrold famous brand SIEMENS motor, ABB SIEMENS are both the world famous companies.
3. CIP tank with Insulation is more safe, which can prevent workers from being scalded.Take automatic temperature controlling system to control temperature, self powering off system prevents electric heating coil from dry heating.
4. Control system uses electric appliances of world famous brand, Schneider, Omron, Danfoss frequency converter ensure the stable runing of the whole system.
5. steam solenoid valve, solenoid valves for fermenters take first or second class brand of Chinese to ensure the stability of brewing and fermentation system
6. Warranty period 3 years