Description
DEGONG has been manufacturing and supplying beer brewing equipment since the 2012,such as 100L-1000L brewing system,1000L-2000L commercial used brewery equipment.During this time DEGONG has built a large number of microbreweries and brewpubs around the world.We recognize that every brewer and brewery are different, and we take pride in helping our clients plan their projects from start to finish. Whether you are just looking to start with your first system or looking to expand upon your business that you have cultivated for years, DEGONG has the resources that can help you at every stage of the project.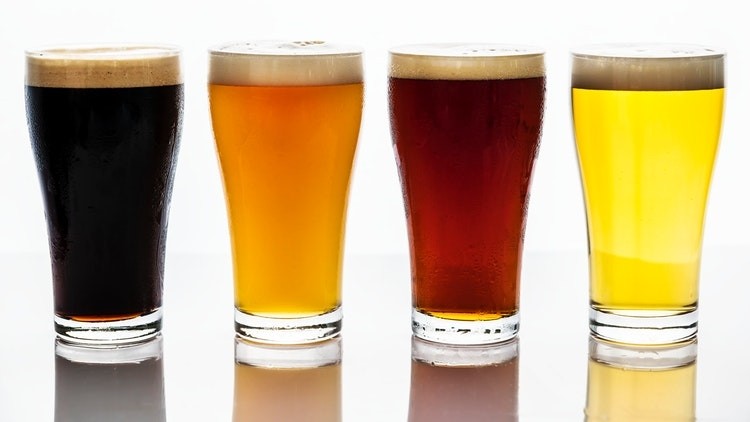 What material we usually choose for 1000L brewing system
1.Copper brewery equipment:Some customers who want to display equpment in restaurant or brewpub like red copper material (for its ornamental value), but only the outer wall of the tank is red copper material( the inner wall is stainless steel 304), which can not only ensure the appearance of the tank, but also can not affect the taste of beer.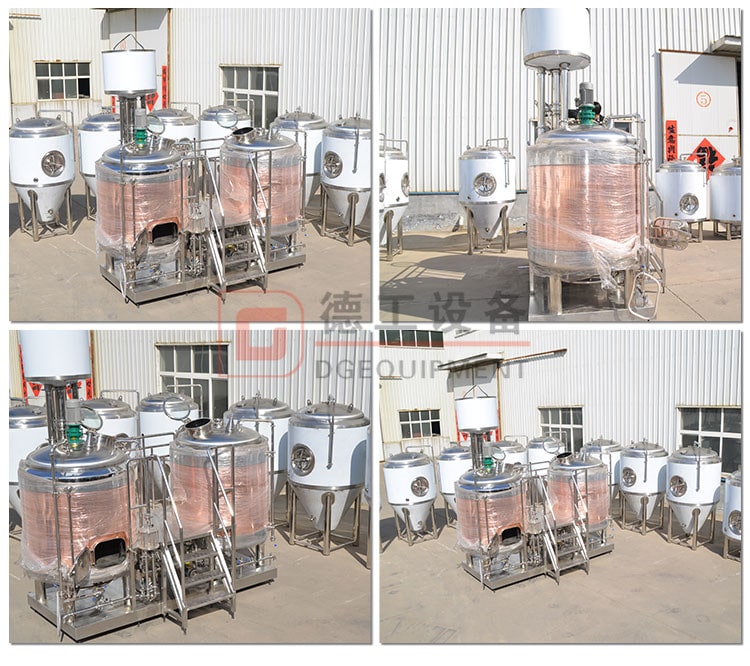 2.Stainless-steel brewery equipment: Commercial breweries use stainless-steel brewery equipment in the modern times.Stainless-steel material doesn't actively react with chemicals, also, stainless-steel is a stronger material than copper, so it doesn't get pressurized when worts are boiled at high temperatures.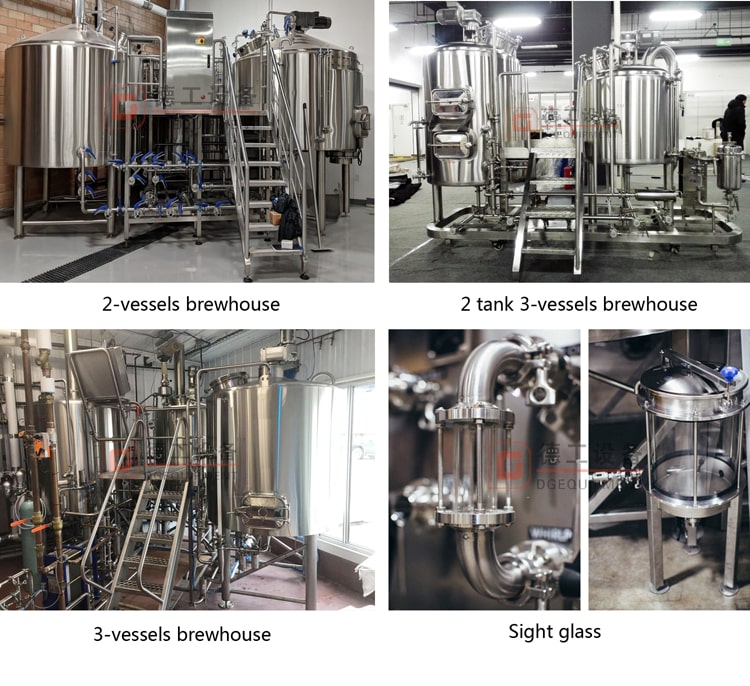 Introduction of 1000L brewing system
There are many different configurations for the 1000L brewery equipment,different customers have different requirement.But totally speaking,the basic brewing system contains miller, brewhouse, fermentation tank, cooling system, control cabinet and CIP cleaning system.Then you can choose other auxuliary systems according to your requirement,such as kegging machine,bottling machine,canning machine,filter machine,water treatment device and so on……….

1.Beer mashing tank
Among all the systems,the configuration of beer brewhouse is the most different. One hundred customers may have one hundred different requirements. The beer brewhouse is composed of four functions, namely: mash, lauter, boiling and whirlpool. These four functions can be completed in 2 or 3 tanks,so we have 2/3/4 vessels beer brewhouse(2-vessels:Mash/lauter tank+boiling/whirlpool tank; 3-vessles:Mash/lauter+boiling tank+whirlpool tank).
Heating method:Electric heating, steam heating, direct fire heating
2.Fermentation tank
The fermentation tank is same capacity with beer mashing system or double size of beer mashing system.The quantity of fermentation tank determine your output.The fermentation tank is a double wall stainless steel conical isobaric tank. It will contains all necessory accessories,such as sample valve,pressure regulation valve……………..
3.Cooling system
Cooling system is used for wort cooling and fermentation temperature control
Glycol water tank
Chiller
Pump
4.Control system
The control system control the whole brewing progress,it can be semi-automatic control and full automatic control
5.CIP system
CIP System used for cleaning before and after using
6.Milling
Malt milling and malt transportation
Malt milling machine
Flexible auger
Standard packing:
Cord ,film membrane
Firm membrane, wood box for free fumigation
Delivery :
– We put your order into our tight production schedule to ensure the punctual delivery time.
– Production or inspection report before order packed.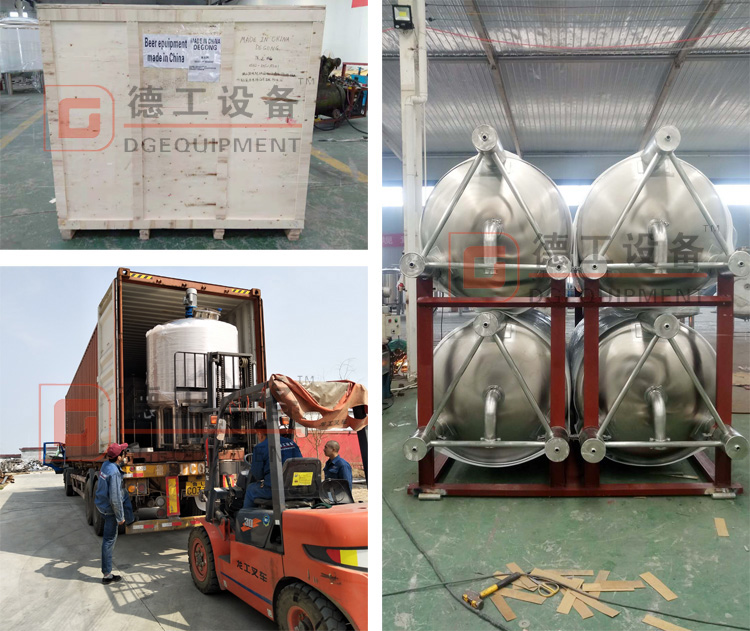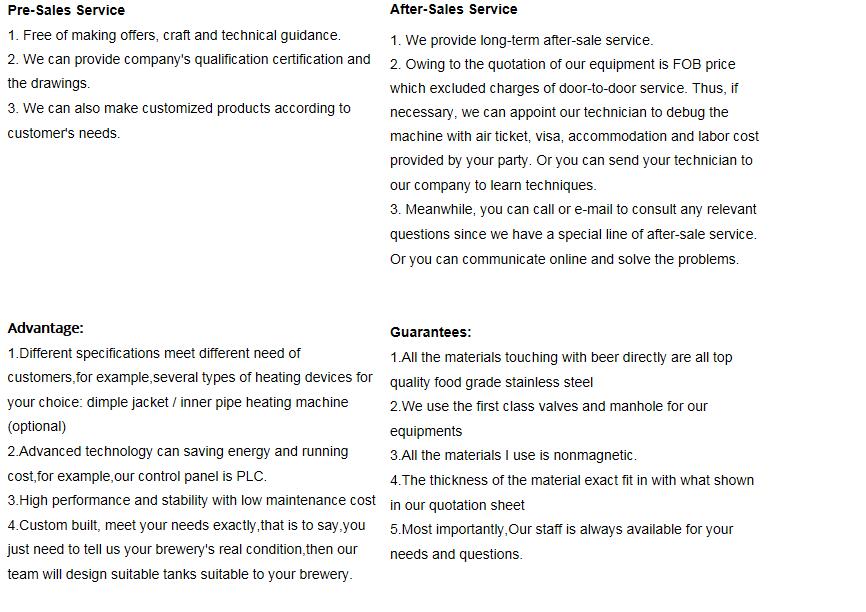 Our equipment is coming with certifications of PED/ISO/CE ,which all reach the food sanitary standard .The quality, specification and function all meet the treaty of contrac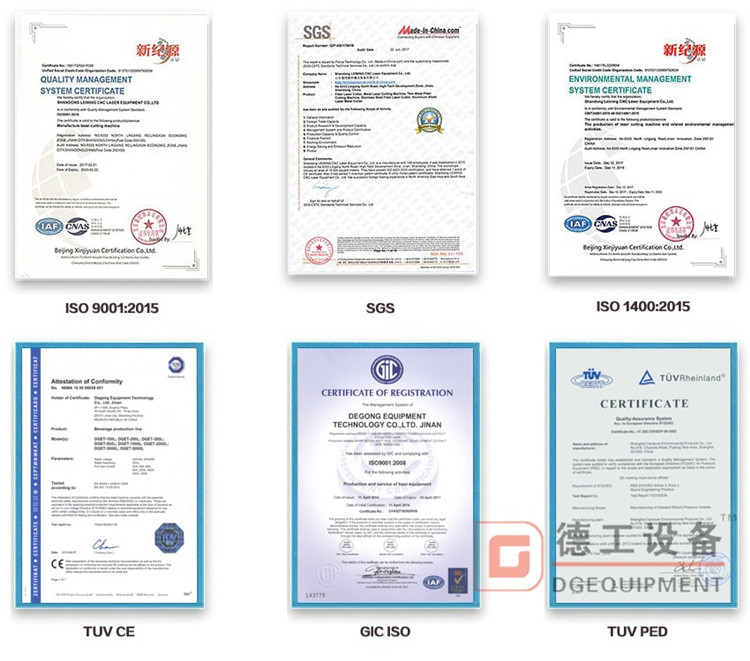 What should you know before getting a price
1.What construction you need for brewhouse?
The brewhouse can be customized to 2-vessels(such as mash/lauter tank+boiling/whirlpool tank),3-vessels(mash/lauter tank+boiling tank+whirlpool tank),4-vessels(mash tank+lauter tank+boiling tank+whirlpool tank).You need to confirm what configuration you need.
2.What heating method you need?
The heating method can be electric heating,steam heating and direct fire heating.You can choose one suitable to you.If steam heating,it will need a steam boiler,the boiler can be eletric boiler,gas boiler or diesel boiler.
3.Quantity of fermentation tank?
Different customer has different requirement,so we need to know how many fermentation tank do you need.If you don't have idea,you can tell me your brewing plan,such as daily output or monthly output,beer's type or fermentation cycle,our engineer can suggest you a suitable scheme.
4.You just need the beer brewing line,or you also need other auxiliary system?
The basic brewing system contains miller,brewhouse,fermentation tank,cooling system,control system and CIP cleaning system.You just need these system or also need bottling line,kegging machine,filter….?
If you have interest in beer brewing equipment,contact me freely.