Description
Beer has as long a history as human civilization. It first appeared in human life before other alcoholic drinks. After the technology of brewing beer spread to Europe, it developed rapidly. Through the continuous improvement and development of europeans, beer has become one of the most popular drinks in the world. When we say beer, of course, beer equipment is essential.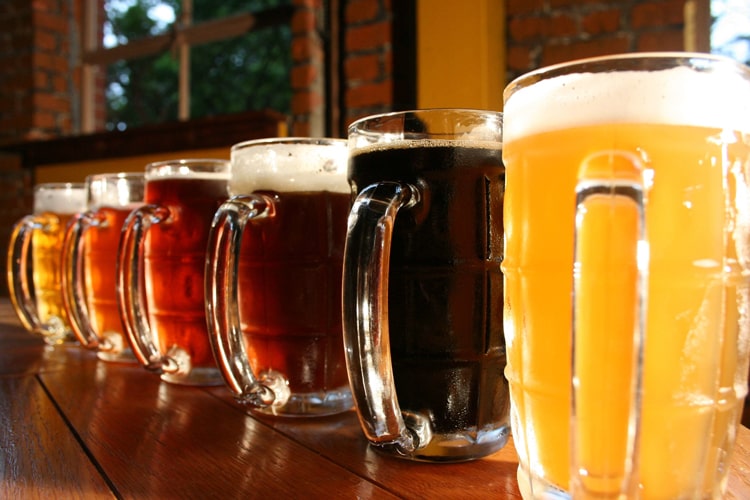 ALE,LARGE,BRIGHT BEER,DARK BEER
Beer brewing equipment can be designed according to the requirements of different brewers.The whole set commercial used beer brewing equipment includes miller, mash system, fermentation system, cooling system, control system, cleaning system, filtration system, sterilizer, filling line (bottle, barrel, can), packaging.
The two most important steps in beer production are beer mashing and fermentation.So let's focus on the equipment needed for these two parts.
Beer mashing system brew kettle introduction
Beer mashing is one of the most important processes in the preparation of wort. The equipment required is mash tank, lauter tank, brew kettle and whirlpool tank. Of course, in order to improve mashing efficiency, most customers will choose a hot water tank to prepare hot water in advance,which can save time.
These tanks can be combined freely, mashing and lautering can be combined into a tank, brew kettle and whhirpool can be combined into a tank,,,,,and so on.
Generally speaking, we can combined the whole mashing progress in 2-vessels,3-vessels or 4 vessels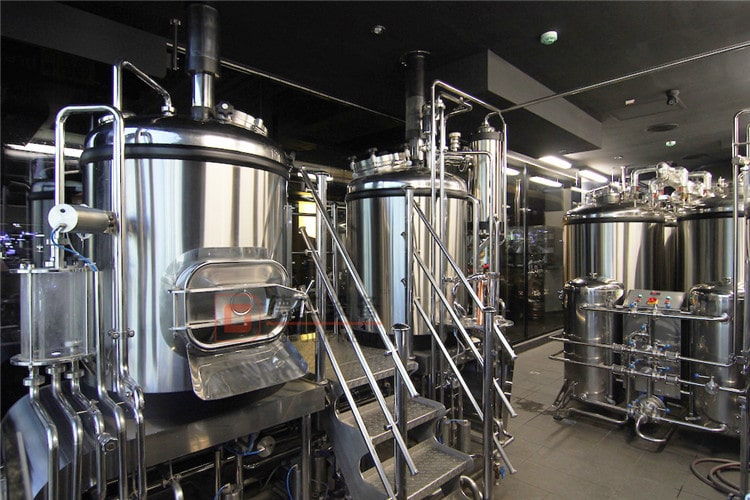 2-VESSLES BEER BREWHOUSE
3-VESSLES BEER BREWHOUSE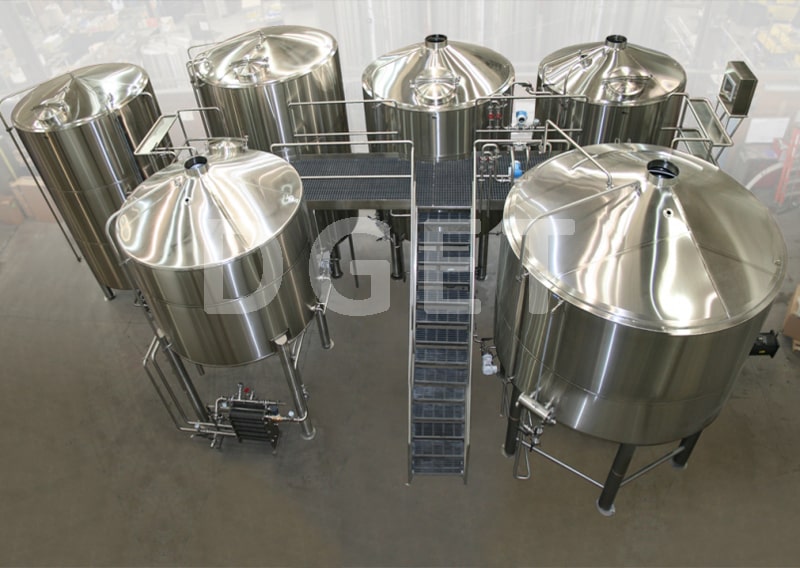 4-VESSLES BEER BREWHOUSE
TWO VESSELS 

Mash/lauter tank+boiling/whirlpool

Two tank combination brewhouse can save much cost and space, which is usually built up in nano brewery and brewpub. The brewers can at least brew two batches in a workday.

 

 

THREE VESSELS 

 

Mash Tun, Lauter, Kettle/Whirlpool or Mash/Lauter Tank, Kettle, Whirlpool tun

Three vessel brewhouse will have higher brewing efficiency, with optional steam and electric heating, which can brew 2-4 batch beers per day. Usually applying to middle micro breweries.

 

 

FOUR VESSELS 

 

 

Mash tank, Lauter Tun, Brew Kettle, Whirlpool tun

 

The advantage of a four vessel brewhouse is can maximize the brew efficiency of brew equipment, each brewing step can realize in a single tank. A brewer can brew six batches per day.

 

HLT and CLT Option: With or Without
Specifications:
SUS 304/SUS316/Copper clad,Inner Thickness=0.3mm,Outer thickness=0.2mm
Optional heating style of steam, electric and direct fire for brewhouse tanks
PLC control panel with Siemens,Omron,Schenider element,and accord with EU standard
VFD controlled reducer and wort pump
Assembly sanitary rotary spray balls for cleaning
PU insulation
Temperature sensor(RTD) in a thermowell
Rake and mash agitator assembly with top/bottom reducer
False bottom for lauter tank with 0.7gap
Grist hydrator with strike water mixing station
Plate heat exchanger for cooling wort
Top glass manhole for checking mashing condition
Wort oxygen system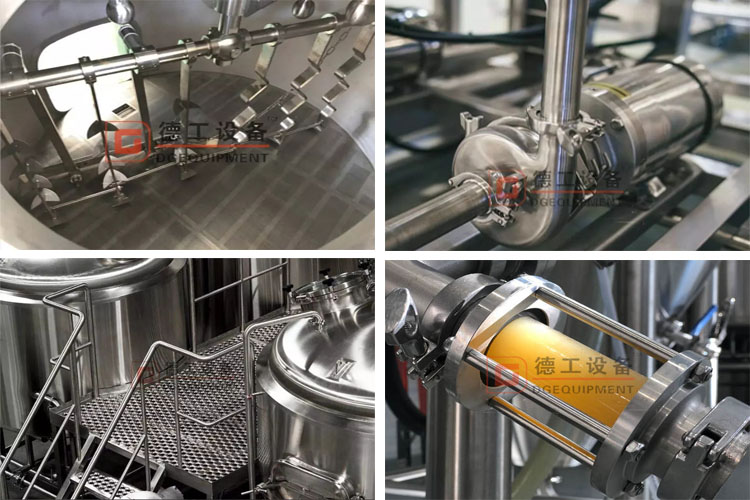 Fermentation tank
Fermentation Tank structure and design differs depending on fermentation process. The normal fermentation tank structure is dish head up and cone down and it is equipped with cooling installation,there is a cooling jacket on tank cone section,two or three cooling jackets on columnar part.This not only can meet the relevant requirements of cooling, guarantee cooling rate of fermentation tank, also help to precipitation and storage the yeast.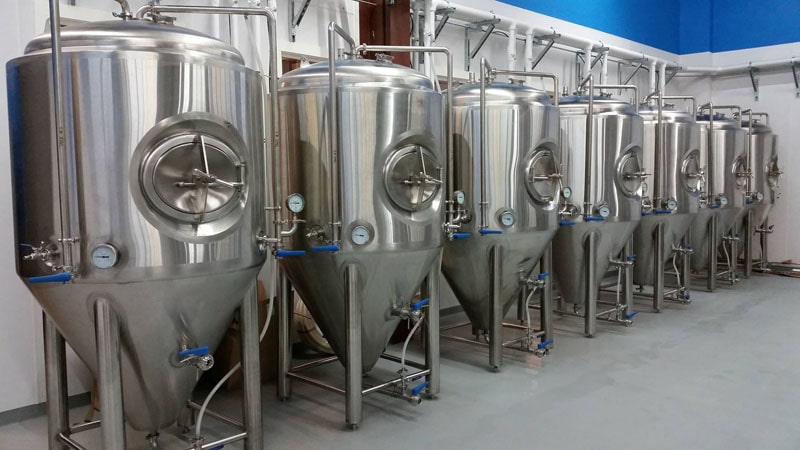 1000L stainless steel isobaric fermentation tank
Main Features:
304 SS or 316LSS Conical Fermentation Tankshave a60° Cone Angle.
Dual-Zoned or Multi-Zoned Glycol Jacketeddepending upon Fermenter capacity.
Insulated with a minimum of 100mm Chloride-Free PU Insulation.
#4 overall finish; exterior and interior.
Top/Side manhole offer superior sanitation and access for adding hops.
The interior of the shell is Professionally mirror polishing.
15 PSI (1Bar) working pressure .
One-Touch Racking Arm allows for easy racking arm rotation, without the need to loosen any clamps.
Simply turn the handle and the racking arm rotates!
CIP Tank Spray Ball has spinner spray head assembly and exterior CIP arm.
Dedicated 1.5" Blow Off Arm helps keeps CIP and PAM Assembly clear of primary fermentation blow off exhaust and residue.
304SS Butterfly Valve(s); 2" bottom/drainage port to facilitate yeast removal.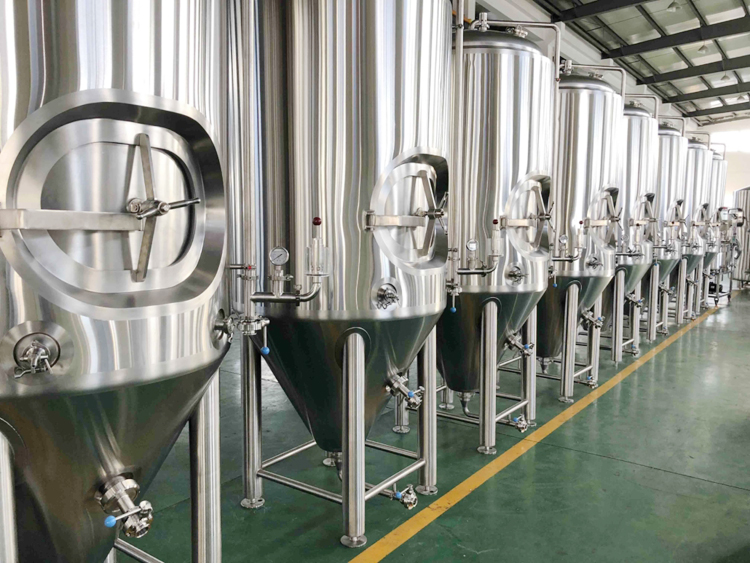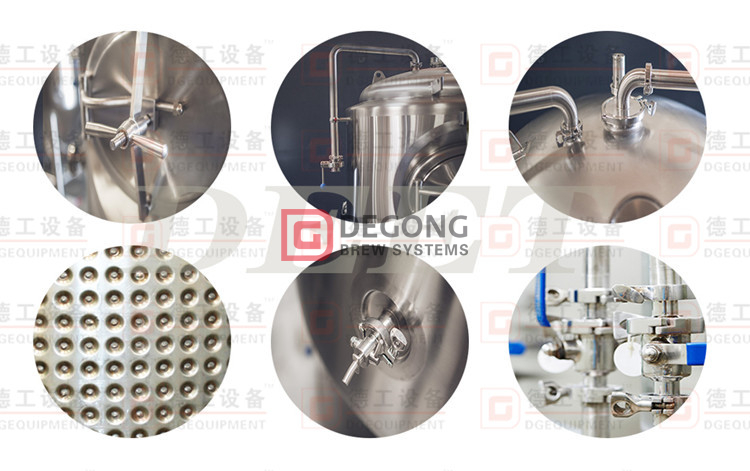 Service
After delivering the equipments to our customers, Degong will arrange special worker to do the track service,because we set up the marketing department for specially dealing with the feedback of customers for providing the satisfied service. Once Degong gets the feedback from customers, we will do our best to deal with it for you.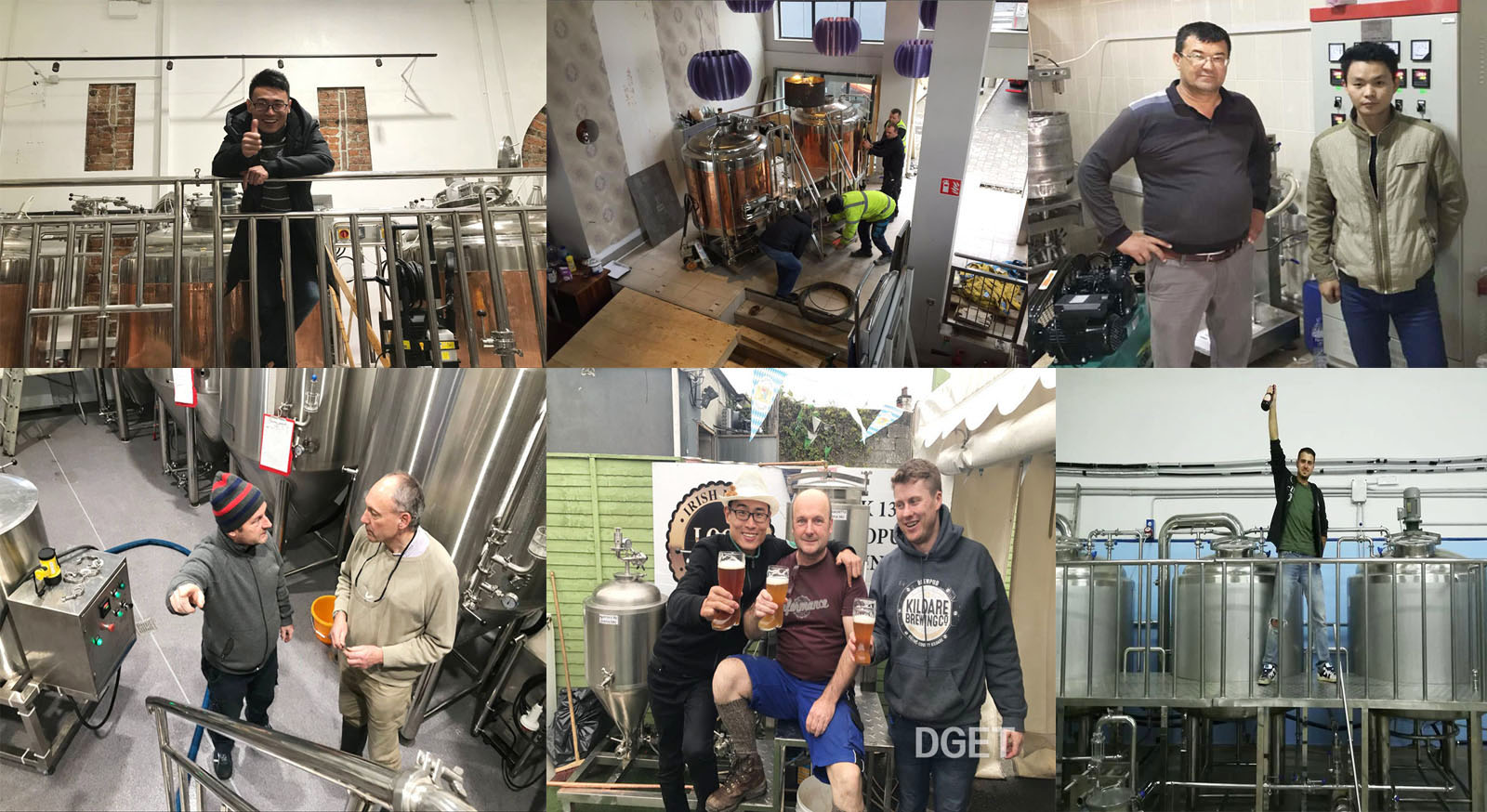 Why choose us
1.Use the stainless steel plate made by the Chinese best-known stainless steel manufacturing enterprise, quality of steel plate is approved by Chinese testing organizations.
2. Use the Chinese famous brand YUANAN pump (ABB motor), use the wrold famous brand SIEMENS motor, ABB SIEMENS are both the world famous companies. Quality is guaranteed.
3. CIP tank with Insulation is more safe, which can prevent workers from being scalded.Take automatic temperature controlling system to control temperature, self powering off system prevents electric heating coil from dry heating.
4. Control system uses electric appliances of world famous brand, Schneider, Omron, Danfoss frequency converter ensure the stable runing of the whole system.
5. steam solenoid valve, solenoid valves for fermenters take first or second class brand of Chinese to ensure the stability of brewing and fermentation system
6. Warranty period 3 years
If you have interested in our equipment,please get in touch with me