Description
The entire brewing process includes milling-mashing-filter-boiling-whirlpool-fermentation-bright beer- filtration-sterilization-filling-packing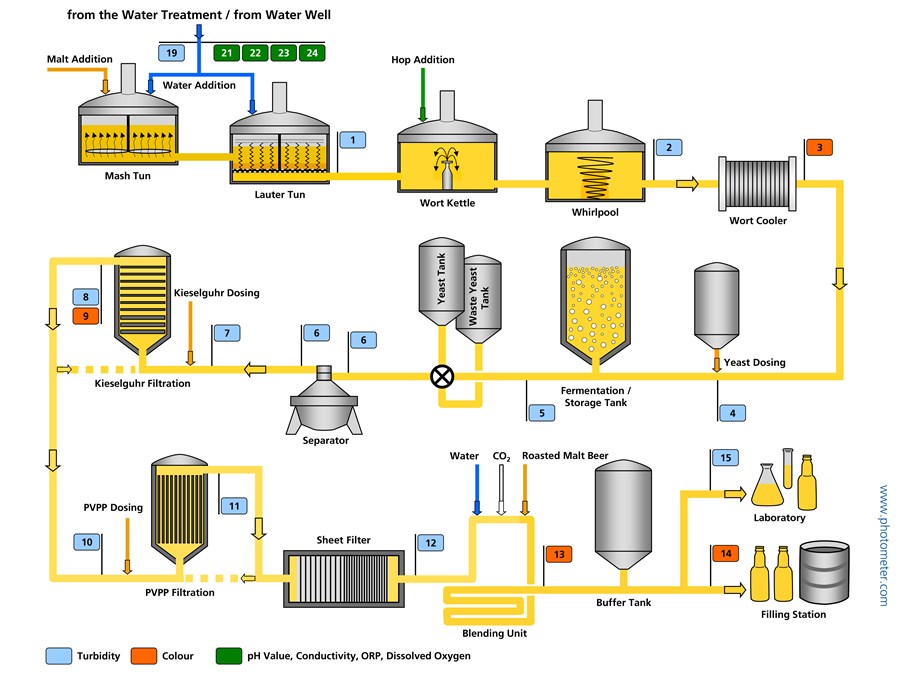 Fermentation is a process that the cold wort ferment in fermentation tank.And it need to add yeast and oxygen before going into fermentation tank.Therefore,it is a crucial step in the whole brewing process.Meanwhile, fermentation is an ongoing process and it need to keep temperature in a certain temperature,so it is very important to master the fermentation temperature. In addition, different beer has different fermentation temperature.That is to say,the temperature required for the top fermentation is about 18 to 22 degrees, and the temperature required for the bottom fermentation is about 8 to 12 degree. The types of yeast of top fermentation and bottom fermentation are different, so the by-products produced are also different. So the taste and smell of these two beer are very different.For example, ale with less carbonic acid and rich in flavor,however lager is very soft, more carbonated and more refreshing.
stainless steel beer fermenter
Technical parameter of stainless steel beer fermenter
100% food-grade 304 and 316 stainless steel
All fermenters are rated to 0.15MPa (1.5 bar) operating pressure
Two-zone glycol jacketing,and 60-degree conical cone
Top-mount manway (Meanwhile optional side-mount configurations available)
Complete thermal insulation of side walls and cones
All insulation is fire retardant fiber cloth (not foam)
All welds are blended and finished to a sanitary food-grade finish
Every fermenter is equipped with:

racking arm

pressure relief valve

blow-off/ clean-in-place (CIP) tube

CIP spray ball

sample valve

butterfly valves

TC clamps, gaskets and clamps

90-degree elbows

optional rupture disc assemblies available
Features of stainless steel beer fermenter
– Certificated sanitary food grade SS304
– High quality valves & components
– Dual cooling areas which is easy to operate and good for saving energy
– Our fermenter is easy to maintain, operate.
– Saving time and labor
– All fermentation tanks should pass the tank leakage test before leaving our factory
– Carbonation stone port is assembled on fermentation tank for special use
– With dry hopping at the top of fermenter
– Fine welding seams treatment- More economical and competitive
– Completely customizable as requested
– CE, ISO, TUV approval for our fermentation tank


– With tubular level meter for special use


– Novel structure and attractive appearance
– More humanized design
Our company
Pre-sale service:
1. Free of making offers, craft and technical guidance.
2. We can provide company's qualification certification and the drawings.
3. We can also make customized products according to customer's needs.
After-sale service:
1. We provide long-term after-sale service.
2. If you need,we will dispatch engineer to install equipment for you.
3. Meanwhile, you can call or e-mail to consult any relevant questions since we have a special line of after-sale service. Or you can communicate online and solve the problems.
If you have interest,please get in touch with me freely.