Description
DEGONG brewhouse come in multi-vessel configurations mash tun,lauter tank,brew kettle,whirlpool tank and hot liquor tank included. We offer larger commercial used brewhouse from 10bbl to 50bbl brewhouses,and we also offer small brewpub/restaurant used brewhouse from 3bbl to 10bbl.  Our Brewhouse allow you to choose from various heating options (electric, steam, and gas fired), and come with Alfa Lavxal Pumps, Dual stage heat exchanger, IFM Flow Meter, Plow system, (SEW motor), Lauter rake, Working platform, Control box (button), Glass Wort tank, and all necessary hardware.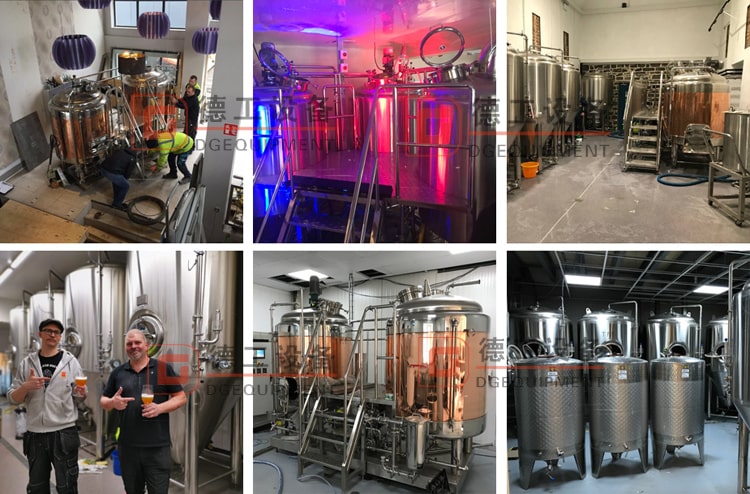 craft beer brewing unit in brewpub
Beer brewing unit brewhouse introduction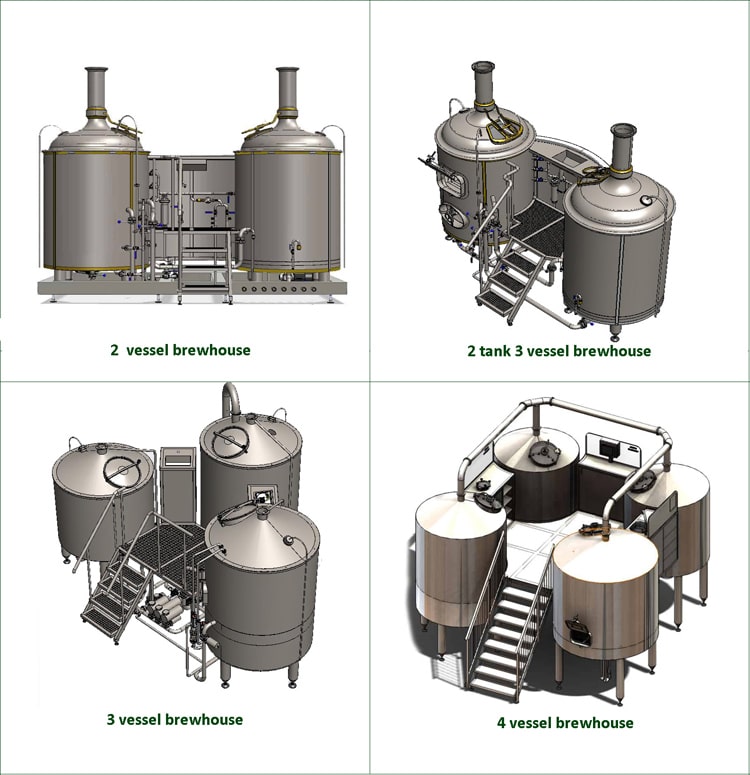 beer brewing unit 3-Vessel brewhouse configuration
1.Mash/boiling tun
It is designed for mashing and boiling of wort with hops.It has a mixing machine,driven by an electric motor.The tank has heating steam jacket which covers the cylinder and its bottom.Mash tun is thermally insulated with rock wool.Temperature sensor located in the cylindrical part of the tank.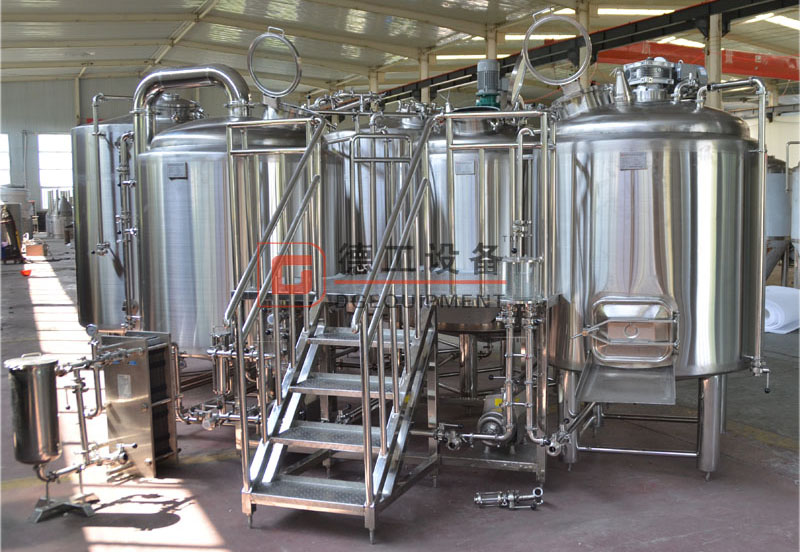 2.Lauter tank
It is intended for filtration of mash-separation of its solid and liquid.Lauter tank is carried our through removable sieve,consisting of several individual segments.it is also has a raker,driven by an electric motor.Temperature sensor located in the cylindrical part of the tank.The tank has a rectangular hatch in the cylindrical part for spent grain removable.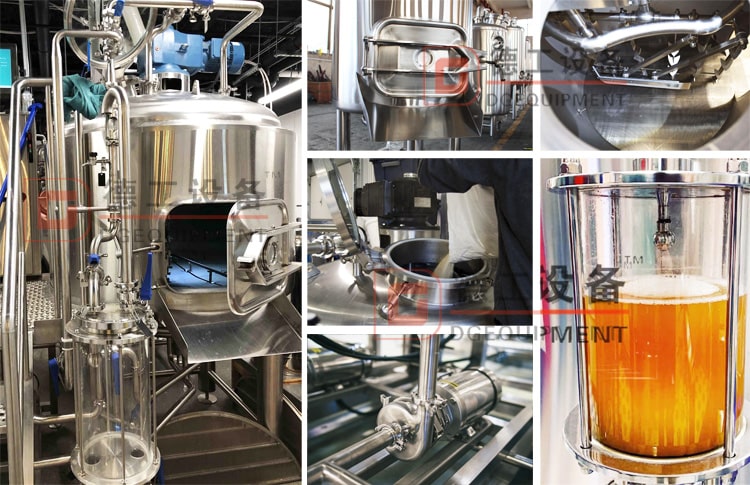 3.Whirlpool tank
It will produce hot coagulant when the wort is boiled in a boiling tank. It is intended for the separation of hot solidification and clear wort.There is a tangential port on the cylindrical conical tank.It is thermally insulated with 80mm rock wool.Temperature sensor located in the cylindrical part of the tank.Working volume is 500L,total 650L.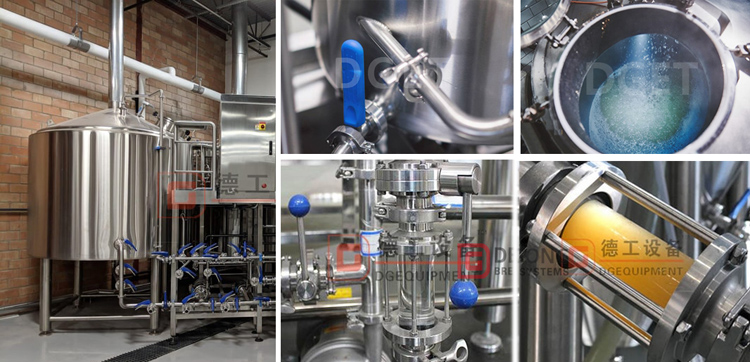 4.Hot water tank
Hot water tank is intended for heating water,which is used to cover the sieve before filtration in lauter tank(deaeration of space beneath the sieve) and washing of grains.The wokring volume is 1000L.
5.Wort pump
It is intended for pumping of mash and wort between tanks of the brewhouse(mash tun-lauter tun-boiling tun-whirlpool tun) at different stages of brewing process.PowerL0.75kw,3t/h,18m lifting
6.Plate heat exchanger
It is double stage plate heat exchanger.It is intended for cooling of wort before it pumping into fermentation tank.The cooling in the first stage is carried out with cold water and with the glycol water in the second stage.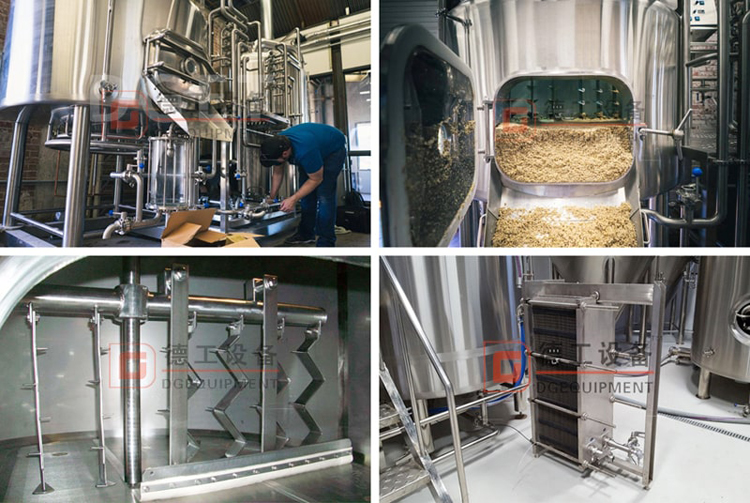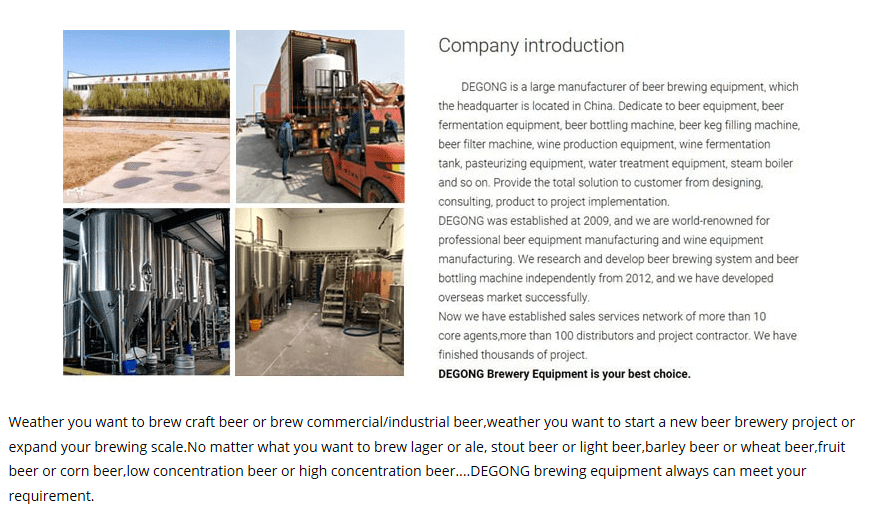 If you have interest in DEGONG beer brewing equipment,welcome to contact me freely