Description
Beer Fermenter Brewery Tank is a vertical, tapered, cylindrical vessel for the beer fermentation and maturation processes.Fermentation tank ,also refer to Uni-tank,which are vessels of various size usually made from stainless steel that contain a mixture of malted grain, hops, yeast and water to create a liquid collectively known in the brewing process as wort.Fermenter vary in temperature depending upon the beer being produced.
Beer Fermenter Brewery Tank features

Tank body
Tanks are available with torispherical and conical bottom
Torispherical lid resists high pressure and design according to DIN Standard
Conical bottom assures the easier removal of yeast from the tank
Tanks are available with side, top and bottom manholes depending on the size and your needs
Top manholes can handle high pressure, easily to handle and made in insulated version
Side manholes are can be easily cleaned without any blind area
Material quality of the whole tank is food grade SUS304/SUS316/AISI304/AISI316
Etched and passivated inner surface with a roughness less than 0.4 µm to avoid the contamination spots that are hard to wash
Cooling
2-3-4 cooling zone on cylinder and cone depending on the size
Cooling jackets made with the spot welding technology
100 mm PU foam insulation with a thermal conductivity of 24 mW/mK for the safest storage of heat and economical energy use
100 % stainless steel coating available in a variety of surface finishes such as 2B pickled, different surface roughnesses, polished and marbled
Fittings
All pipes and fittings are made in accordance with DIN Standard
Material quality of all fittings are food grade SUS304/SUS316/AISI304/AISI316
Vacuum and pressure safety valves, complying with all standards and positioned for an easy cleaning
Stainless steel pressure gauge, optionally can be ordered in flat membrane version
Technological pipings on the tank (beer pipe, yeast pipe, CIP pipe) produced with using the bending technology where no welding is used resulting that there are no infection points that might occur at welding jointst
Depending on tank sizes, each tank equipped with 1-2-3 pcs of accurate thermal sensor
Technical parameter of beer fermenter brewery tank
Dimensions

We can provide normal dimension if customer dont have special requirement.If have,we will

Design suitable dimension according to customer's requirement.

Capacity

Nominal capacity plus 25%

Top Head

Dished head

Lifting Lugs

2 lifting lugs

CIP

Removable CIP & fixed spray ball (180° up, 65mm) on 1½" TC with 1½" TC line down to

working height

Wall

Inner thickness 3mm;Outer thickness 2mm.

Bottom Cone

60° cone angle, "1½ knuckle radius to cone

Cooling Jacket

On sidewall and bottom cone – number of zones determined by tank size

Maximum 0.3MPA working pressure, 1" to 1½" FNPT inlet / outlet

Legs

4pcs completely SUS304 heavy duty legs with leveling pad and legs support

Insulation

100mm polyurathane

Manway

Top manway or side manway

Drain

1½"  TC butterfly valve c/w "J" pipe

Tank Material

All quality inspected 304 stainless steel alloy

Exterior Finish

2B with all welds ribbon polished

Interior Finish

 2B with all welds TIG welded with heat stain removed

Tank Pressure

Maximum 0.3Mpa

All accessories on tank

•Full sanitary sampling valve

•TC Vacuum Pressure relief valve on top head

•Mechanical relief valve 2 bar on CIP arm

•Shockproof pressure gauge on CIP arm

•Dry hopping port with solid end cap

•Thermowell for high accuracy temperature sensor

•Raking arm

•carbonation stone

•TC RSL Sample valve
Delivery&Packing
We will choose Wooden case to protect the equipment from being damaged in transit.If the equipment's height exceed the container's height,we will put down the equipment and fix it by iron frame.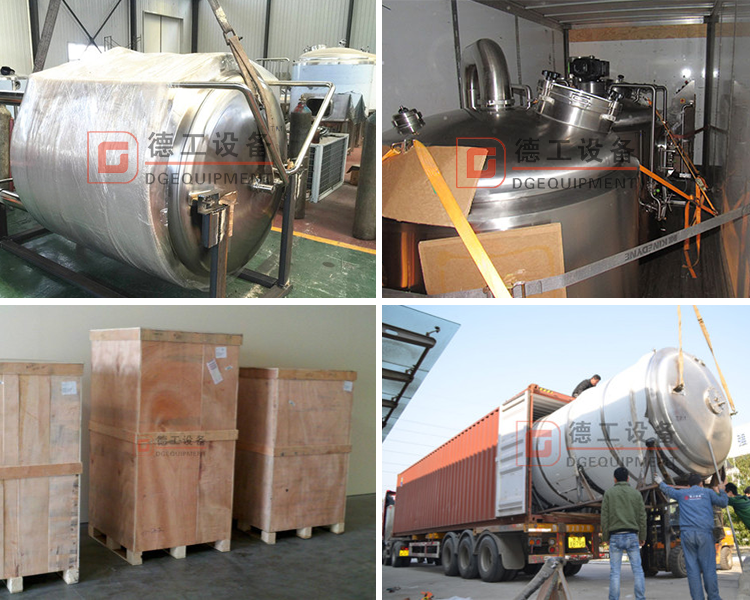 Company

                                                                                                     Working shop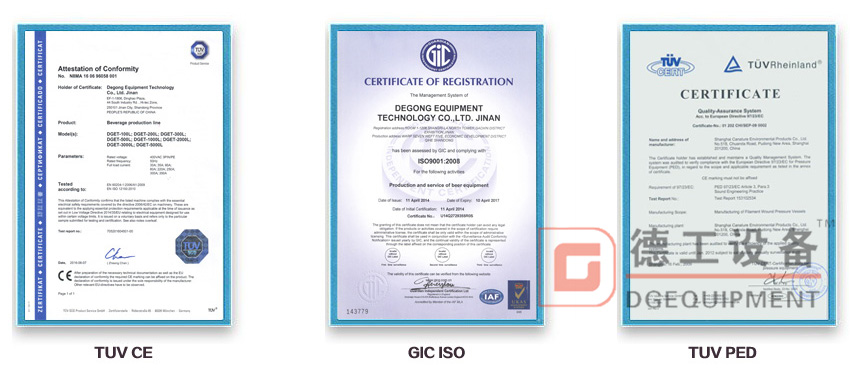 Certification
Contact us
If you have interest,please get in touch with me freely.