Description
DEGONG Beer brewing system can brewing a variety of beer , such as ale,lager, IPA and so on. The raw material of beer brewing is four basic ingredients (water, malt, yeast, hops) and some auxiliary ingredients (sorghum, rice).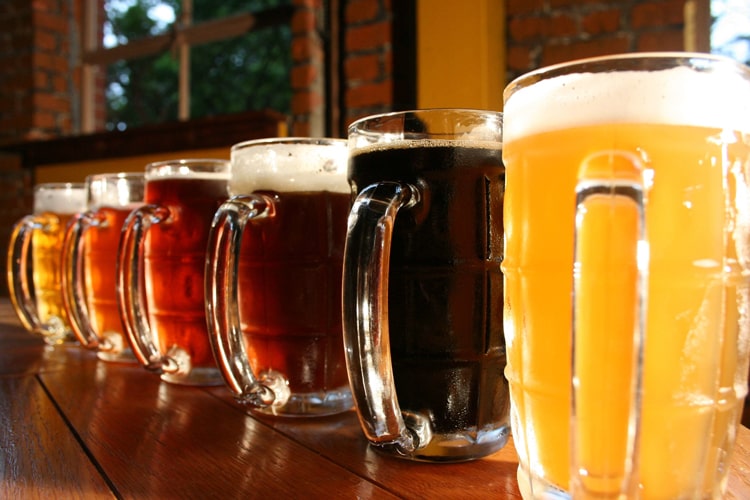 ALE,LARGE,BRIGHT BEER,DARK BEER
Ale (Top fermentation beer),its fermentation temperature is 16 to 24 ℃.The carbonic acid is low because of its high fermentation temperature.And Its taste is more abundant because adding much condiment.So you can feel its concordances.
Lager(Bottom fermentation beer),its fermentation temperature is 8-12 ℃.Its alcoholicity is low and its taste is softer.Because carbonic acid is higher than ale,so its taste is cool and refreshing.
All of the brewing equipment is customizable.If you don't know more about beer brewery machine,our engineer can give you the most professional suggestions according to your brewing plan,such as daily output or others….
Introduction of beer brewing system
Mash system, it is the most important part of the complete beer brewing system. It consist of mash tun,lauter tun, kettle, whirlpool tank. The tanks can be combined freely,such as mash/lauter tank,boiling/whirlpool tank.All of our equipments choose food grade SUS304.
Mash/lauter tun ,the malted grain in hot water to extract the soluble goodness (wort) from the grain to prepare for brewing.
Boiling whirlpool tank, the wort  boiled for a prescribed time and  infuse the addition of flavorful hops.Then concentrate the heat concretion at conical bottom by whirlpool and discharge them.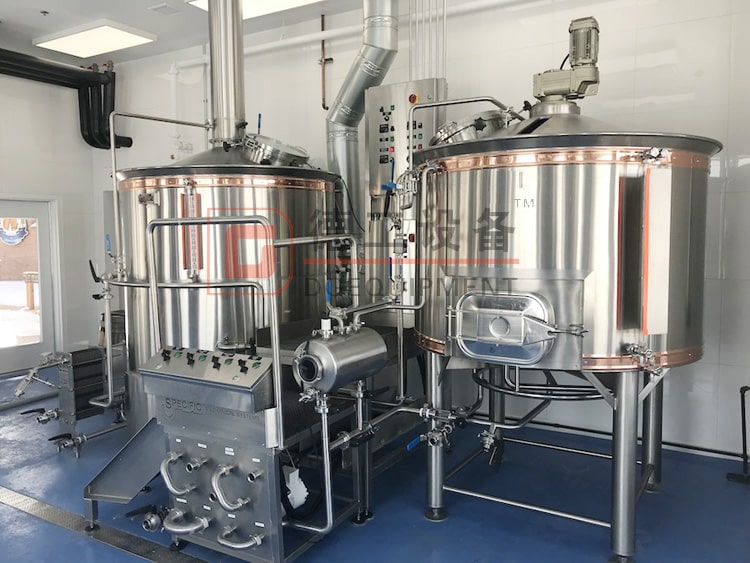 1000L 2 vessels stainless steel beer mashing system-mash/lauter tank+boiling/whirlpool tank
Component
Mash tun, Lauter tun, Boiling Kettle, Whirlpool tun in various combination
Hot water tank and cold water tank for optional in special combinations
Stainless steel cladding is even the unique because of easy maintenance and clean
Two stages or single stage heat exchanger for wort cooling
Completely stainless steel integrated work platform
Sanitary and efficiency wort pump
All pipings, pipes maniford and fittings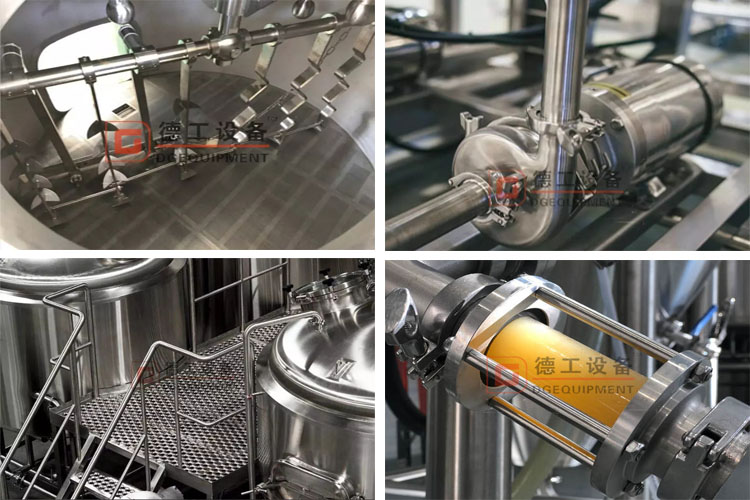 Fermentation Tank structure and design differs depending on fermentation process. The normal fermentation tank structure is dish head up and cone down and it is equipped with cooling installation,there is a cooling jacket on tank cone section,two or three cooling jackets on columnar part.This not only can meet the relevant requirements of cooling, guarantee cooling rate of fermentation tank, also help to precipitation and storage the yeast.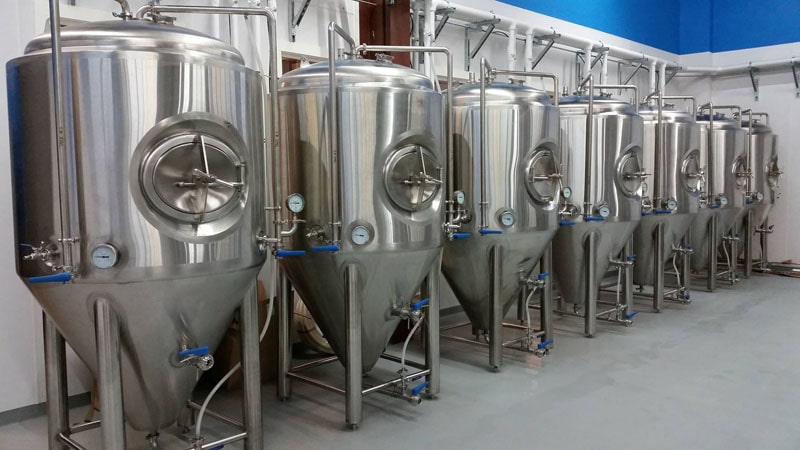 1000L stainless steel isobaric fermentation tank
Features
Function: Used for keep wort fermentation or maturation.
Standard stainless steel conical cylindrical fermentation tanks
Single, double, triple or more size as brewhouse
Calculate quantity of fermentation tank exactly according to fermentation cycle for various beers
Roof walkway is for special request
Cooling method: dimple plate or glycol cooling jacket both bottom and top.
Include all  valves, pressure gauges,breathing vavle,carbonation stone, fittings etc.
Design pressure is 0.3MPa; Working pressure is 0.15MPa.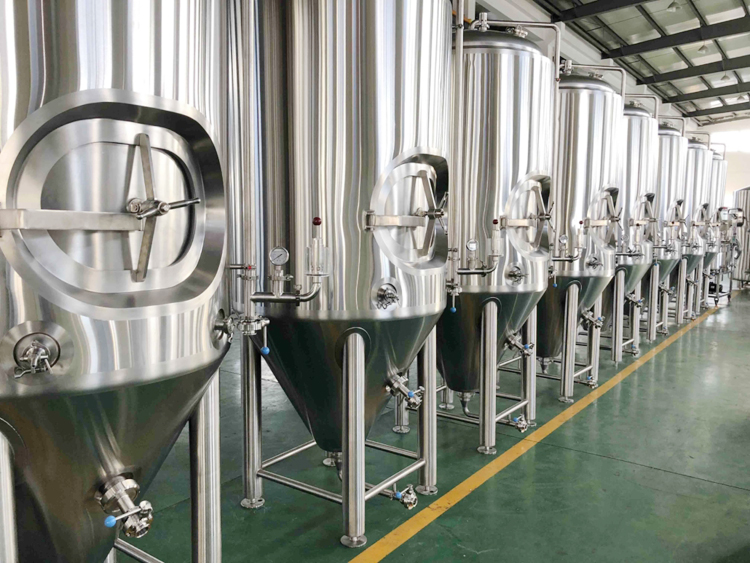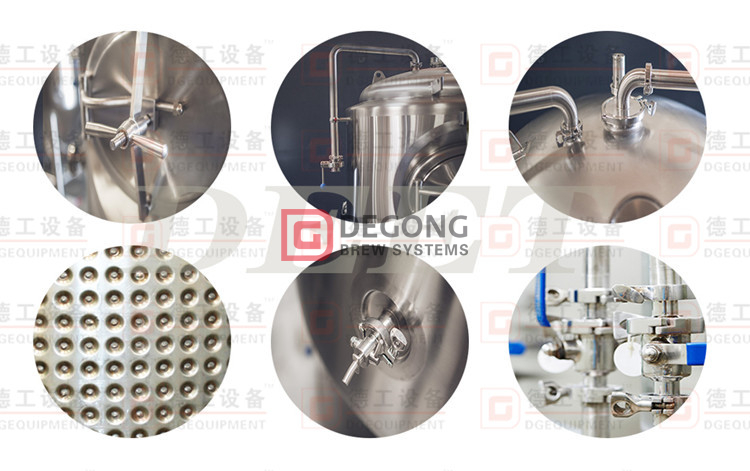 Standard features of beer brewing system
304 SS or 316LSS or copper.
30% head space at least for each tank
Motorized mash mixers, lauter rakes and spent-grain plow
ABB Siemens motors/pumps on the whole system
Stainless steel process piping, work cabinet and control cabinet
Siemens/Schneider/Omron electric element
Grirst hydrator bowl with hot/cold liquor blending
Sight level indicators on fermenting system.
Insulated with a minimum of 100mm Chloride-Free PU Insulation.
Interior Finish: Overall polishing to 0.4 μm without dead corner
Adjustable Levelers provide a level tank regardless of floor slope;
Delivery&Packing
We will choose Wooden case to protect the equipment from being damaged in transit.If the equipment's height exceed the container's height,we will put down the equipment and fix it by iron frame.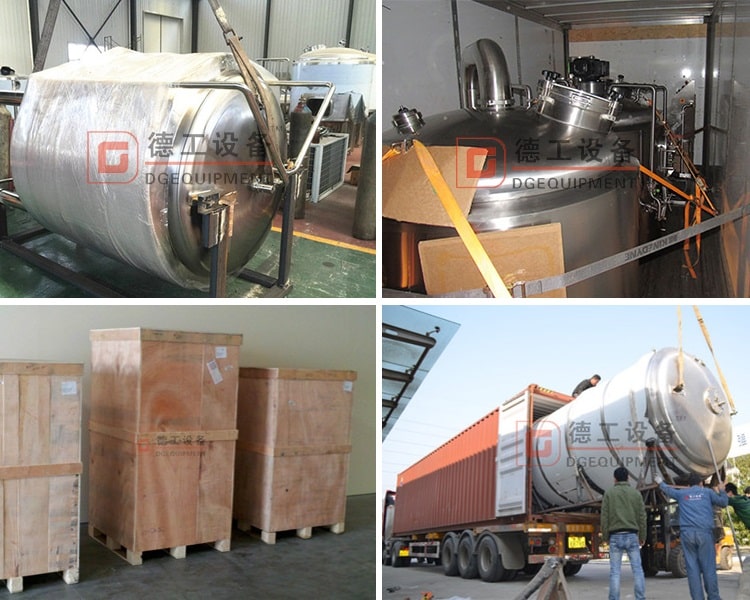 Service
1.Design suitable brewing system and system's connection  layout accrodging to customer's brewery.
2.Dispatch technical engineer to customer's country to install equipment
3.Debug the brewing equipment after installation
4.Teach customer how to use the machine and how to brew beer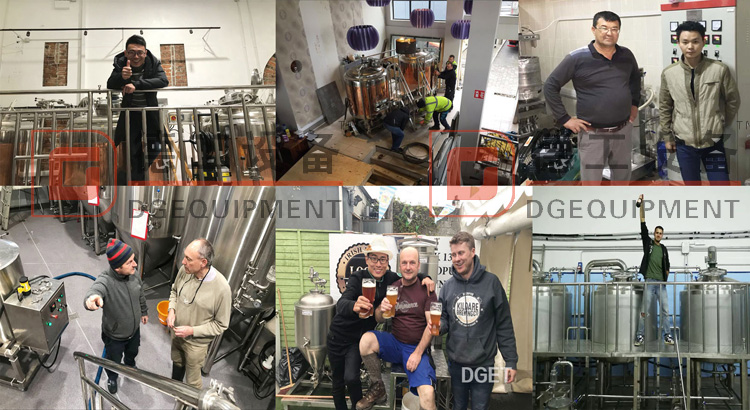 Why choose us
1.Use the stainless steel plate of the Chinese best-known stainless steel manufacturing enterprise, quality of steel plate is approved by Chinese testing organizations.
2. Use the Chinese famous brand YUANAN pump (ABB motor), use the wrold famous brand SIEMENS motor, ABB SIEMENS are both the world famous companies.
3. CIP tank with Insulation is more safe, which can prevent workers from being scalded.Take automatic temperature controlling system to control temperature, self powering off system prevents electric heating coil from dry heating.
4. Control system uses electric appliances of world famous brand, Schneider, Omron, Danfoss frequency converter ensure the stable runing of the whole system.
5. steam solenoid valve, solenoid valves for fermenters take first or second class brand of Chinese to ensure the stability of brewing and fermentation system
6. Warranty period 3 years