Description
Beer fermenters are constructed using SS 304 or SS 316 as desired, designed as cylinder conical tanks with cone angle between 65 to 72 degrees. These tanks are equipped with dimple jacketed glycol cooling system and insulated with 50 – 60 mm poly urethane foam. Tanks are fitted with high quality solenoid valves that regulate tank temperature. The cooling surface includes the cone and cylinder area. Independent cooling for cone and cylinder areas can be optionally provided. All tanks are fitted with high quality temperature sensors for accurate temperature indications.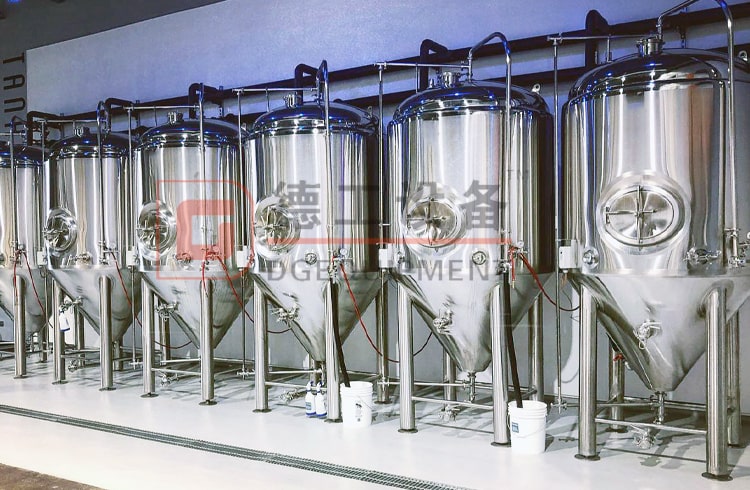 Beer fermenters brief description
Tanks are pressure tested to 3.0 bar and are fitted with a safety pressure valve set at 2.0 bar. Single or dual CIP spay balls are fitted for CIP operation. Overhead cross arm extending to the side is provided with a pressure regulating device and a sanitary air trap for releasing and regulating carbon dioxide during fermentation. Standard provision include front or overhead manhole opening.
In the event the fermentation tanks is used as a uni-tanks for maturation and beer distribution, tanks can be fitted with beer python line outlet and carbonation inlets, and kegging outlets. Arrangements for applying counter pressure of Carbon Dioxide is provided in the cross arm assembly.
Tanks are available from 200L to 2000L in themicrobrewery range, and larger capacities for full scale brewery.
beer fermenter in brewery
Beer fermenter characteristics
100% TIG welding with pure argon gas shield
The pipe mouth stretch technology and automatic tank welding equipment ensure the tank with no dead angle,no material residue and easy to clean
Tank polishing precision ≤0.4um,no distortion, no scratches
3D technology application make customers know tank from different angles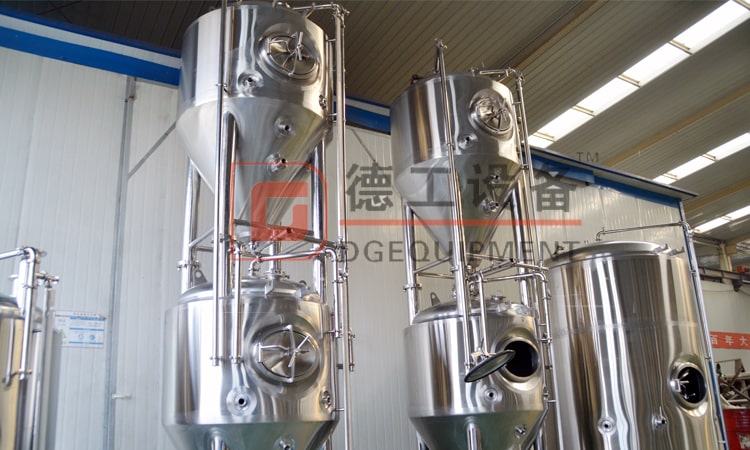 stacked beer fermenters(your space is limited)
1000L beer fermenter technology parameter
Material:SUS316L or SUS304
Interior Shell: 2B/mirror plate; TH=3mm
Exterior Shell:2B/mirror/brushed plate; TH=2mm
Dish head,cylinder,60 degree cone bottom(adjustable)
Dimple jacket or dribbling cooling ,PU insulation,TH=80-100mm
Tank equip with lifting leg,solenoid valve or mechanical regulation valve,manhole(top or side)
sample valve,temperature sensor, breather valve, adjustable legs, drain outlet.CO2 outlet,coolant inlet and outlet
CIP inlet and outlet,wort inlet and yeast outlet,cleaning ball, pressure gauge
Option:Dry hop mouth,CO2 filling device With titanium rod distributor
beer fermenter details
beer fermenter drawing
3D beer fermenter