Description
Based on yeast tpye,beer is divided into ale and lager
Ale (Top fermentation beer), fermentation temperature is 16 to 24 ℃.Arbonic acid is low because of its high fermentation temperature.Its taste is more abundant because adding much condiment.Therefore you can feel its concordances.
Lager(Bottom fermentation beer),however,its fermentation temperature is 8-12 ℃. Its alcoholicity is low compared to ale,and its taste is softer.In addition,because carbonic acid is higher than ale,so its taste is cool and refreshing.
Features of steam heating mash system:
Available capacity in 1 – 60bbl systems
Steam heating ( electrical heating & direct fired heating is optional for small system)
100% TIG welded and sanitary polished surface
Inner shell 304 stainless steel ( 316 stainless steel inner shell is optional )
Outer cladding 304 stainless steel  ( copper cladding is optional )
Brewing platform and stairs304 stainless steel
304 stainless steel antislip cover plate or GRP grating is available for the platform stand
Motor & reducer on top or at bottom is optional
PLC automatic control,Siemens,Omron,Schenider component
1000L steam heating mash system automatic stainless steel brewing equipment of beer
1000L fermentation tank
Beer production
Technology of beer brewery equipment includes the following stages:
Malt milling – the germination of cereal grains (usually barley), drying and cleaning of germs,
Mashing – the malt is ground and mixed with water. The mixture then becomes sweet taste,
Mash filtering – mash is pumped into the filter – vat, where it is divided into wort without hop and spent grain,
Wort boiling -wort with hops, and other ingredients, then cooked for 1-2 hours,
Clarification of the wort –  the wort is pumped into a whirlpool to remove insoluble residues of barley and hops,
Cooling and aeration of wort -cooled wort is pumped into a fermentation tank,
Fermentation – simple sugars in the wort with yeast transformed into alcohol and carbon dioxide,
Filtering -beer is filtered from the remnants of yeast,
Pasteurization – some beers are pasteurized – heated to a temperature of 68-72 ° C, so for longer storage.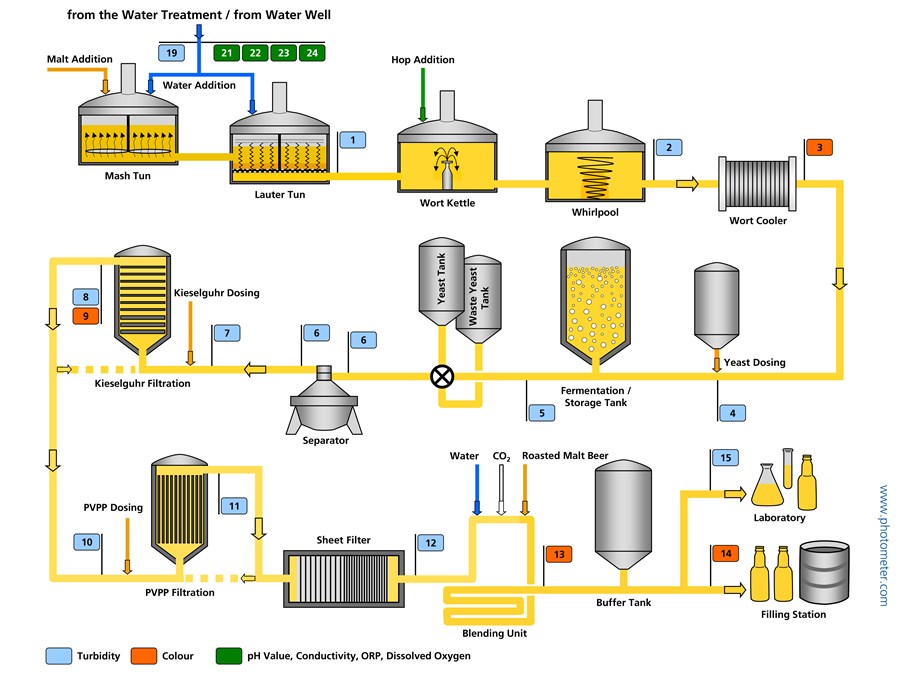 Details of stainless steel brewing equipment of beer
Milling system

Malt miller

300-500kg/h

1pcs

Auger(option)

Ability is 1000KG/h

1pcs

Hopper(option)

Volume is 0.6m3. SUS 304 with pre-masher

1pcs

Brewhouse

Mash tun/ Lauter tank

Volume is 1000L, with false bottom, grant, raker with motor

1pcs

Kettle/whirlpool tank

Volume is 1000L, electric heating

1pcs

HLT water tank

Volume is 2000L, electric heating

1pcs

Includes plate heat exchanger, wort pump, motors, hops filter, yeast adding tank, oxygen device and pipelines

Fermenting

Fermenters

Volume is 1000L or 2000L(double batches)

6pcs(Can be customized)

BBT(option)

Volume is 1000L or 2000L(double batches)

2pcs(Can be customized)

Racking arm, spunding valve, pressure gauge, carbonation stone, sample valve

Cooling system

Glycol tank

Volume 2000L or 3000L

1pcs

Cold water tank(option)

Volume 3000L, cooled by glycol tank

1pcs

Chiller

10HP, Copeland

2pcs

Cleaning

CIP

100L two tanks, heated by electric, with pump and trolley

1pcs

Controlling

Control cabinet

PLC touch screen or PID controller

1pcs
Raw material:properly prepared cereal grain (usually barley and corn or rice),hops (scientific name Humulus lupulus), pure water, and yeast. Each ingredient can affect flavor, color, carbonation, alcohol content, and other subtle changes in the beer.Therefore, the raw materials are high quality imported malt,wheat malt, black malt,burn fragrant malt and import hops.The active yest species are introduced from Germany. And our fresh pure beer doesn't add any additives and have rich nutrition and unique taste, it is truly green food.
Advantage:
1.Different specifications meet different need of customers,for example,several types of heating devices for your choice: dimple jacket / inner pipe heating machine(optional)
2.Advanced technology can saving energy and running cost,for example,our control panel is PLC.
3.High performance and stability with low maintenance cost
4.Custom built, meet your needs exactly,that is to say,you just need to tell us your brewery's real condition,then our team will design suitable tanks suitable to your brewery.
Our Service:
1.As owning an experienced and creative engineering team, we could offer you professional solutions for your plant and equipment.
2.If you already have solutions, we would fabricate the equipment exactly as per your request.
3.We could offer you training of brewing craft beer and operating equipment if needed.
4.Equipment can be customized according to your request.
5.36 months warranty.
6. Meanwhile, you can call or e-mail to consult any relevant questions since we have a special line of after-sale service. Or you can communicate online and solve the problems.
If you have interest,please get in touch with me freely.