Description
Beer microbrewery equipment(1200L) is typically applied to breweries which are independent owns and much smaller than the large scale cooperated ones. Brewing is a science and technology and the key to every scientific process is control. With DEGONG brewery equipment, only the yeast you want to add to your wort gets in, while everything else is kept out. Made of shiny and food grade 304 Stainless Steel, you will get the results you expect without the worry of external influences.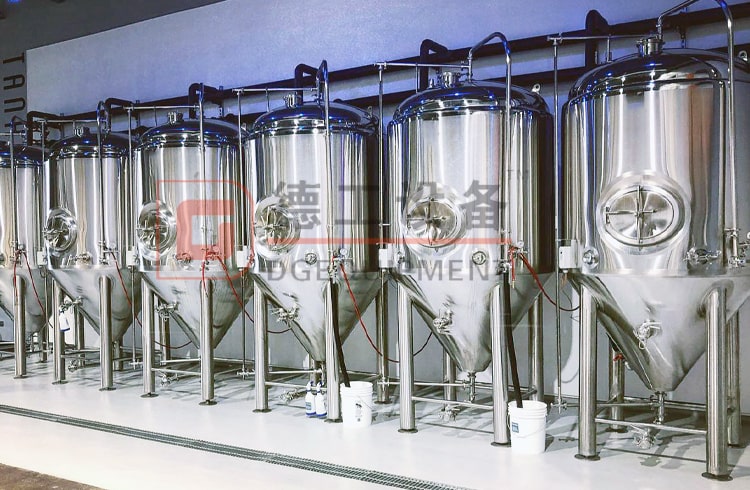 Beer microbrewery equipment special features:
Capacity: 100L / 150L / 300L / 500L / 1000L / 2000L / 3000L / 4000L/ 5000L / Customized Size
Material: SUS 304, food grade stainless steel for all vessels and piper
Heating Method: Electric, Steam,direct fire heating
Control Method: automatic, semi-automatic, manual
Beer microbrewery equipment advantage
Compact Structure, Save Space
100% Germany Processing Technic, With Stable Running and High Efficiency
Hig Output, Low Energy
Support varied recipes To brew, satisfied with the tastes request of beer from different clients
With superior stainless steel and welding procedure, increase life time of equipment
3-vessel beer microbrewery equipment
Beer microbrewery equipment feature
Higher wort wort extract
Lower energy cost and material consumption
Well adjusted temp and water blending unit for better grain and water mixing
Special designed steam jacket unit to increase steam using efficiency and avoid "water hammer" problem
Special tank and piping construction to avoid the wort aeration problem and decrease the material lost
Internal heater for separate kettle, working with cylinder and bottom jacket for better boiling effect.
Possible to make boiling process under pressure, especially for brewery at higher altitude.
Special designed steam condensing unit, with both steam condensing and water heating function
Cellar tanks with good design updating for better cooling effect and accurate temp control
Pre assembled cellar piping, with cat walks for operation on top or manifold or piping corridor
Cooling unit for current use and well prepared for future expanding
Automation system with curve indication and production record printing, with recipe storage function, clients can create new recipe as
the exact production requirement.
raker&sight glass&spent grains hatch
beer microbrewery equipment brewhouse pipe details
Beer microbrewery equipment basic configuration(1200L):
Grain handling: Mill, conveyor (flexi auger or chain disc), hopper etc. With weight scaling
Brewhouse: Three or four vessels, including piping, HE etc.
Cellar: Fermenter, storage tank and BBTs, for fermentation of different kinds of beer, all assembled and isolated
Cooling: Chiller connected with glycol tank for cooling, with ice water tank and plat cooler for wort cooling
CIP: Fixed CIP station or Portable CIP unit
Filtration: Diatomite filtration, membrane filter, Plate frame filtration unit etc.
Compressed air unit and N2 generator, all piping line connected with system
packing&transportation
If you want to know more about DEGONG beer equipment, get in touch with me freely.