Description
We manufacture and supply brewhouse sizes from 1BBL to 150BBL based on customer's demand. Our brewery equipment is turn-key and consist of mill system, mash system, fermentation system, cooling system, cleaning system (CIP), control system and accessories. With brewery equipment you are able to produce outstanding full-bodied beers. Beginners will find it easy to brew with this fairly automated equipment.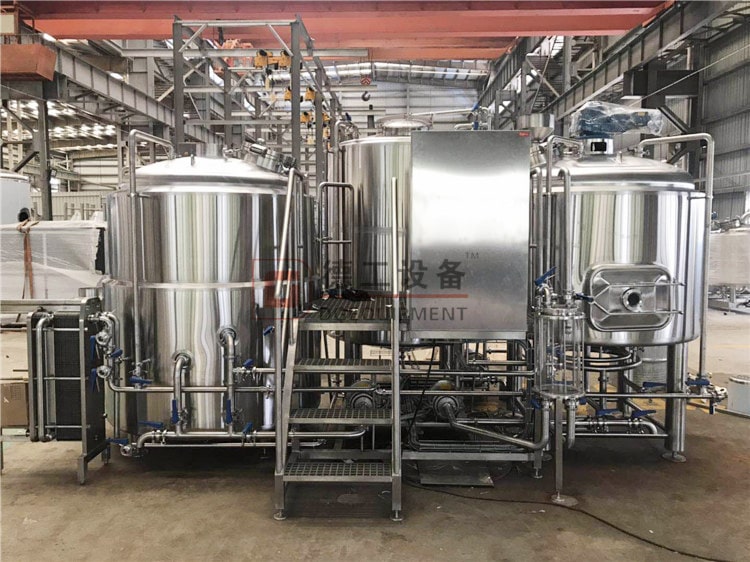 2 Vessel brewhouse system Brewery equipment
Multi-vessel Brewhouse system(Brewery equipment)
100% 304 stainless steel construction, including all non-product contact and structural steel
2B product contact material finish, with buffed internal welds
Designed with adequate free board above the maximum working volume for safe ingredient additions
Sized for 30 minute knock out
Glass cover manway
Tangential inlet designed to achieve tight trub piles
Insulation polyurethane 100mm
Fully welded 304 stainless steel outer sheathing
Rotary sprayballs to clean vessel
Trub removal system for easy disposal and efficient water usage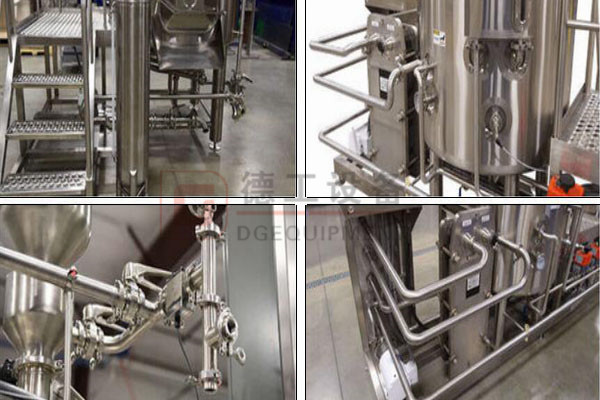 Brewhouse system details (pipeline,stairs etc.)
Fermenting vessel(Brewery equipment)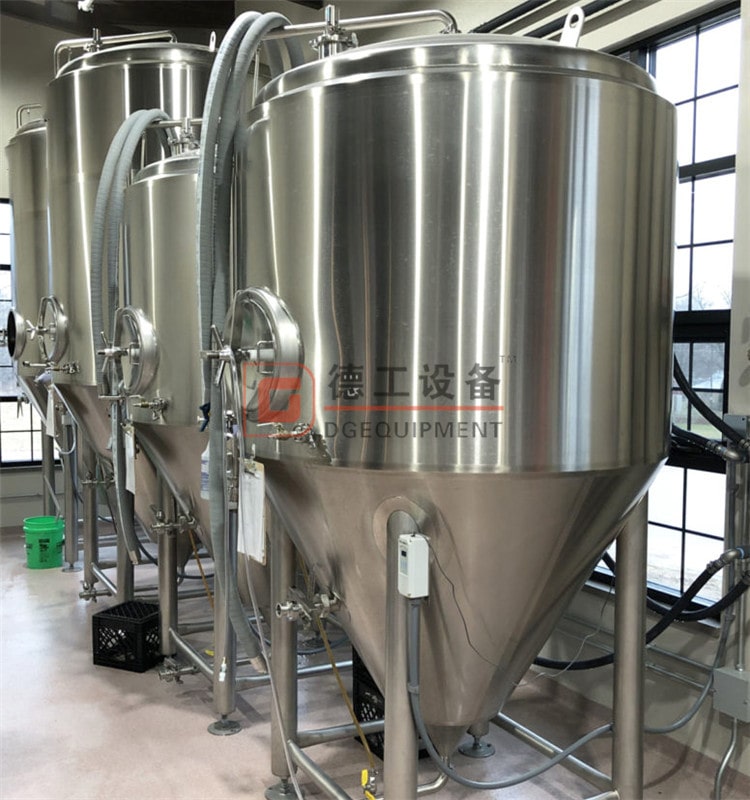 Fermentation is the process by which yeast converts the glucose in the wort to ethyl alcohol and carbon dioxide gas — giving the beer both its alcohol content and its carbonation. To begin the fermentation process, the cooled wort is transferred into a conical beer fermenter to which the yeast has already been added. Since fermentation produces a substantial amount of heat, the tanks must be cooled constantly to maintain the proper temperature.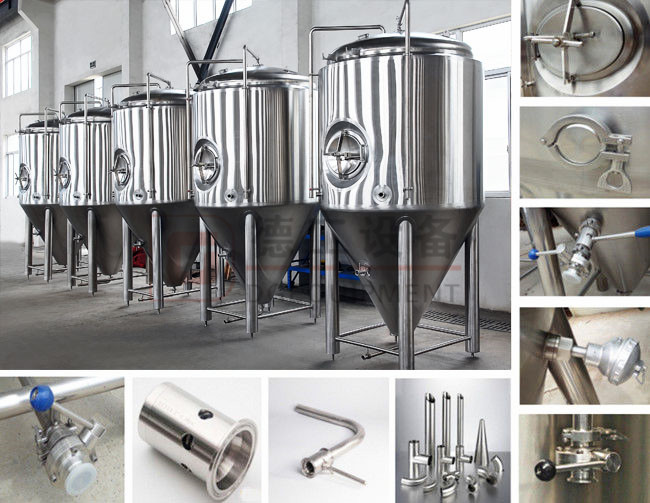 A group of fermentation tanks 
with drain outlet,breather valve,rotate racking arm etc.
CCT Standard Features:
60° Cone bottom with an average of 25% head space
Dual zone dimple cooling jackets (3 or more on larger tanks)
Cooling Jacket: 304 stainless steel, thickness 1.5mm
Interior shell: 304 stainless steel, thickness 3mm
Interior shell to finish pickled and passivated/mirror polish
Exterior shell: 304 stainless steel, thickness 2mm
Exterior surface to burshed, #4 finish or satin polish
100mm Polyurethane insulation
Top or Side shadowless manway
Dry hop inlet at top
Carbonation stone(optional)
Adjustable pressure valve
Pressure gauge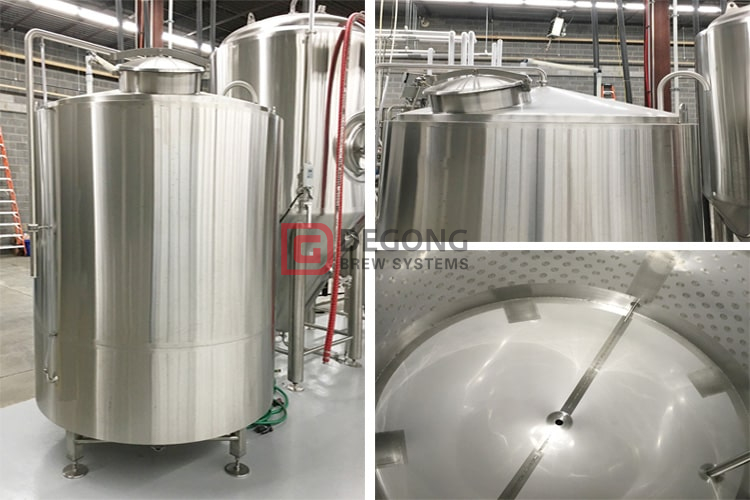 Double the cold water tank
1. How long is your delivery lead time?
A: After 30-45 working days when we receiving your payment.
2. What is your term of payment?
A: Our payment terms are both TT and L/C. 30% for advance payment after signing the contract and before manufacturing, 70% as balance payment after manufacturing all equipments and before delivery.
3 This is the first time I use this kind of machine, is it easy to operate?
A: There are English manual or guide video for showing how to use the machine;
If you still have any questions, we can contact by phone or email, etc;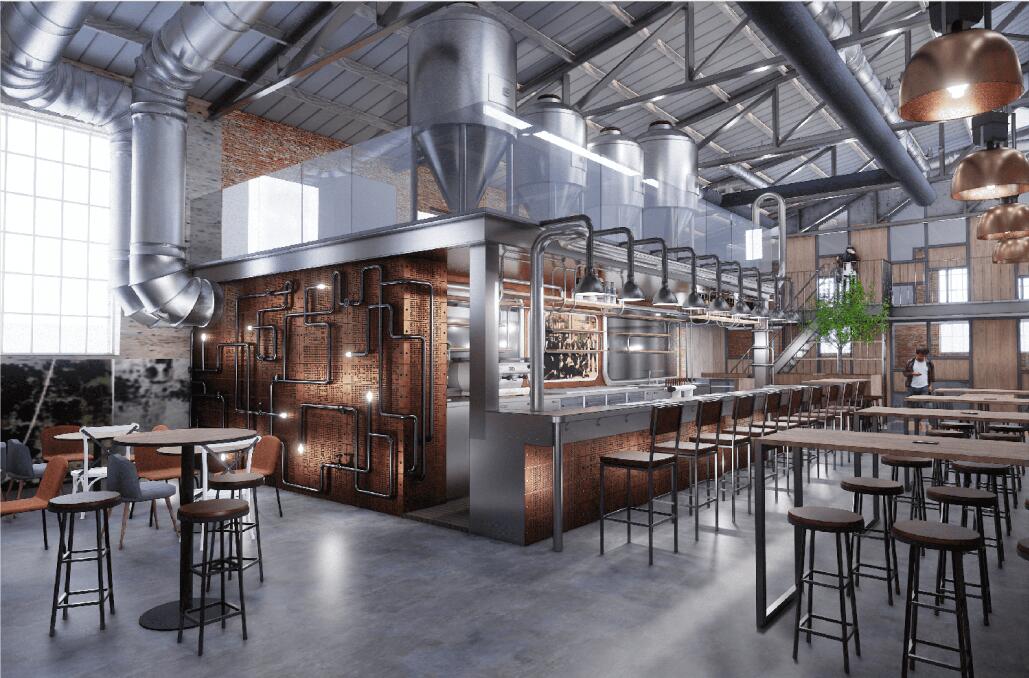 Apply to bars, restaurants, breweries, etc.
Package &delivery:
Packaging Details: standard wooden package
Package Type : As usual, we adopt wooden case as package type. It's suitable for long-distance transport. According to customers' special demand, we could adopt sheet iron case and so on.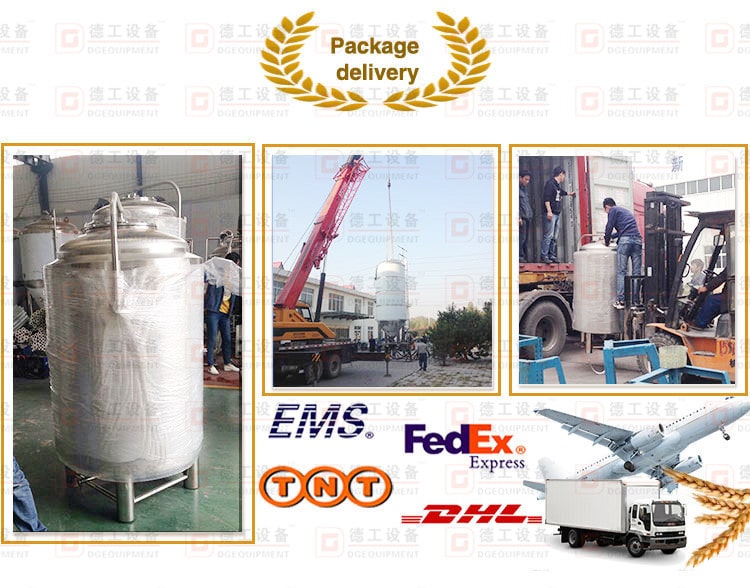 Contact information:
Would you like more information about brewhouse system,please give me message.