Description
The heart of any brewery is an efficient and consistent brewhouse.Utilizing state-of-the-art, PLC's and automation allows DGET to deliver semi-automatic or fully-automated brewhouses that deliver repeatable, efficient and high-yield brews at the right price.
A complete of brewery equipment configuration:
This system is a 3 vessel brewhouse design, shipped to the USA brewing market, can be used for microbrewery, beer factory brewing for different sized flavor beers. We recommend using mash/lauter, kettle/whirlpool. The hot liquor tank can be 20bbl, with double brews per day. The design is normally used in North American, EURO and Southern American brewing.
Note: 1US Barrel (BBL) =117Liter
Configuration:
1. Malt Milling Unit
Adjustable rolling crusher
Flexible auger for optional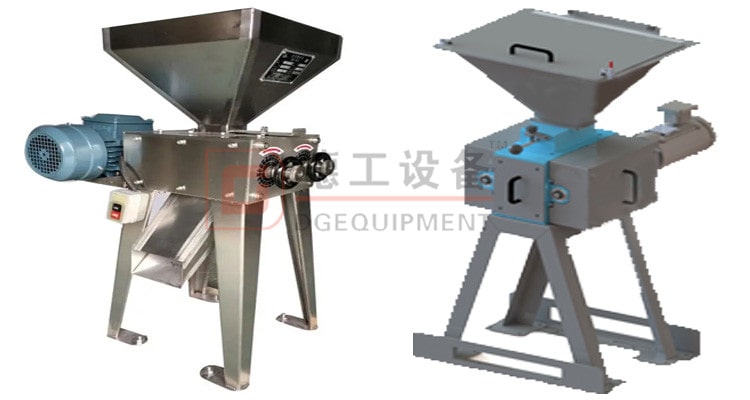 Grains crusher or miller
2. 10BBL Brewhouse configuration
Every Weld Blended and Finished to a Smooth Sanitary Finish
Stainless steel brewing platform & integrated stairs or ladder with adjustable footpads for platform leveling
Stainless steel hard piping and brewhouse manifold with butterfly valves, Sight glass and all required clamps and gaskets to hook tanks together
Steam condensation stack with spraying nozzles.
Sanitary centrifugal pump for mash, wort or hot water transfer
Fixed speed or various speed agitator and rake for efficient lautering and spend grain removing
High Efficiency multi-pass plate type heat exchanger
Control panel in stainless steel with digital control and readout to programmable
V-Wire False Floor Included in Mash/Lauter Tun – virtually guarantees consistent wort flow
Compact- Space Saving and flexible Brewing Configurations
Eelectric heating or steam heating(Need a boiler:electric;gas boiler and diesel boiler are available)
Standard Thermometers and Thermawell Adapters
VFD controlling for pumps and motors
Level gauge (optional)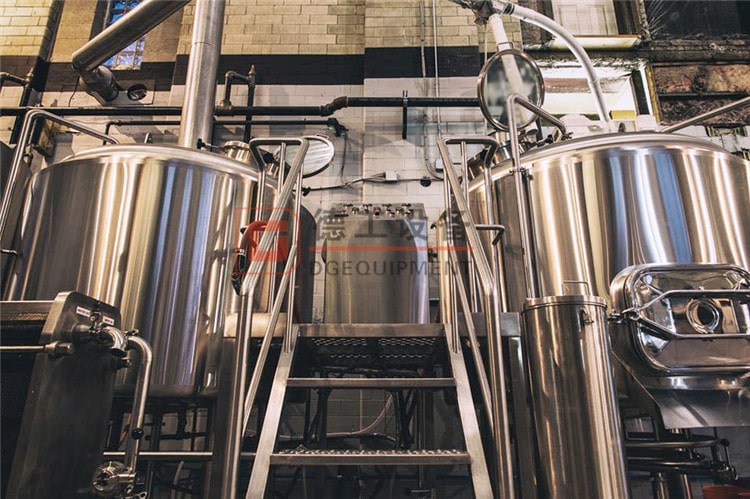 Ergonomic 10BBL brewhouse brewery equipment
3. 20BBL Hot liquor tank
Electric heating through electric tube
Sanitary centrifugal pump for hot water transfer
Level gauge (optional)
4. 10bbl Fermentation Unit
Standard stainless steel conical cylindrical fermentation tanks
Single size as brewhouse is common used in restaurant
Tanks quantity is exactly calculated by your brewing plan for various beers
All manhole, valves, pressure gauges, fittings etc are included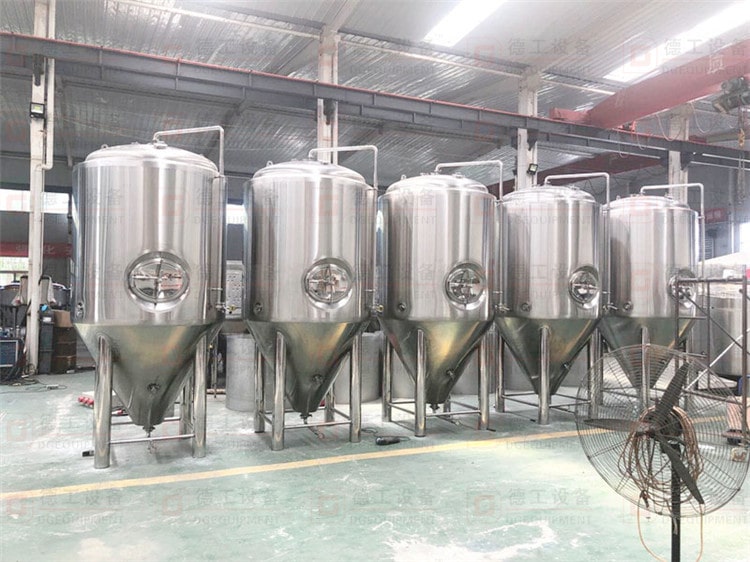 Brewery equipment fermenters can be available
5. Beer Filter Unit(optional)
In restaurant or bar, beers are always served as craft beer without filtration
6. 10bbl Brite tank
Standard stainless steel brite tanks for beer maturation, conditioning, service
Tanks quantity is exactly calculated for various beers and the function
All manhole, valves, pressure gauges, fittings etc are included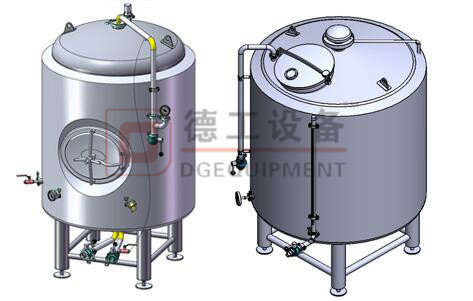 Brite beer tank model
7. Cooling Unit
Insulated glycol water tank with for glycol liquid holding and mixing
Efficiency chillers or refrigerators with Freon to supply cooling energy
Sanitary centrifugal pump for glycol water recycle among tanks and heat exchanger
All pipes, fitting, insulation materials are include
Glycol tank and chiller
Technical  parameters :
Construction is from SUS 304 food grade stainless steel, all pipes are SUS304
All tanks to be supplied with Data Plates including Test Data & Serial Number
All tanks will be tested and inspected in the NDT room after construction & Quality Control Checks
Jackets will be tested using water pressure testing, testing pressure: 0.3Mpa (3 Bar) & working pressure:0.2Mpa (2Bar)
All tanks will be pressure tested for 48 hours before leaving DGET'S factory;
The welds are full TIG welded
All tanks are mirror polishing inside, to be Ra 0.6um.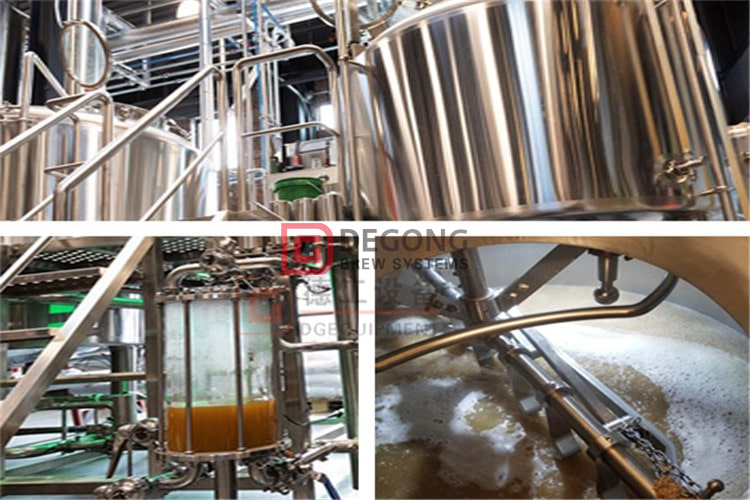 Brewery equipment brewhosue vessel details
(Bright stainless construction;large sight glass;top manhole )
Brewery equipment fermentation tank details
(Racking arm;side manhole for checking;drain outlet etc.)
Whether you are a start-up, a well-established craft brewery or a market leading brand – you can benefit from DGET in the brewery industry. Our catalog of high-quality equipment ranges from complete systems to process units to components.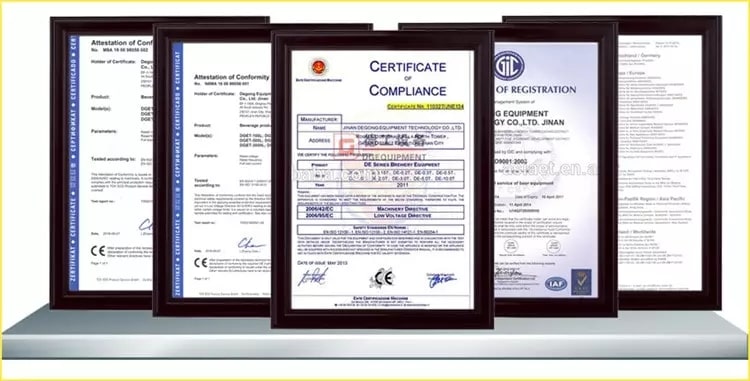 Our certification
After-sales service:
After delivering the equipments to our customers, DEGONG will arrange special worker to do the track service, because we set up the marketing department for specially dealing with the feedback of customers for providing the satisfied service.
Within the warranty period, any malfunctions caused by the quality issues, DEGONG will be responsible to it.
For the malfunctions beyond the warranty period, DEGONG will also be responsible to it, but the seller should take in charge of the expenses.
Packaging Details: standard wooden package
Package Type : As usual, we adopt wooden case as package type. It's suitable for long-distance transport. According to customers' special demand, we could adopt sheet iron case and so on.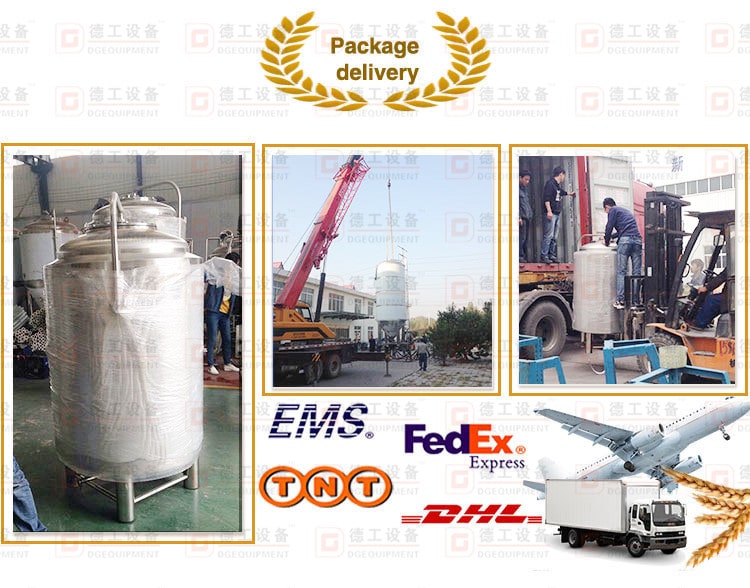 Wooden box packaging,Load into container and fix
If you have interested about our craft brewing equipment, need a quotation or you simply want to discuss your project with us, get in touch and we will be happy to assist you.