Description
Brewery equipment 10bbl brite beer tank
Vertical Bright Beer Tank are often also called serving tanks,or clear beer tanks (=CBTs), Vertical Bright Beer Tanks (=BBTs) or maturation or conditioning tanks. These tanks are used for the storage of the beer prior to being served or packaged. Depending on their application the beer serving tanks can be glycol jacketed or can be located in a cold room.For brewpubs serving is often done by pumping or pressurizing the beer toward the serving location.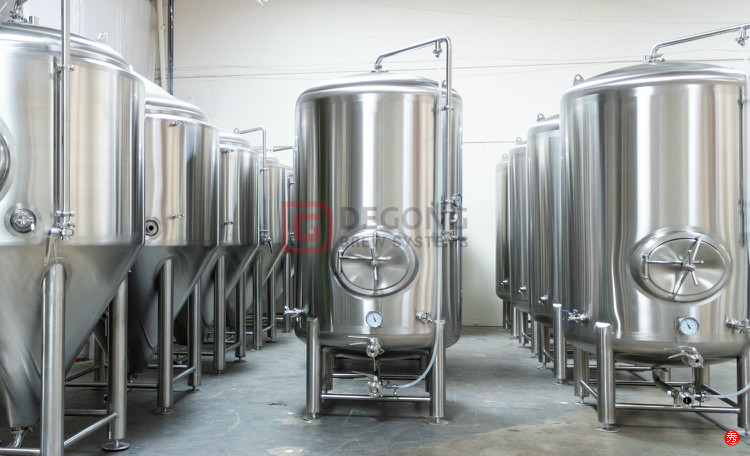 10bbl Vertical brite beer tank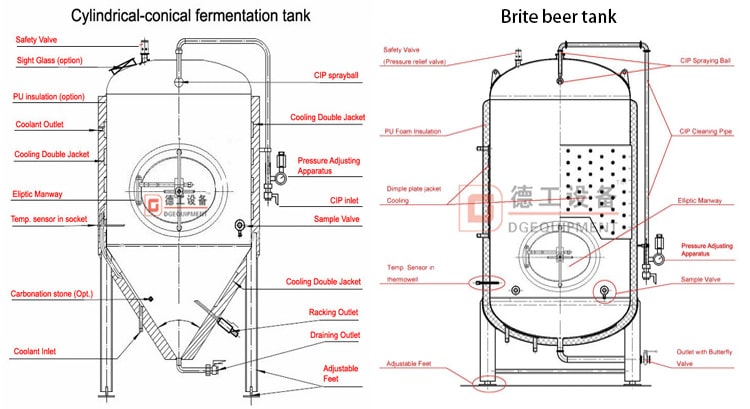 Fermentation tanks and brite beer tank drawings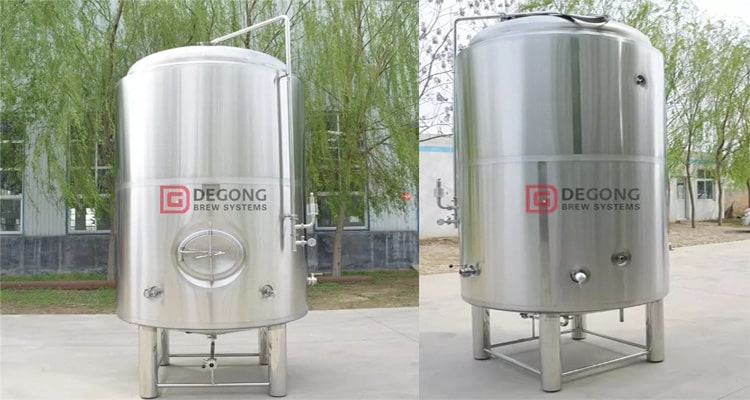 Craft brite beer tank
Function:Beer maturation/conditioning/serving/filtered beer receiving
Tank Capacity: 10BBL (+25% Headspace minimum)
Interior Shell: SUS304 full welded; TH=3mm
Exterior Shell:SUS304 full welded; TH=2mm
100% TIG welding with pure argon gas shield
Interior Finish: Overall polishing to 0.4μm without dead corner
Insulation: Polyurethane; TH=100mm
Glycol Jacket: Dimple plate on side wall
Stringent tank leakage test by water and pressured gas
Stringent Jacket leakage test by water and pressured gas
Dished head and cone bottom
Sanitary side mounted manway
CIP arm with 360° coverage CIP spraying ball
Full sanitary sampling valve
Mechanical relief valve 2 bar on CIP arm
Carbonation port with stone
Shockproof pressure gauge on CIP arm
Tri clamp discharge arm with butterfly valve
Thermowell for high accuracy temperature sensor
4pcs completely SUS304 heavy duty legs with leveling pad
Sanitary level tube with stainless steel ball valves
Complete valves, fittings and all parts
Horizontal tanks brite beer tank
Feature Description:
The horizontal tanks mainly for beer storage, which can be stacked with 2 tanks, to make full use of the height. Fermentation finished in short time, then we use horizontal tank for storage for longer time.
Horizontal tanks brite beer tank model
2 tanks stacked with frame. With right beer outlet, carbonation unit etc. All glycol cooling line preassembled. Inside surface to be passivated. All fittings installed with tanks using top brand in China or famous brand from other countries. The tank working pressure up to 3bar to fit the requirement of carbonation when necessary.
Capacity range: 5HL-50HL or 5BBL-50BBL, or customized
Horizontal beer tanks can save floor space
Details:
● Horizontal type
● With frame for supporting tanks
● Double heads with domed seal
● Pressure: 2-3 bar
● Dimple plate cooling jacket, cylinder, Polyurethane insulation, Thickness: 80-100mm
● All glycol line pre assembled
● CIP arm with pressure gauge, rotating spray ball
● Side manway, sample valve
Talk to us about your requirements and we will design a brewing system to work for you and your company. wlcome to consult brewery to get a perfect quotation.