Description
The set of 10BBL commercial beer brewery equipment is custom-built. It can meet the need to set up a large brewery. Our staff works with you on everything from defining your optimal brewery layout, to designing the setup and size of your brewhouse and tanks. Every brewhouse is built with 304 Stainless Steel and uses Siemens or ABB motors. Each device must go through a comprehensive quality control inspection before leaving the factory, and check everything.
Brewhouse(steam heating)
Feature of large brewery brewhouse
Brewhouse configuration 
Brew Kettle / Whirlpool Vessel with integrated steam jacket and temperature control

Usually customers will request a hot water tank with the same or double capacity

SS304  Sanitary Pumps with VFD Controls

SS304 Plate Heat Exchanger with integrated temperature controls

Manual Sanitary Butterfly Valves

Ergonomic and efficient 304 stainless steel Brew Deck with easy access to all vessels and brewing functions

Semi-auto control cabinet

High accuracy temperature sensor, PT100

Heating: dimple steam jacket/ stainless steel electric heating elements

Stainless Steel Work Platform with Handrails

Fully Welded Sanitary Process Piping 
Details of brewhouse
Large brewery fermentation system feature
According to the yield, engineer determine the number of fermenters

Appearance clean and generous and the equipment is bright;

Good insulation effect:,The equipment is divided into two kinds of heat insulation and cold insulation, which is the best to ensure the temperature of the beer brewing process;

Low energy consumption: environmental protection, energy saving, low powerconsumption.
Fermentation system configuration 
Fermentation tanks, bright beer tank, qlycol water tank, chiller, pump, breather valve, solenoid valve, temperature sensor PT100, sight glass, raking arm and pressure gauge etc.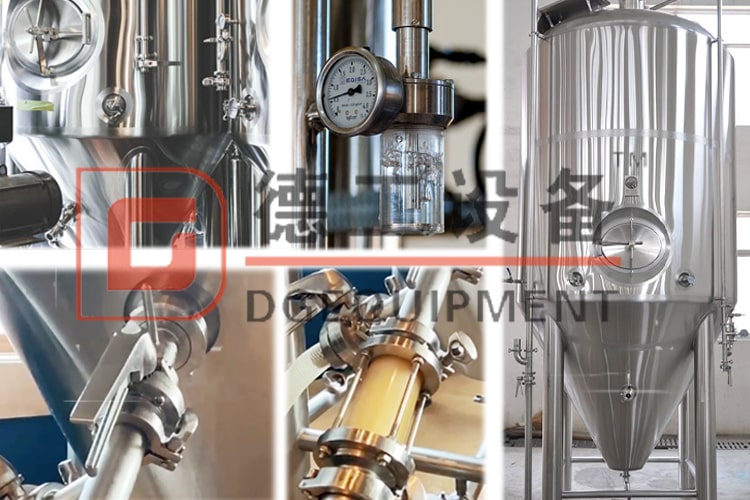 Details of fermentation tank
Additional system
Mill: Malt crushing equipment used disc type mill or roller mill.The size of particle can be adjusted
Cooling system: Beer production cooling system generally use the liquid ammonia refrigeration compressor unit,  the refrigerant tank for the temperature reducing
Cleaning and tiltering system: CIP mobile washing disinfection system, automaticalty clean and remove residues, it can prevent microbial contamination, and avoid the influence between batches.
Control system: This system includs crushing,mash, fermentation, filtering, CIP, cooling, packaging and other auxiliary control system.
Yeast propagation system: This system can realize the zero generation of yeast to expand training, and cultivate a purebred yeast, robust.
Our advantage
1. DEGT is a professional company of beer brewery equipment ,nearly 10 years of beer equipment manufacturing history( including Production→ Inspection→ Packing & Shipping→ Installation &Training → After Sales)will do its best to meet the needs of customers in all regions.Since the establishment of the company, it has been well received by numerous customers.
2. These products enable systematic execution of milling, mashing, fermentation, filtration, filling and other related processes. We rigorously test on each system to ensure that each brewing system is intact, after bringing these products to market
3. We tied it up with code and tied it up with a film membrane. We will choose Wooden case to protect the equipment from being damaged in transit.
Contact us
If you have needs for craft brewing equipment, please feel free to contact us,my pleasure.
Whatapp:+86 17860525597
EMAIL:[email protected]
Contact person:Kate