Description
Beer Unitank with cooling jacket, insulation and cone bottom. Stainless Steel beer unitank completed with a top dished head, fabricated going over to the body in rounding off shape.All welding is done under protection-gas atmosphere; inside properly ground, outside ground, cooling jackets welded in the beer Unitank.
Fermentation tank, also called Unitank, the different point is that Unitank is a combination use tank of fermentation tank and brite beer tank, which can carbonate CO2 into the unitank fermenter.Uni-tank with cooling jackets, insulation and cone bottom. All welding is done under protection-gas atmosphere; inside properly ground, outside ground, cooling jackets welded.
Beer unitank features
•Gross capacity:1500L,
•Useful capacity:10BBL
•Outline size: φ1300*2800 mm.
•Inner:SS304.TH=3.0mm      Outer:SS304.TH=2.0mm
•Inner Surface: Mirror polishing
•Vessel Pressure: 1.5 bar / 3.0 bar
•Insulation: Polyurethane-thickness100 mm.
•Equipment with : cone 60°resist compression design
•Heat exchange area:2.5㎡
•100% TIG welding with pure argon gas shield
•Interior Finish: Overall polishing to 0.4~0.6 μm without dead corner
•Insulation: Polyurethane; TH=100mm
•Glycol Jacket: Dimpled plate on cone and side
•CO2 blow-off arm with butterfly valve
Accessory on beer Unitank
•Side manhole for convenient operation
•Cooling jacket,two cooling zone
•Full sanitary sampling valve
•Breathing valve on the top of tank
•Mechanical relief valve 2 bar on CIP arm
•Shockproof pressure gauge on CIP arm
•Dry hopping port with solid end cap
•4pcs completely SUS304 heavy duty legs with leveling pad and legs support
•Thermowell for high accuracy temperature sensor
•Raking arm
•carbonation stone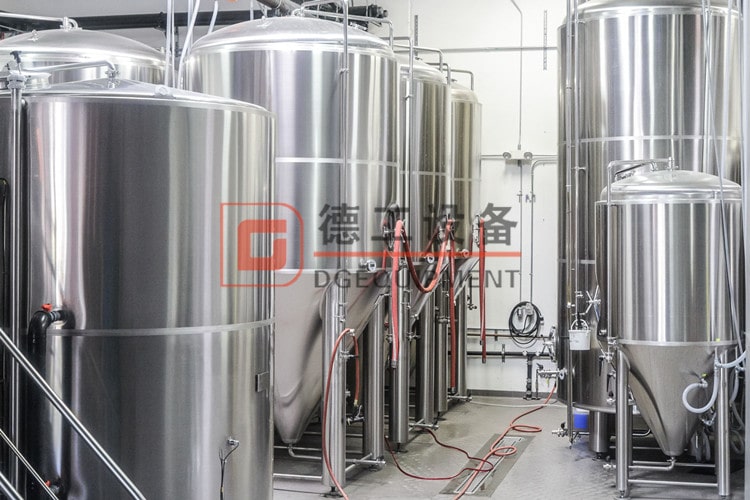 Stainles steel beer Unitank
| | |
| --- | --- |
| Basically feature | stainless steel, vertical, double-walled, insulated, 60 degree cone bottom, dished head,beer fermentation vessel. |
| Cooling method | The conical fermenter has a cooling jacket. The cylinder portion of the tank has 1-2 section cooling jacket, and the cone has one cooling jacket. This structure facilitates the sedimentation and preservation of the yeast. |
| Function | The conical fermenter is a sealed tank that can be used as both a fermentation tank and a storage tank. |
| Using | Conical tanks are not only suitable for the bottom fermentation, but also for the top fermentation. |
| Cleaning temperature | Cleaning the fermentation tank with hot water or steam sterilization is very dangerous, and it is easy to form a vacuum pumping phenomenon. Therefore, the temperature of the cleaned fermenter should not exceed 40 degrees. |
| Mechanical  regulating valve | Mechanical  regulating valve, when the pressure in the fermenter rises, danger will occur, so must install the valve. |
| Breathing valve | Large tank is very sensitive to vacuum, and a small negative pressure will cause it to deform. |
| Temperature sensor | the tank requires accurate temperature control and precise temperature regulation. So we should install it. |
| Pressure gauge | In the process of fermentation or storage, we should monitor the pressure. The pressure gauge shows the pressure with a pressure gauge. |
| Sampling valve | A sampling port is set on the fermenter to check the fermentation condition of of beer. |
| Manhole | It is convenient for people to go in and clean. Check the tank for cracks or corrosion. Check the dead corners on the tank or in the pipeline. |
Details picture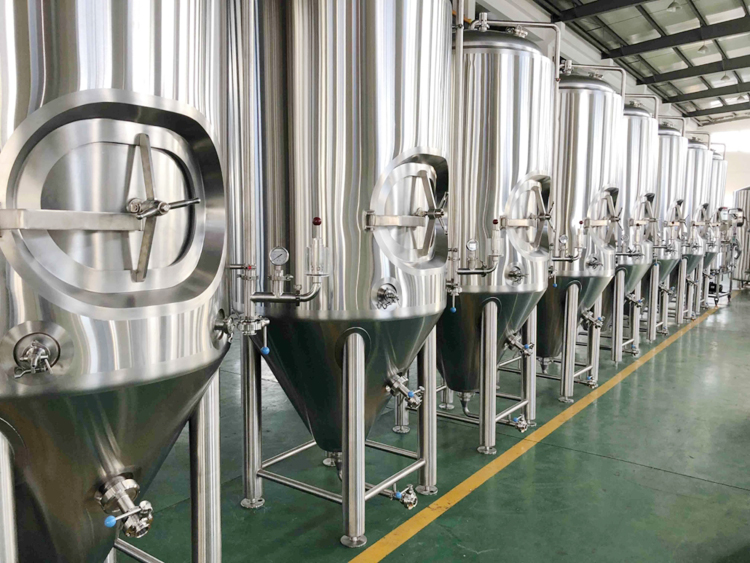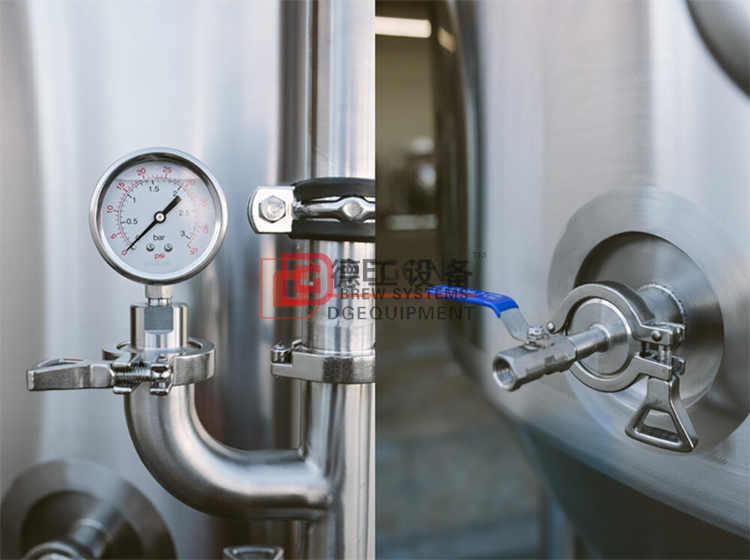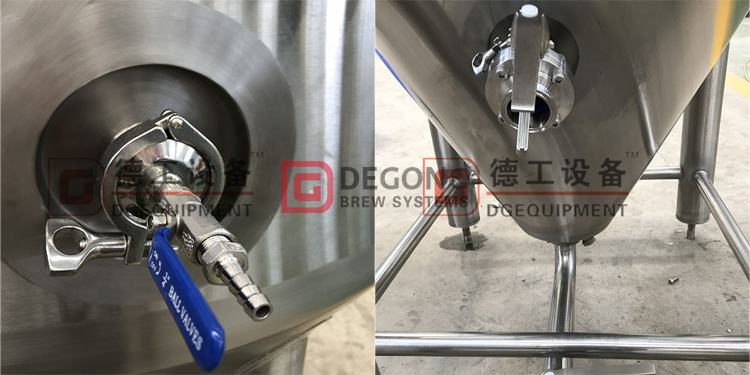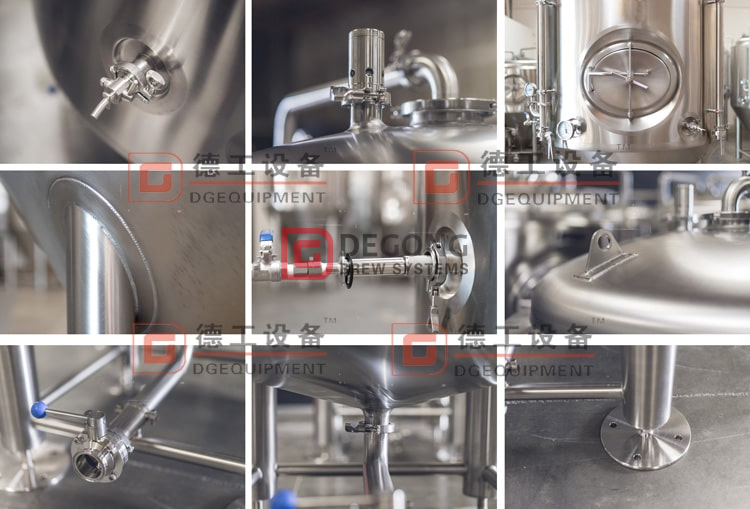 Delivery&Packing
We will choose Wooden case to protect the equipment from being damaged in transit.If the equipment's height exceed the container's height,we will put down the equipment and fix it by iron frame.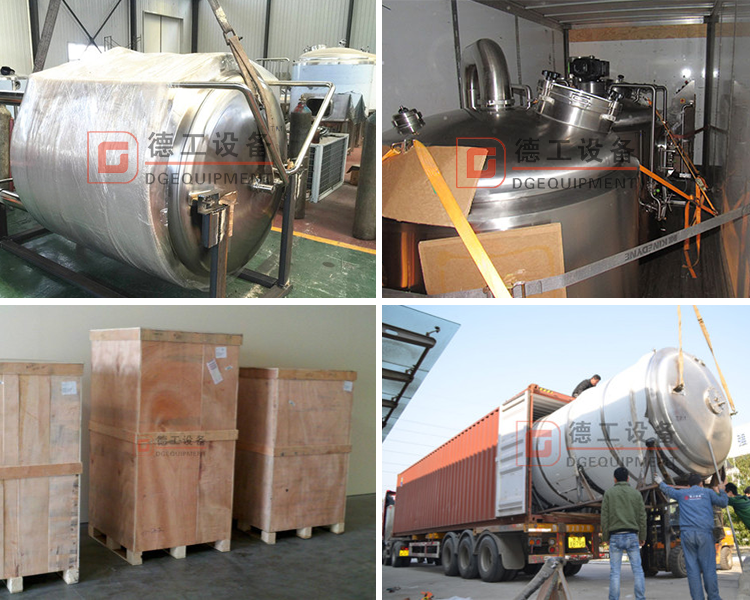 Company

                                                                                               Working shop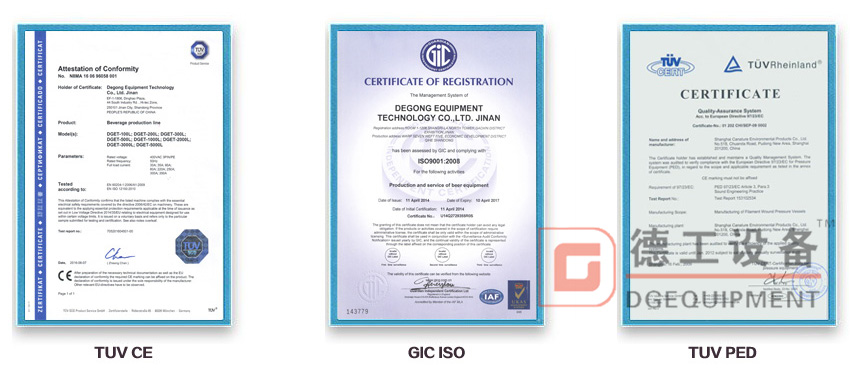 Certification
Contact us
If you have interest,please get in touch with me freely.