Description
Craft brewing system feature
Small covered area
Very little investment
Quick return of funds
Easy to operate, one brewer is enough for the entire system
Application: taproom/ hotel / restaurant / school / home
Craft brewing system process
Craft brewing system simple overview
Mash system is made of high-quality sus304, optional 2b or high-precision surface polishing.
Can be customized beer brewing system
Capacity: 5-20bbl or customized. Vessels:mash tun, lauter tun, boiling tun, whirlpool tun (Can be a variety of combinations. ). Heating:steam, electric, direct fire
You can choose the heating method that suits you.
Inner: sus304,thickness 3mm, 2b finished.
Outer: sus304, thickness 2mm, grind arenaceous.
Operation platform,pumps( frequency control), plate heat exchanger, wort aeration device, control box temperature controller, manual valves.
Optional:steam condensing pipe, grist hydrator, pneumatic valves, button control.
2-vessel: mash/lauter tun+boiling/whirlpool tun+hot water tank
2-vessel: mash/lauter/whirlpool tun+boiling tun
Craft brewing system constitute
Mash/lauter tun
Grain rake for uniform mashing
Grain out door with grain chute
Laser cutting false bottom
Grist hydrator for optional
Steam jacket for optional
Boiling/whirlpool tun
Steam, electric, or direct fire for heating optional
Steam condensor
Tangential whirlpool inlet
Hot water tank(optional)
Overflow protector
Auxiliary system
Malt rolling miller
Two stage stainless steel plate heat exchanger
Stainless steel 304 operation plateform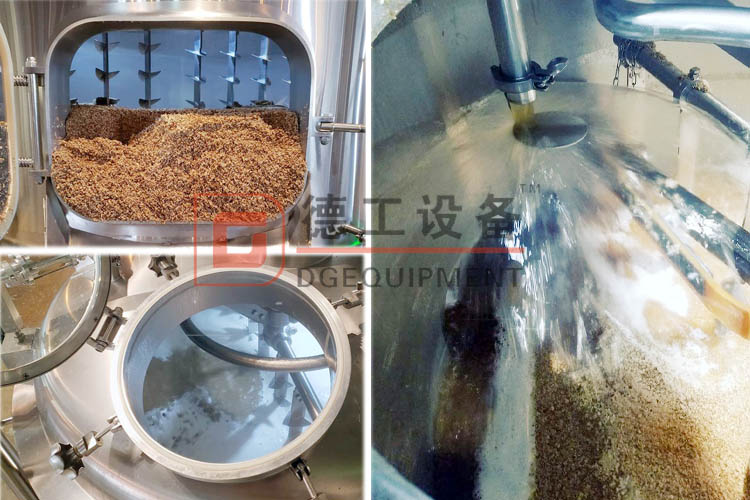 Look:preparation of wort
side manhole, stirring blades, false bottom, raker, spent grains hatch, sight glass, motor