Description
Degong's 10BBL turnkey industrial stainless steel fermenter is certified with ISO,CE and TUV,featuring high quality and being applied in beer bar,restaurant, beverage factory in more than 50 countries all over the world. The unitank of DEGONG will be the best choice for the  buyer who want establish the  commercial and industrial brewery for brewing the unique taste of beer. The fermentation system is consisted of fermenter,bright beer tank, yeast tank and other accessories under the technical view.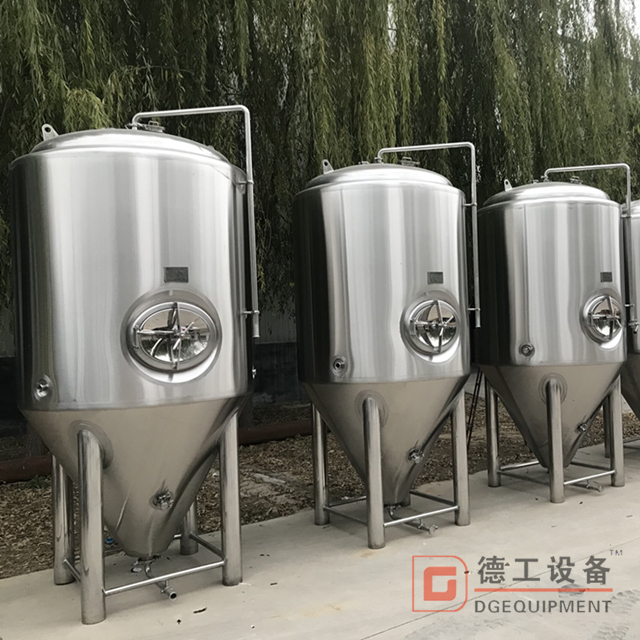 10BBL fermenter of DGET
Depending on the type of yeast, the beer will be top or bottom fermented. The beers are given these names because after fermentation the yeast will settle either at the top or the bottom of the fermentation tank. When the fermentation process has been completed, the yeast is removed. Now, the green beer already contains all the elements of the final product.
Technically speaking, the Fermentation system is consist of fermenter, yeast tank, brite beer tank , and accessories.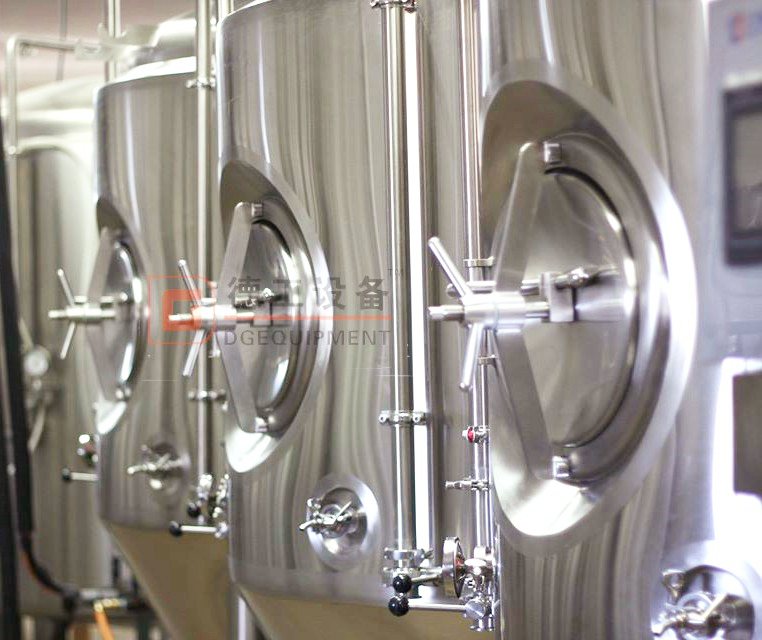 fermentation tank with side man hole
Technical parameter:
| | |
| --- | --- |
| Material  (SUS304) thickness | Inner thickness: 3.0mm; Outer thickness: 2.0mm;External-Jacket thickness: 1.5mm |
| Interior Finish | Sanitary 2B finish, Pickled and Passivity; (8K Mirror finish optional) |
| Exterior Finish | Oil brushed finish (2B, 8K Mirror finish optional) |
| Inner treatment | Interior full polished to 0.2~0.4 μm without dead corner |
| Insulation | Insulated with high density Polyurethane foam 100mm |
| Cooling method | Glycol Jacket |
| Vessel Pressure | practical pressure:1.5 bar;design pressure:3.0 bar |
| Equipment with | cone 60°resist compression design,dripping |
Ancillary components:
100% TIG welding with pure argon gas shield
Glycol Jacket: Dimpled plate on cone and side
Sanitary side mounted manway with pressured door
TC connected CIP arm with 360° coverage spraying ball
CO2 blow-off arm with butterfly valve
Full sanitary metallic sealed sampling valve
Mechanical safe valve PVRV 2 bar on top
Hydraulic shock pressure gauge on CIP arm
Rotating racking arm and port on cone with butterfly valve
Tri-clamp discharge arm with butterfly valve
Thermowell for high accuracy temperature sensor
4 pcs completely SUS304 heavy duty legs with leveling pad and legs support
Dry hopping port 4" TC with solid end cap
The cold water tank is mainly to provide the cold water tank to cool down the temperature of hot water during the first phase of wort cooling process. In this way, the wort can be cooled to desire temperature much easier at second phase by glycol water tank. In other perspective, it can lengthen the using life of chiller, which is a also a necessary part of a whole brewery system.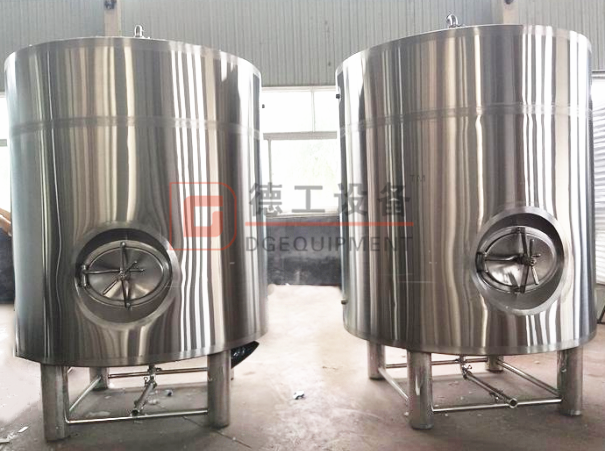 10BBL cold water tank
The bright beer tanks made by Degonget use top class stainless steel (SUS304), surface treatment can be 2B or precise polish or mirror polished. All fittings installed with tanks using top brands like ABB, Siemens, Omron, etc.
Bright beer tanks is a piece of brewing equipment as they serve to mature, clarify, and carbonate the beer after fermentation. In some cases, they also double as serving vessels in brewpubs, eliminating the need for kegs.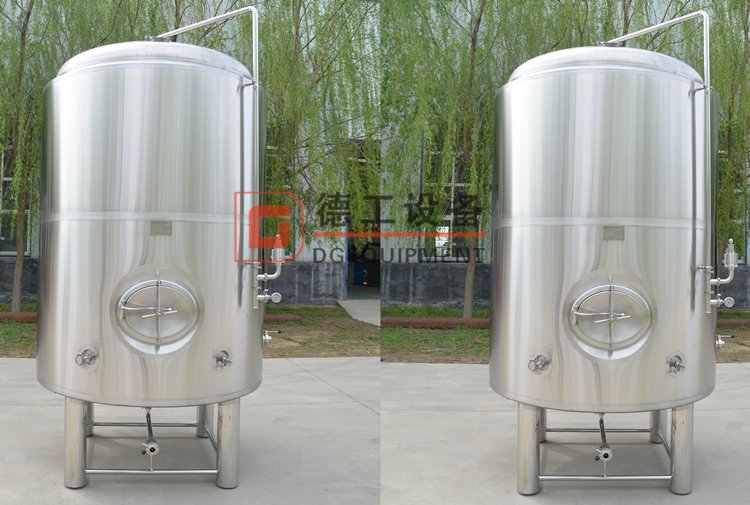 Technical parameter:
Stainless steel(304)sanitary construction
Inner (SUS304)thickness: 3.0mm; Outer(SUS304)thickness:2.0mm
External-Jacket(SUS304) thickness: 1.5mm
100% TIG welded and sanitary polished
Design pressure 0.3 MPa, working pressure <0.2 MPa.
Interior Finish: Sanitary 2B finish, Pickled and Passivity;
4 heavy duty stainless steel legs with adjustable height and leveling footpads
Insulation: Polyurethane-thickness 100 mm.
CIP arm and spray ball 360 degree coverage. Easy clean slide over pipe connection with keeper pin.
Pressure gauge
Thermometer gauge
Lifting lugs
Side man way door
Carbonation stone assembly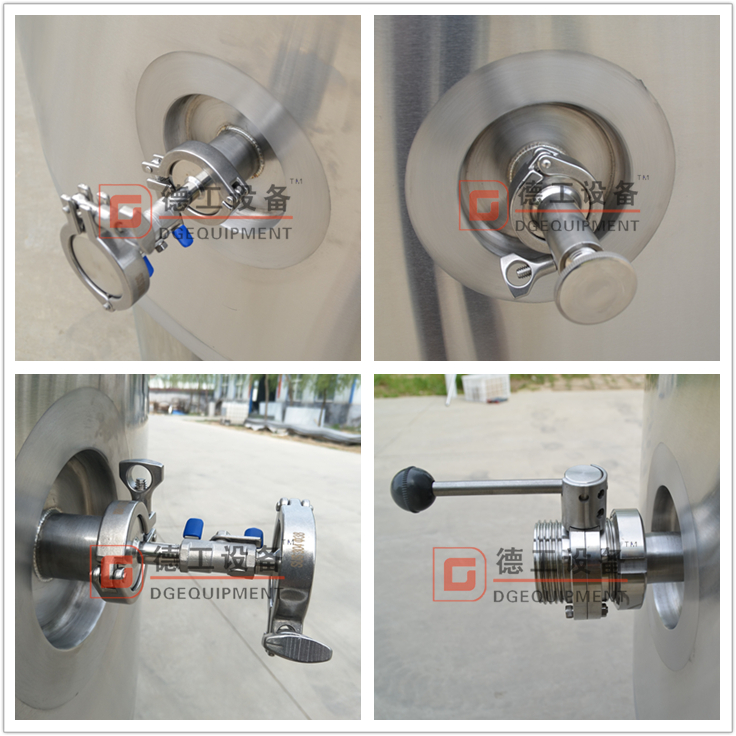 accessories of the bright beer tank
Packaging type : standard wooden package
Package details : As usual, we adopt wooden case as package type. It's suitable for long-distance transport. According to customers' special demand, we could adopt sheet iron case and so on.
Delivery: by sea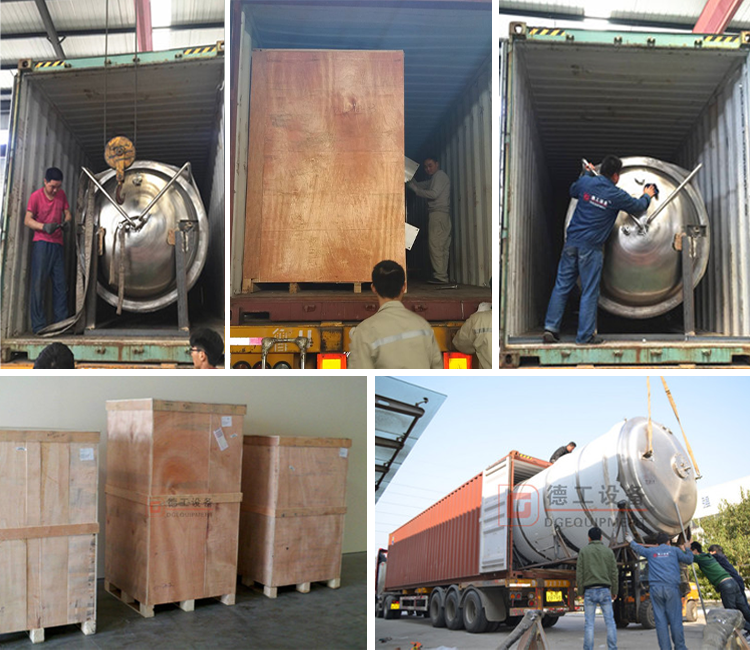 With the high standard of brewery equipment both in row materials and manufactures, DEGONG have passed 4 international certification: ISO9001,ISO14001,SGS ,TUV and CE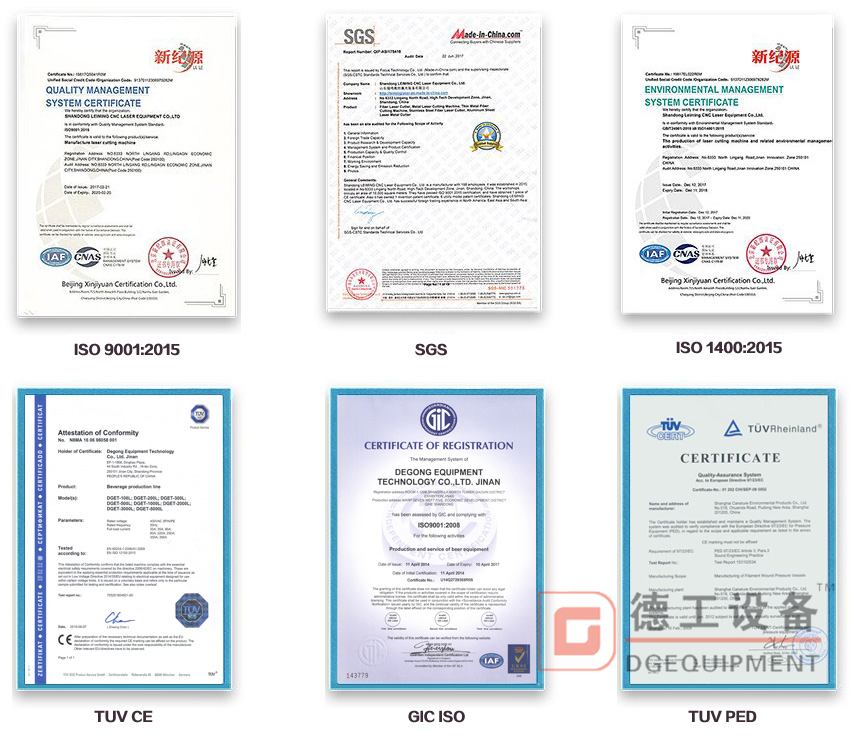 Every Brewhouse is unique and requires different specifications. Please shoot us an email or give us a call for a quote.