Description
Craft breweries may start out as small, manual operations, but the key to a successful craft brewery is scalability. As the demand for your product increases, you need to adjust your output. DEGONG will provide you with tailor-made solutions from design to installation to expansion according to your needs.
DEGONG Beer brewery fermenter
---
The brewery fermenter is the place where the cooled wort is finally fermented into beer. The beer brewery fermenter is a double-layer stainless steel isobaric conical cylinder tanks with insulation. The substances entering the fermentation tank are wort, oxygen, and yeast (some brewers will add some dry hops to increase the aroma of the beer). After entering into fermentation tank,yeast performs aerobic respiration to multiply, then yeast performs aerobic respiration to produce CO2 and alcohol.
Different types of beer have different fermentation cycles. So when recommending the number of beer brewery fermenter, in addition to the annual or monthly output, we also need what type of beer you brew or the fermentation cycle.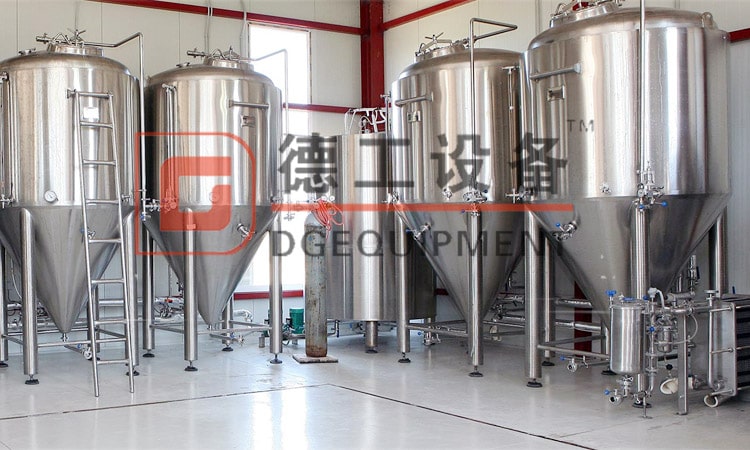 Beer brewery fermenter features
---
Inner: SS304, 3mm; Dimple jacket: SS304, 1.5mm (2mm);  Exterior sheathing: SS304, 2mm
Overpressure setting mechanism from 0 bar up to 3 bar (or more according to customer requirements)
Guaranteed inner surface roughness of Ra = 0.6 microns or less
CIP system combines with rotating spray ball, diaphragm-seal pressure gauge, pressure adjusting apparatus, arm, and valve
Designed headspace, over 20%
Dual/triple dimple jackets provide high cooling efficiency
Side/top manway with knobs for easy access
Polyurethane insulation 100mm injected- 100% TIG welding
Polishing and passivation treatment on the metal surface
RTD-PT100- Liquidometer
Adjustable leveling pads
60-degree conical bottom
Hop back (optional)
Beer brewery fermenter component on tank
---
Outlet / inlet for flow of beer
Full sanitary metallic sealed sampling valve
Mechanical safe valve PVRV 2 bar on CIP arm
Apunding valve on top
Hydraulic shock pressure gauge on CIP arm
Thermowell for high accuracy temperature sensor
4pcs completely SUS304 heavy duty legs with leveling pad and legs support
Complete valves, fittings and all parts
Dry hopping port with solid end cap
Optional equipment 
Local thermostat unit (control valves duplicators, depending on the temperature)
Carbonization stone – the special porous stone for carbonization of beverages from CO2 bottles
Stainless steel ladder for easy access to the door of the tank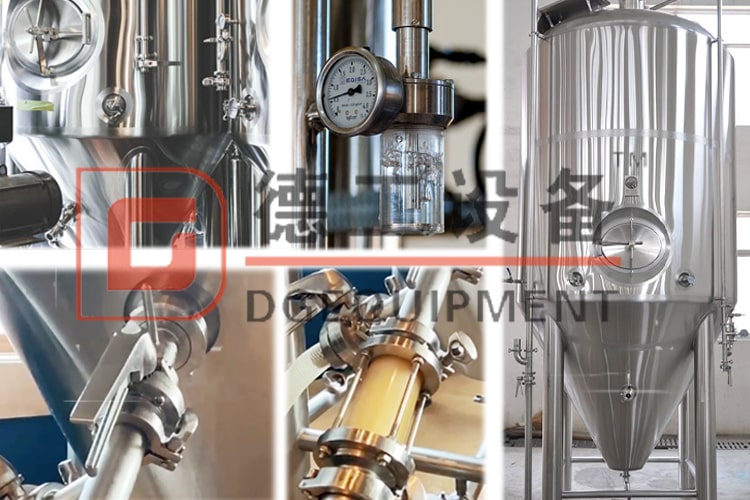 Contact information
---
DEGONG not only provide single fermentation tanks,but also provide the complete brewery equipment.We are a professional beer brewing equipment manufacturer,which can provide best brewing equipment with most suitable price and highest quality.The price of the brewery equipment is related to many factors,such as capacity,configuration,quantity……DEGONG can give you the most professnional suggestions combined with your budget and output plan,and help you to choose a best complete beer brewing system.
If you have interest in beer brewing,welcome to contact me freely.