Description
The brewhouse is used to get quality wort by mashing, lautering, boiling and whirlpooling etc. In the independent commercial or industrial beer plant, the brewhouse is usually customized to three even four vessel for getting a super output, 4-5 batches per day. Accordingly, the brewmasters would work in shifts to keep the brewhouse running at day and night. In order to save labor efficiently, the control system of brewhouse equipment usually be much more automatic, such as the pneumatic valve etc. It is in compliance with modern brewery standards and specifications. Besides, in some beer plant, the brewmasters would add secondary ingredient as adjunct starch source, like rice, corn etc.
A complete brewery equipment system consists mainly of the parts shown in the table below.
Commercial Stainless Steel Beer Brewery Equipment

Components
Specification
Milling System
Miller
Double Roller
Heating System
Boiler (steam heating)
Electric, steam and direct fire heating
Brewhouse System
Mash / Lauter tun
Heating jacket
Material: SUS 304/316 or Red copper
Boiling / Whirlpool Tank
Heat-exchanger
Plate type
Fermentation System
Fermentation Tank
Top manway/Side manway
Yeast Adding Tank
SUS304 Stainless Steel
Refrigerator System
Refrigerator machine
With control system
Pump / valve
Ice water tank
Fluorine filling
CIP Cleaning System
Acid Tank
Sus304 full welded
Alkali Tank
Pump
Control System
Control Cabinet
Semi-automatic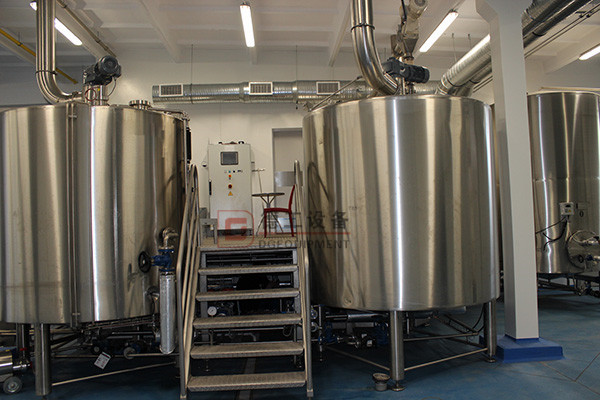 Stainless steel 2 vessel brewery equipment
Main technical parameters of brewery equipment
Brewhouse system
| | |
| --- | --- |
| Structure: | 10HL mash / lauter tun+10HL kettle/ whirlpool tun+20HL hot liquor tank |
| Capacity: | 10HL |
| Dimension: | Φ1960x3400mm |
| Material: | Stainless steel 304 |
| Heating way: | Steam heating(recommend)/electric heating/direct fire heating |
| Electric power: | 3 Phase,380V,50 Hz |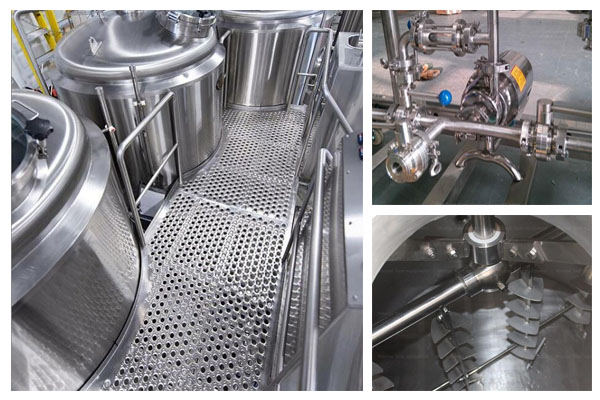 Platform,pump and raker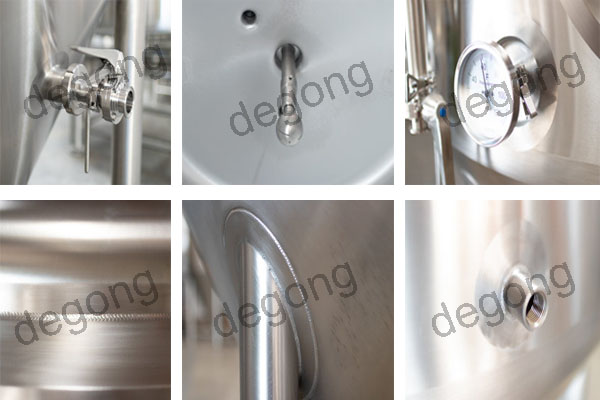 Cleaning spray ball ,pressure gauge etc.
Main Configuration:
A. 10HL mash/lauter tun with steam heating
-2mm exterior shell and 3mm interior shell
-Glass manway
-Agitator with VFD controled motor and turbine reducer
-Grain rake with VFD controled motor and turbine reducer
-Automatic lifter of spent grain scraper blade
-Inline wort lauter sight glass
-Laser cutting V-wire False Bottom/Filter
-Bottom mounted grain outdoor
B. 10 HL brew kettle whirlpool tun with steam heating
-2mm exterior shell and 3mm interior shell
-Glass manway
-Agitator with VFD controled motor and turbine reducer
-Sanitary leveling sight glass
-Steam vent with condensate ring for kettle stack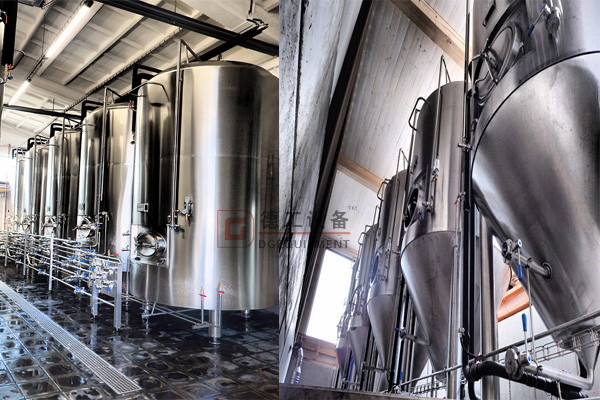 Fermentation tank with top hatch and brite tank
Fermentor features:
All connections are fully welded Tri Clamp fittings
0.12 -0.15Mpa operating pressure; 0.3Mpa design pressure
Pressure gauge
Versitile port for dry hopping, CIP, and the pressure relief valve
Sampling valve
Thermowell for thermometer
Carb stone with 1/4 in ball valve
Blow off cane ,ball valve
Polyurethane insulation jacket
Custom ss butterfly valves with racking arm
Stainless lower shelf
Adjustable feet
Made from 304 stainless steel
Tank and System Controls
We can offer complete tank and system controls for any critical parameter of your process including:
Glycol chilling and cooling controls – solenoid, check valve, or pressure sensor actuated
Steam or other heating controls – globe, gate, pressure sensors, or solenoid actuated
Water flow controls, backflow preventers – filtration systems and controls
Programmable digital controllers for valves, solenoids – temperature, pressure and flow controls
PC controlled systems – standard or custom software control packages
Other control features and options available—semi automated or automated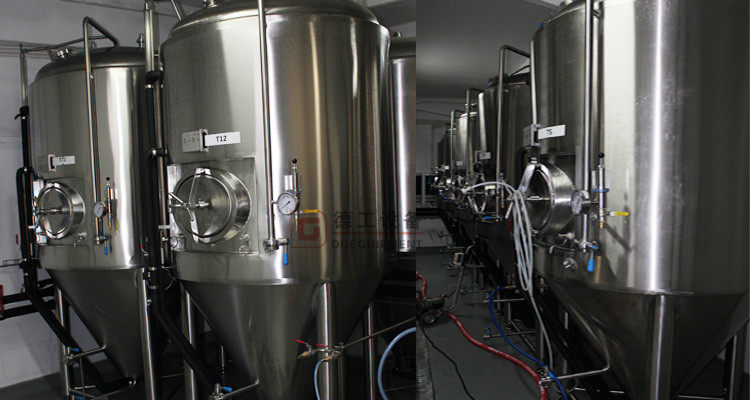 Side view of fermentation tank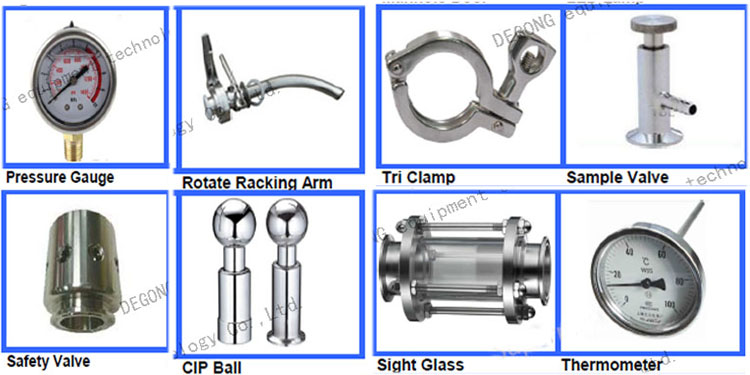 Fermentation components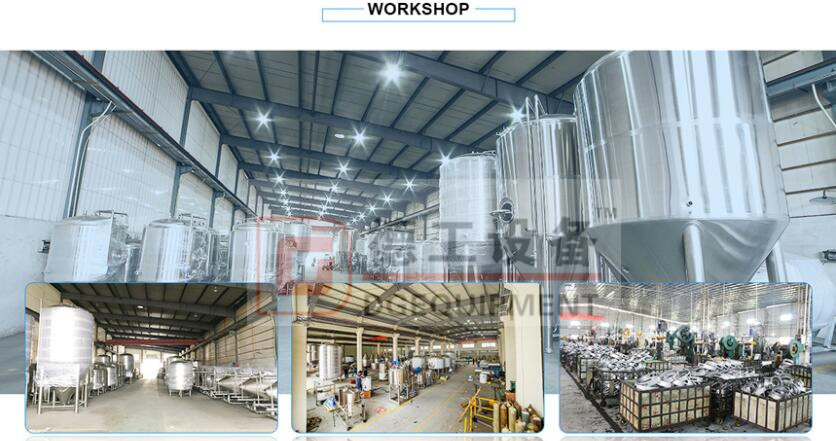 Certification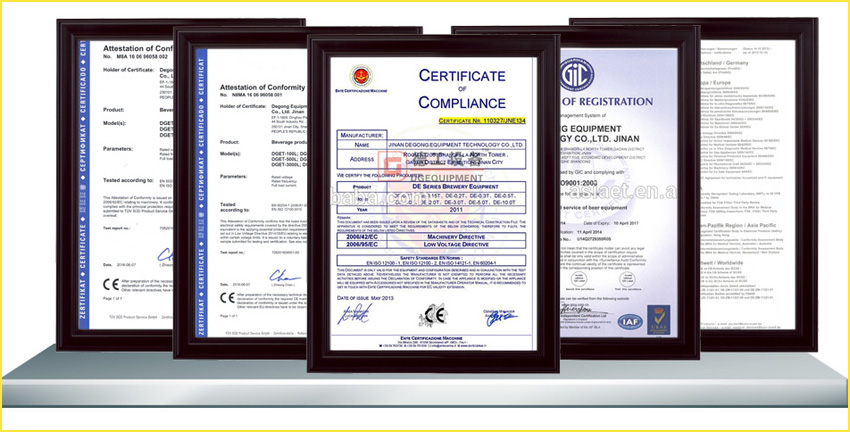 Contact us
If you would like to know more about us or our products, please feel free to contact me.