Description
We offer complete beer brewing equipment with pre and post installation support for sizes 100L-500L(1HL-5HL,1BBL-5BBL) microbrewery,500L-1000L(5HL-10HL,5BBL-10BBL) restaurant/brewpub used brewery,1000L-5000L(10HL-50HL,10BBL-50BBL) commercial used large brewing equipment . Our factory is located in North of China(Shandong Province), and hand crafted by a team that is passionate about the craft beverage industry. We have been manufacturing, designing and improving our systems for over 10 years. All of our brewhouses will be offered with specifications technical parameter,drawings,layout drawing…..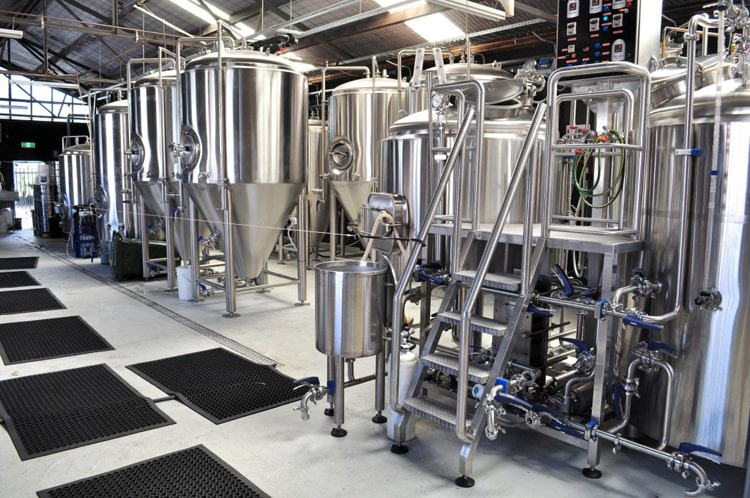 10HL Beer brewing equipment
Brewhouse Basic introduction
100L-500L(1HL-5HL,1BBL-5BBL) microbrewery
Our 100L to 500L brewing equipment is suitable for craft beer brewing enthusiasts, or for small breweries that provide craft beer to bars and restaurants, or some large wineries buy them as experimental equipment to study brewing recipes.
The general configuration is mash/lauter tank + boiling/whirlpool tank.With electric heating or direct fire heating.
500L-1000L(5HL-10HL,5BBL-10BBL) restaurant/brewpub used brewery
Our 5HL-10HL beer brewing equipment is a perfect startup unit for a restaurant/brewpub. If the space is limited,the combined tank can be: hot liquor tank, mash/lauter tun into a single tank and put it above a brew kettle. With this option you have the quickest install time and it saves precious space in your brewery.In additional,you can easily expand the production scale in the future.
Other configuration that customer prefer:2 vessels/ 3 vessels 
2 vessels:mash/lauter tank+kettle/whirlpool tank+hot water tank
2 vessels:Mash/kettle/whirlpool tank+lauter tank+hot water tank
3 vessels:Mash/kettle+lauter tank+boiling tank+hot water tank
With electric heating,steam heating or direct fire heating
1000L-5000L(10HL-50HL,10BBL-50BBL) commercial used large brewing equipment
Our 1000l-5000l brewing systems are for larger brewery used. We outfit these larger brewhouses with CIP manifolds, dedicated pumps, double batch hot liquor tanks, and premium touch screen control panels. We also have options for grant tank and improved flow controls for sparging that give the brewer more control and consistency.
Normally,we configuration single tanks for each function to improve mashing efficiency,which is mash tank+lauter tank+boiling kettle+whirlpool tank+double size hot liquid tank.Wish steam heating method.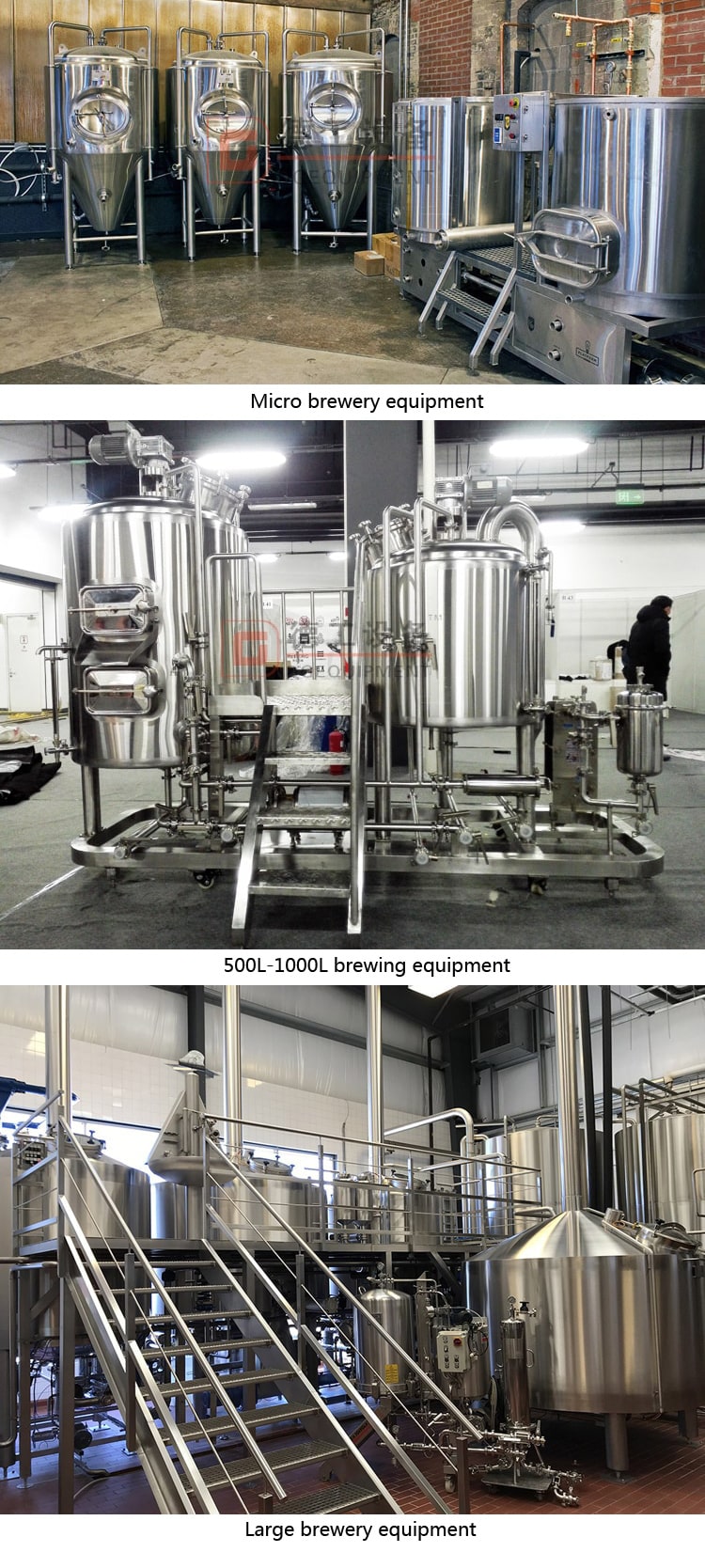 Brewhouse detailed feature
Basic frame with work platform (excluding the smallest brewing machines)
Pipe system with pumps
VFD Motors with agitators for mixing and cutting of malt mash
Wort plated heat exchanger(single stage or double stages)
Wort aeration candle
Semi automatic or full automatic control system
Waste steam outgoing system
hot water tank and a tank for treated cold water are usually an external accessories of the brewing machine.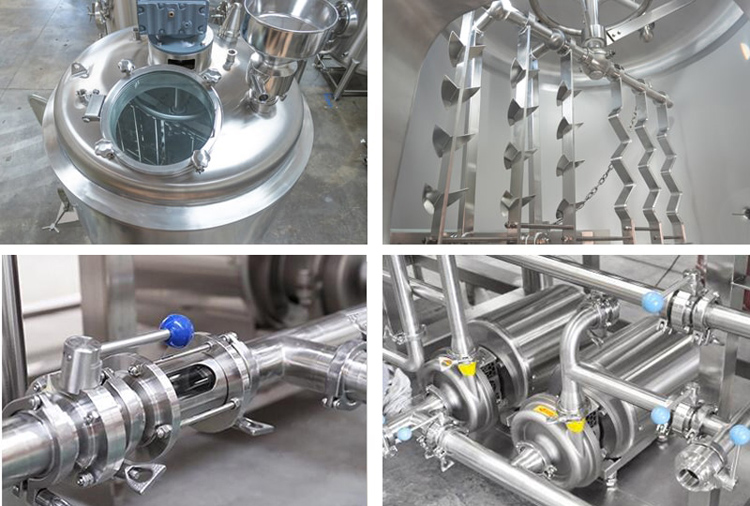 Contact information
We know that different customers have different requirement, even they all require 10HL beer brewing equipment. So we offer custom configurations based on your needs. For a customized quote or to design a custom system, please call our sales representative. We are happy to answer any questions you have, and help you design your system.