Description
Beer product line brief introduce
Grain mill machine
10HL brewhouse system with steam/electric/direct fire heating
Pump with ABB motor
Stainless steel 304 operation platform
10HL or 20HL fermentation tank & bright beer tank
Cooling system with glycol tank, chiller
CIP system
PLC control system
Keg washer/filler
---
DEGONG equipment advantage
1.Mirror Polishing
Inside Polishing: Overall polishing to 0.4μm without dead corner .
Outside Polishing: Mirror polishing, smooth enough and passivating treatment.
Purpose: Make sure the inner tank smooth enough to avoid form any dead cornor which caused bad taste in the wort beer. Outer tanks looks more like an artwork.
2.100% WIG Welding
All welding is TIG welding, full welding, double side welding
Purpose: The use of argon on the protection of metal welding material, So that welding can not be in contact with oxygen in the air, thus preventing the oxidation of welding consumables.Which Makes tanks durable and strong.
3.False bottom plate
Equipped in Lauter tank, Laser milling
Filter gap: 0.7mm
This filter plate is strong, filter fast and leak no any grist. Which has a good effect in Separating wort and impurities.
---
Beer product line brewhouse system
Combination:
2-vessel:M/L+B/W
3-vessel:M/L+B+W or M+L+B/W
4-vessel:M+L+B+W
Optional: hot water tank
Heating method: steam/electric/direct fire heating
Brewhouse system technical parameter
Outside wall, SUS 304, thickness: 2mm
Inside wall, SUS 304, thickness: 3mm
Dome top and cone bottom, 160 degree
Insulation: Polyurethane, thickness:100mm
Interior Finish: Fine polishing to 0.4~0.6um without dead corner
Top mounted manway
Side manway for spent grains
False bottom for lauter tun, thickness: 5mm, wedge type, assemble and disassemble
Sight glass after lautering
Tangential inlet for whirlpool
Sparging arm for lauter tun
VFD controlling for pumps and motors
Automatic or semi-automatic control with pneumatic butterfly valves or electronic
Plate heat exchanger, two stages for glycol water and cool water
360° CIP spraying ball
Thermowell with high accuracy temperature sensor: PT100
4 support legs
Optional:
Level indicator
Grist case/conical malt hopper
Grist hydrator
Accessories:
4.0mm full milled false bottom for lauter tun
Full glass top manhole for brewhouse
Rake system with spent grains wiper
Heat exchanging condenser for brew kettle
sight glass, ABB motor,thermometer,ring, cleaning ball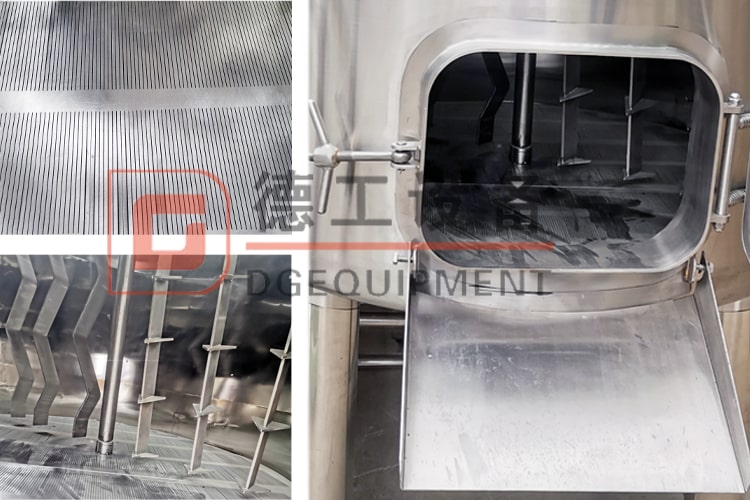 Fine polishing to 0.4~0.6um without dead corner
SUS304/316 or red copper
Cooling media: glycol water
Top manhole
mechanical regulator valve
Sample valve
Carbonation stone
Test Pressure:0.3Mpa
Rotating racking arm
4 support legs with height adjustable pad
Complete valves, fittings and all parts
Level indicator (optional)
Accessories
Top manhole/side manhole for beer fermenter
Bung apparatus with pressure gauge
100% TIG welding with pure argon gas shield
Interior finish:fine polishing to 0.4um
Without dead corner
temperature probe, mechanical regulator valve, breather valve, sample valve etc.