Description
Stainless brewery equipment of the restaurant is the most basic machines including brewhouse, fermentation tank, bright beer tank, glycol cooling system, control system, cleaning system. Usually, the restaurant will devide out an separate space as cellar, but prefer to set the brewhouse where people can see and watch the brewing operation directly, for example behind the big window or the bar counter. The copper kettle is the first choice for most restaurant brewery project.
Stainless brewery equipment brief introduction
Beer brewery equipment feature:
Installation and training service offered by profession engineer.
Brewhouse Combination Diversification
Decoction, infusion, multi-step infusion mashing can be realized.
Electric, Steam, Gas directly fire heating source for optional
Mirror polishing and wire drawing SUS 304 for optional, thickness: 3-4mm
Rational layout, Humanized design and convenient operation
The welding and polishing:
We make sure the 100% TIG welding with pure argon gas shield. We use the central system of argon. The argon will help to reduce the oxygenation.
Brewing process:
Mill→brewhouse unit→fermentation tank→bright beer tank→filtration→bottling→beer
Stainless brewery equipment Mill unit:
Particle adjustable rolling crusher
Flexible or steel auger to directly lift the milled grain to mash tun
Stainless brewery equipment Brewhouse unit:
(1200L 3-vessel, Heating method can be steam heating, electric heating and direct fire heating )
Mash/lauter tun + Boiling/whirlpool tun + Hot water tank:
Material: stainless steel 304
Inner surface treatment:welds grinded to 0.6μm.
Insulation: Polyurethane-thickness 100mm
Temperature way:Double matal thermometer
Outsourcing surface: Weld polishing processing
CIP 360 degrees Omni bearing cleaning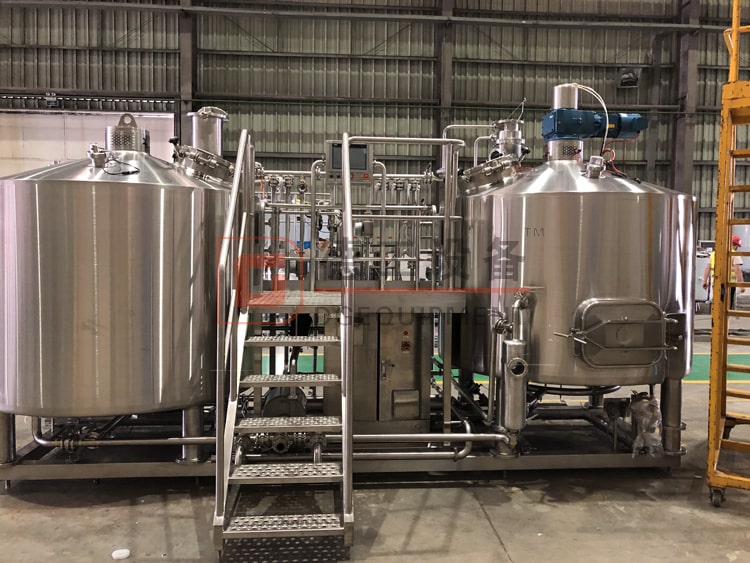 Stainless brewery equipment Fermentation vessel
(According to the specification of tank types, the corresponding specification and model of sanitary clamp joint would be equipped)
Configuration: Fermentation tank + Bright beer tank(horizontal large tank) + Yeast adding tank+Accessories
Fermentation tank and bright beer tank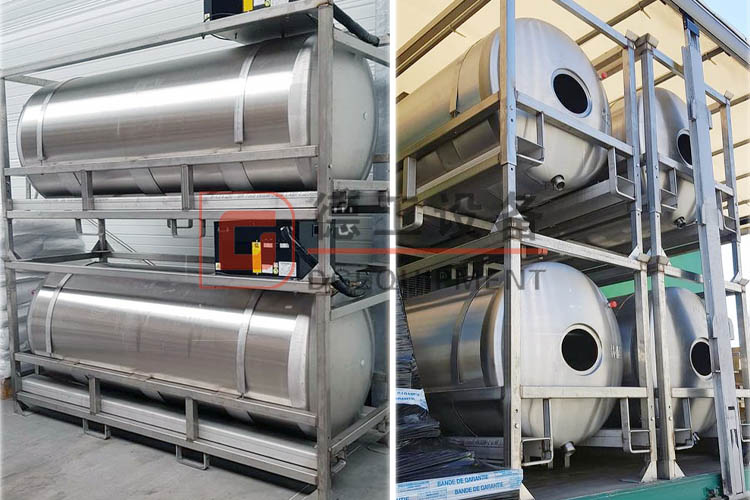 horizontal large tank
Stainless brewery equipment cooling system
(glycol tank + refrigeration unit)
Glycol cooling system
Function: Used for cooling wort in heat exchanger when it finished the mashing in brewhouse, cooling wort in fermentation tank in the fermenting period.
Component: Ice water tank, solenoid valve, glycol water ump, stainless pipeline and etc.
Cooling method: Two stage cooling (Glycol water and tap water work cooling).
Control method: Automatically by PLC controller cabinet.
Stainless brewery equipment control system
(automatic or semi-automatic)
Electrical controlling cabinet with temperature, on-off controlling for brewhouse
Electrical controlling cabinet with temperature, on-off controlling for cooling parts
Temperature controller, thermocouple, solenoid valves etc are included
PLC with touch screen panel for special request
If you are interested in beer brewery, please get in touch with me any time.