Description
15 bbl multi-vessel micro-breweries
Complete line of small scale, multi-vessel, ale and lager 5-15 bbl production micro-breweries
15bbl brewing system micro-breweries with grant and hopper
Standard product features:
Brew kettle / whirlpool vessel with multi steam jackets
Mash/lauter tun vessel with side grain out door
DOUBLE brew length 316 SS hot liquor tank with dual steam jackets
SS work platform with sanitary process piping & sanitary valves
2 x Sanitary wort pumps with variable speed control
HLT pump SS with variable speed control
Wort grant
Sanitary heat exchanger and wort aeration system
Water flow meter
Control panel PID or PLC touch screen
Tank light assemblies
Mash hydration assembly
Cellar package with brewers hoses, valves and fittings
SS grist hopper
Flexible grain auger
Two roll malt mill – 1000kg /hr
6 x Fermenters/uni-tanks – DOUBLE brew length
2 x Brite beer tank – DOUBLE brew length
Glycol chiller – outdoor unit
Cellar control panel with RTD & solenoid valves
Portable sanitary CIP/wort pump, SS cart & VFD controller
CAD layouts, installation assistance, assembly, training
Add Sink & Flash Chiller
Micro-breweries 2 arm fermentation tanks 10bbl 
OPTIONS:
Cold liquor tank
Mash/lauter rakes
Steam jacketed mash lauter tun
Extra capacity mash lauter tun
Magnetic flow meter
Hopback
2 stage heat exchanger
Kettle condensing vent stack
Platform Modifications for Future Vessels
The ease and budget-friendliness of a plug and play system, backed with the outstanding support and service of DEGONG Company's 10 years of processing equipment experience. Our small brewhouse comes in 2, 3, or 4 vessel configurations to fit your production needs.
Micro-breweries configuration:
High Gravity Mash Tun
Low pressure steam jacket with PLC controlled temperature control for optimum profile capability
VFD speed and function controlled, custom engineering mash mixer for low sheer, efficient mash mixing designed to handle high gravity brews
High Gravity Lauter Tun designed to handle larger grist loads
Integrated, VFD speed and function controlled rake system designed to cut and lift grain bed to maximize extract yield, reduce lautering time and automate grain out processes
Custom designed wedge wire false bottom designed to maximize yield and minimize grain pass-through
Grain out access manway for easy and efficient grain out processing
Multipoint wort collection design for uniform bed formation and high yield extract collection
Brew Kettle / Whirlpool Vessel with integrated steam jacket and temperature control
Custom designed vessel optimized for rapid boiling and efficient and high yield trub separation
Low pressure steam jacket with PLC controlled temperature control for efficient and vigorous boil control
Tangential inlet for proper centrifugal force for efficient trub separation
Semi-Automated Controls with Allen-Bradley PLC & Remote Access Support
316L Sanitary Pumps with VFD Controls
316L Stainless Steel Plate Heat Exchanger with integrated temperature controls
Manual Sanitary Butterfly Valves
Ergonomic and efficient 304 stainless steel Brew Deck with easy access to all vessels and brewing functions
Micro-breweries details show:
---
---
Raker and spent grain hatch and Put a box below to collect
Control cabinet PID panel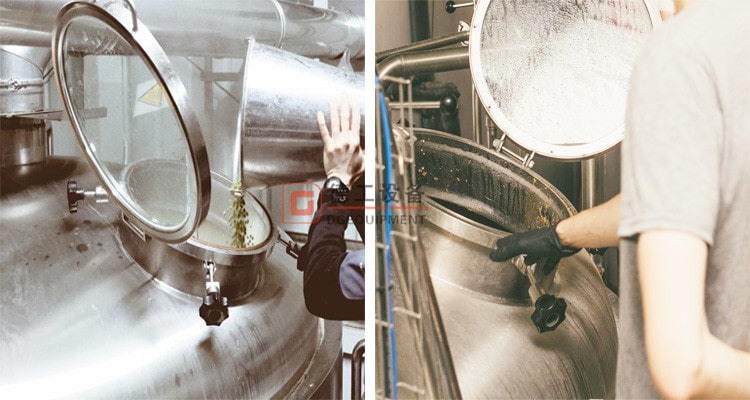 Brewkettle and adding hops into this tank
Customized Grain miller based on your requirements
Craft brewing or commercial large brewhouses, we have the equipment, supplies & install engineers. Looking to find bottling lines and tanks for sale we have that covered. If you want to more information for brewing process or buy beer equipment,please contact me.