Description
Why choose DEGONG?
Design support and facility planning for your microbrewery
Supply and installation of customized microbrewery equipment's
Testing and optimization of microbrewery equipment's
Setting up a supply chain for sourcing and purchasing of raw materials
welcome to visit our factory
Craft microbrewery equipment main feature
Capacity:100 liter to 5000 liter as requirement.
Material: stainless steel 304/316 or red copper, as requirement.
General configuration: mill, brew house, fermentation, cooling and cleaning etc.
Heating method: electric heating, steam heating, direct fire heating etc.
Electricity voltage/frequency can be customized.
Running in a high automatization and intellectualization,no pollution.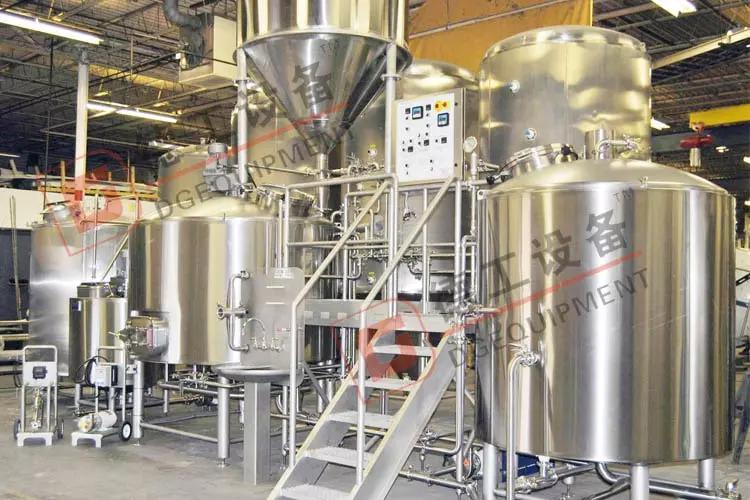 Brewing system

Components

Specification

mill system

mill machine

double roller, low noise

mash system

mash/lauter tun

inner shell:SUS304 TH=3.0mm

exterior shell:SUS304 TH=2.0mm

insulation:polyurethane TH=80mm

Laser cutting V-wire false bottom

Easy clean and detachable sparging sparing

side manhole for spent grains

boiling/whirlpool tun

hot water tank

Heating system

boiler 

electric,gas, diesel

Fermentation system

fermentation tank

dome top and cone bottom, bottom cone 60 degree

inner shell:SUS304 TH=3.0mm

exterior shell:SUS304 TH=2.0mm

insulation:polyurethane TH=80mm

test pressure:3bar, working pressure:1.5bar

top manhole or side manhole 

Cooling system

glycol water tank

use for cooling wort, fermentation tanks and bright tank

chiller

world-famous brand, use for glycol water tank

Cleaning system

disinfection tank/alkali tank

equip with electric heating elements, clean for all the tanks

Control system

mash/fermentation/coolling

control all the tank's temperature,motor and pump's show on/off
raker, top glass mahole, spary cleaning ball
craft microbrewery equipment accessories
All accessories, auxiliaries, spare parts,and fittings are very excellent, adopted in SUS304, and it is the vital part of the best seller 1500L industrial beer brewing equipment for restaurant.
1. Motors, pumps use for brewery equipment are china famous brand.
2. Round stainless steel manhole with glass, easy for us to observe wort's status in the mash tun.
3. Shot light: It install in the top of the mash tun, and used for lighting, and observe wort's status.
4. VFD: The motor in the top of the lauter tank, used for stirring. It can control the plow knife/raker's rotate speed.
5. Glasses buffer tank: It is close to the lauter tank, and it can used it for observing wort's concentration and its color.
6. Suspension type heat exchange: stainless steel 304 material, clean and sanitation, easy to disassembled and cleaning.
the accessories of fermentation tank
bright beer tank details
If you want to know, please feel free to contact me.