Description
15bbl beer fermentation tank with two cooling zone
Stainless steel, vertical, double-walled, insulated, 60 degree cone bottom, dished head, beer fermentation tank.Cylindrical and conical parts have independent glycol cooling zones controlled by temperature sensor.Part of dished head forms oval manhole, breathing valve set up at 1.5 bar and sanitation cleaning ball. There is a manhole, a hops hole on the top of the tank.A pressure gauge and a mechanical safe valve are connected on the L pipeline.There are also a sample valve,a temperature sensor,a thermometer in the cylinder of fermentation tank.conical part has bottom outlet yeast removal pipe and outlet for beer transfer to serving tanks. Vessel is supported by 4 tube legs with fully articulating adjustable feet. Tank is also equipped at the top by 2 cable eyes for easier manipulation.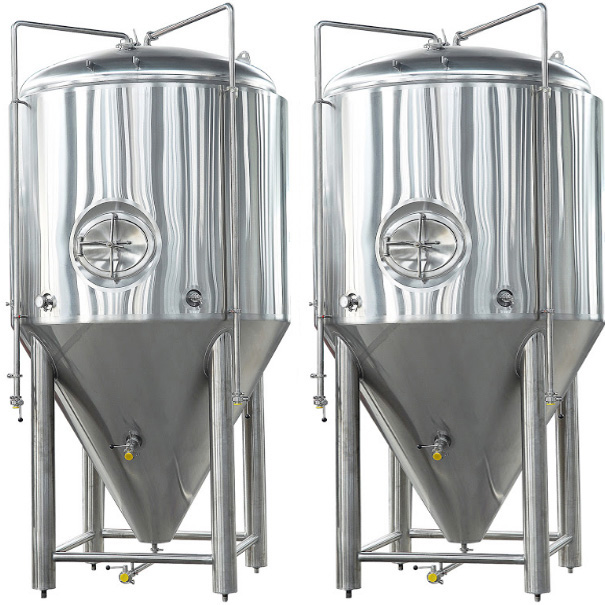 15bbl beer fermentation tank with two cooling zone
1.material:SUS 304
2.Inner thickness:3.0mm,outer thickness:2.0mm
3.External jacket:thickness:1.5mm
4.Oval head cone bottom:thickness:3.0mm
5.Inner surface treatment:welds grinded to Ra 0.6μm
6.Outsourcing surface:weld polishing processing
7.Insulation:polyurethane,thickness:100mm
8.Temperature way:double metal thermometer
9.Design pressure:0.3MPa,working pressure:<0.2MPa
10.Conical jacket:cone 60 degree
11.control method:temperature control,
voltage-controlled, Hand automatic control

1.stainless steel 304 or 316 sanitary construction
2.100% TIG welded and sanitary polishing
3.Design pressure:3bar;Using pressure:1.5bar
4.4 legs with adjustable foot
5.Inner:mirror polishing
6.1.5"TRO-Clamp sanitary fittings
6.Breathing valve,hops adding port,lifting ear on dome dish
7.Pressure guage,machinery regulator on cleaning pipe
8.Temperature sensor,sample valve,carbonation stone on cylinder.
9.Rotating Racking port and discharge port with valve and fittings on conical bottom.
10.Side manhole.
11.CIP arm and Rotary spary ball 360 degree of coverage.
12.Dual Zone cooling jacket with glycol inlet and outlet,one zone is on cylinder,and oen zone is on conical bottom.
If you have interest to know more details,please get in touch wiht me freely.
Email:[email protected]
WhatsApp: +86 18363007358
Skype: auril3