Description
Degong's fermentation tank is certified with ISO,CE and TUV,featuring high quality and being applied in beer bar,restaurant, beverage factory in more than 50 countries all over the world. It will be the best choice for the  buyer who want establish the  commercial and industrial brewery for brewing the unique taste of beer. The fermentation system is consisted of fermenter, bright beer tank, yeast tank and other accessories under the technical view.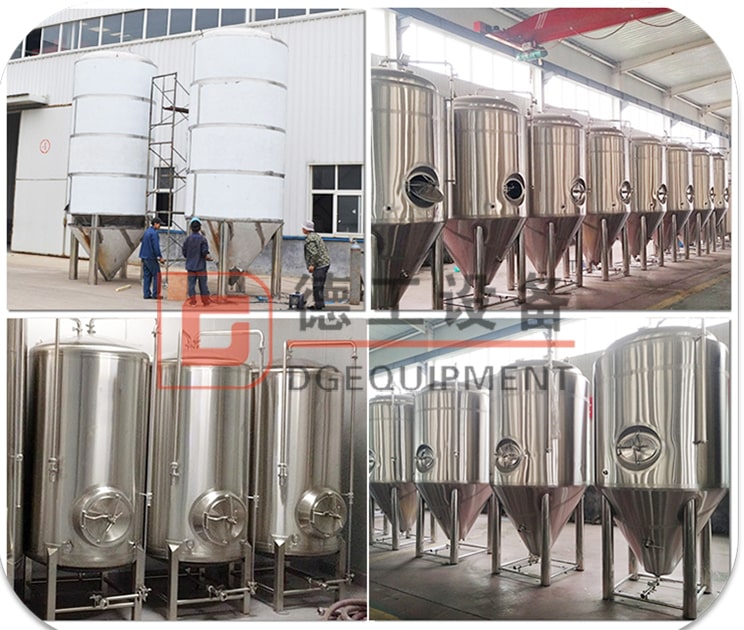 Fermentation tank
---
---
Beer fermenters
Bright beer tanks
Yeast adding tank
Accessories: sample valve, pressure gauge, safety valve and so on
Structure of the fermentation tank is dished head and cone bottom,with Polyurethane installation and dimple cooling jackets .According to different fermenting request, structure of fermentation tank can be designed accordingly.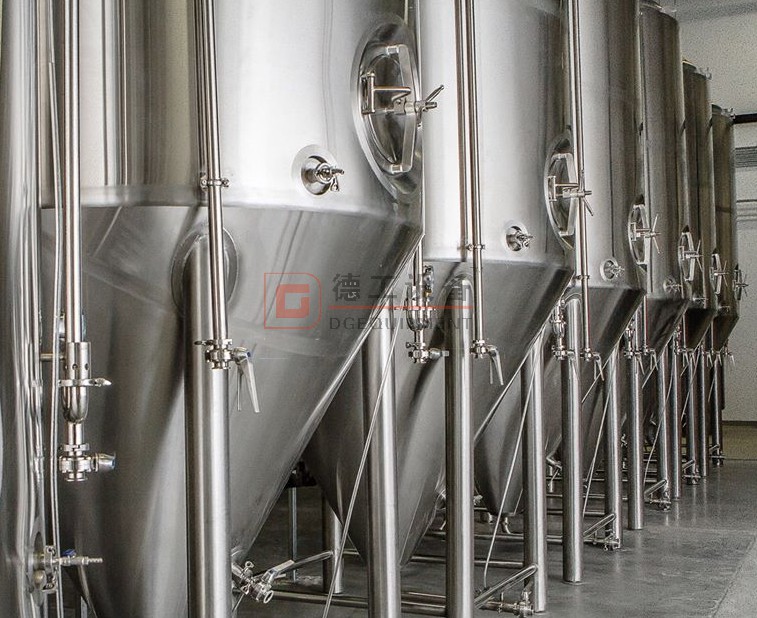 Technical parameter:
Material Inner (SUS304)thickness: 3.0mm; Outer(SUS304)thickness:2.0mm
External-Jacket(SUS304) thickness: 1.5mm;
Oval head cone bottom, thickness: 3.0mm.
Surface: Finish2B – cold-rolled, annealed, pickled
Inner surface treatment: welds grind to Ra 0.6μm (attached 360 degree Omni cleaning ball).
Mirror surface finish inside.
100% TIG welding with pure argon gas shield
Insulation: Polyurethane-thickness 100 mm.
Equipment with : cone 60°resist compression design,dripping 10.Temperature drop.
Cleaning System: All-round cleaning
Vessel Pressure: test pressure 3 bar, working pressure 1.5 bar
Brite beer tank
---
---
Bright beer tanks is a piece of brewing equipment as they serve to mature, clarify, and carbonate the beer after fermentation. In some cases, they also double as serving vessels in brewpubs, eliminating the need for kegs.
Technical parameters:
Stainless steel(304)sanitary construction
Inner (SUS304)thickness: 3.0mm; Outer(SUS304)thickness:2.0mm
External-Jacket(SUS304) thickness: 1.5mm
100% TIG welded and sanitary polished
Design pressure 0.3 MPa, working pressure <0.2 MPa.
Interior Finish: Sanitary 2B finish, Pickled and Passivity;
4 heavy duty stainless steel legs with adjustable height and leveling footpads
Insulation: Polyurethane-thickness 100 mm.
CIP arm and spray ball 360o coverage. Easy clean slide over pipe connection with keeper pin.
Pressure gauge
Thermometer gauge
Lifting lugs
Side man way door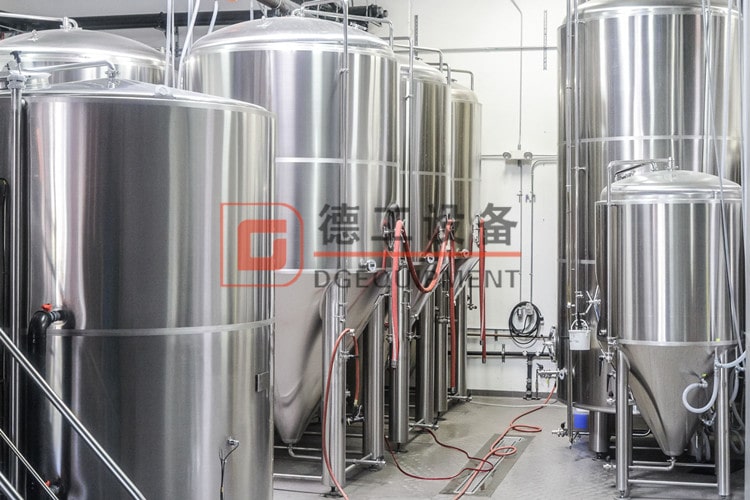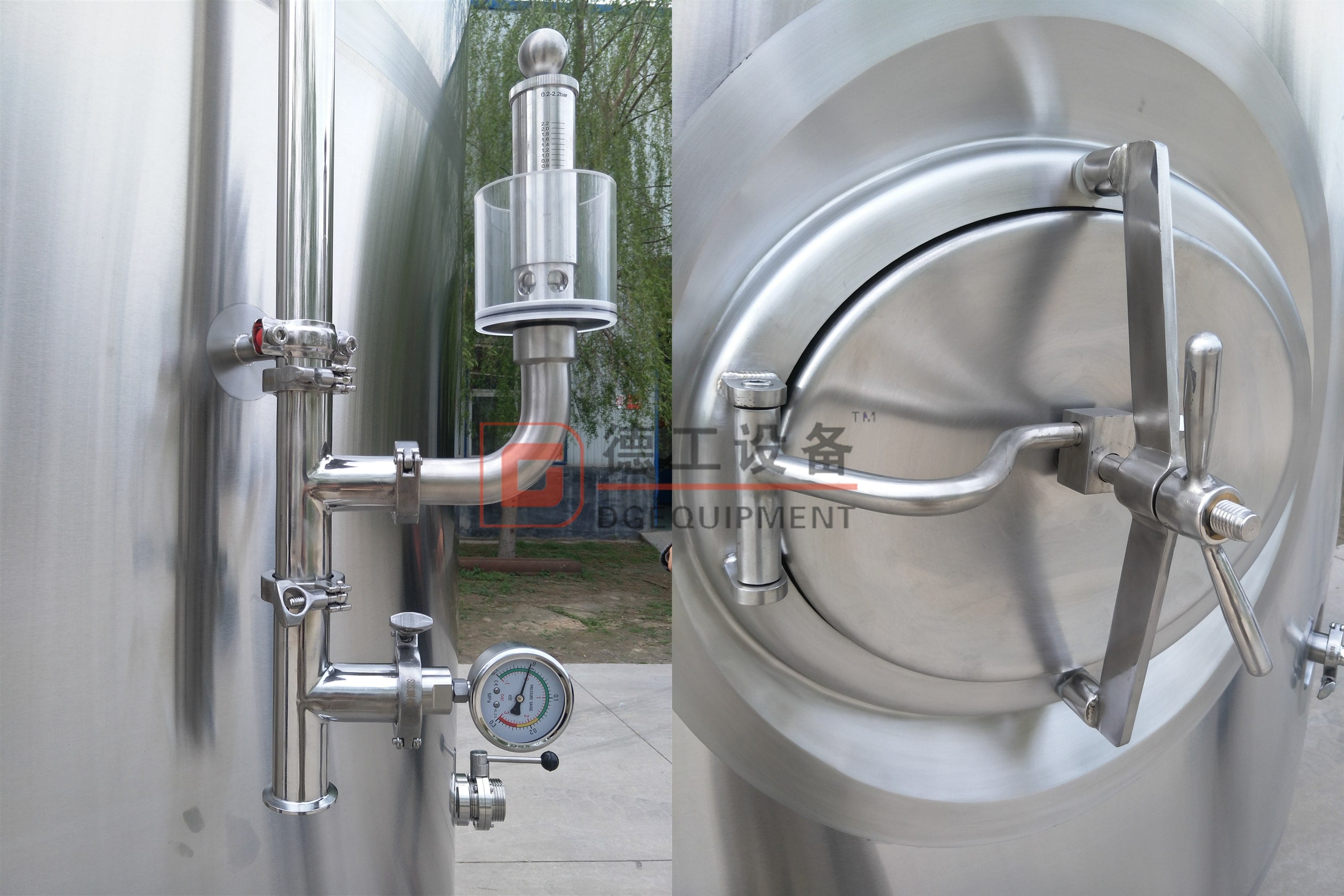 Why choose us
---
---
Technical support
After equipment reached the customers' workshop, our technician will place the equipment according to plane layout we offered and then debug and test production to make the equipment reach the rated producing capacity of the line. The buyer need to supply the round tickets and accommodation of our engineer, and the salary.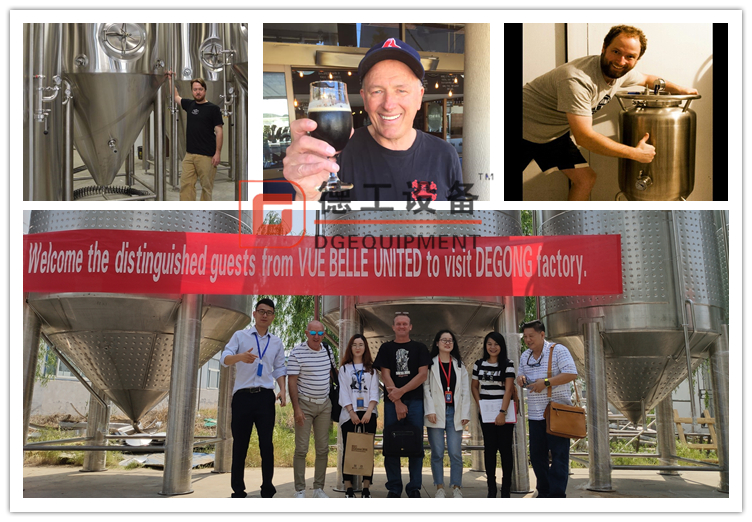 Training
Professional training including installation and operation will be available to customers. We provide instruction and 24-hours online service to help customer to resolve problems when the process of operation. After training, the technician of buyer could master the operation and maintenance of the equipment.
Quality guarantee
All of the productions we provided are certified by ISO,CE and TUV. The quality, specification and function all meet the treaty of contract.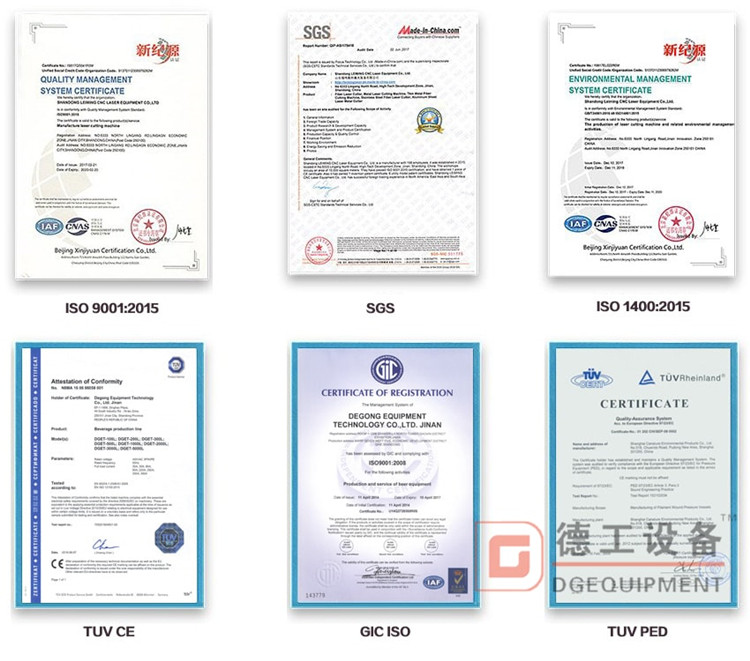 Packing&delivery
---
---
Standard packing:
Cord ,film membrane
Firm membrane, wood box for free fumigation
Transport:
by sea
Delivery :
– We put your order into our tight production schedule to ensure the punctual delivery time.
– Production or inspection report before your order packed.
– Shipping notice/ insurance to you as soon as your order is shipped.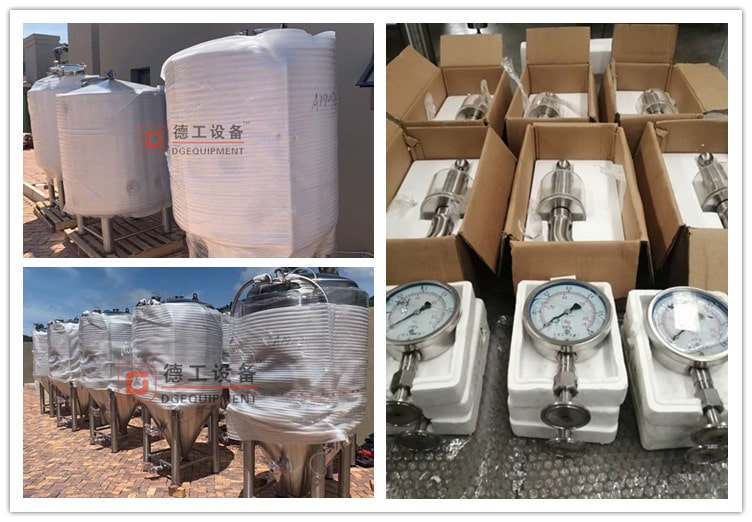 Contact us
---
---
Every Brewhouse is unique and requires different specifications. Please shoot us an email or give us a call for a quote.
Email:[email protected]
Whatsapp:+86 13656462501
Cellphone:+86 13656462501