Description
DEGONG is a beer brewery system manufacturer integrating design, production, installation and commissioning.After we receive the customer's inquiry, we will first confirm with the customer whether he has detailed requirements. If not, we will recommend several suitable schemes based on customer's output demand.After confirming the specific configuration, we will design the dimension of tank according to the size of brewery building (length, width and height) and begin to design the layout.After customer receive the beer brewery system, we will arrange the engineer to install the brewing system. If the customer has no experience in brewing, we can also teach the customer how to brew beer.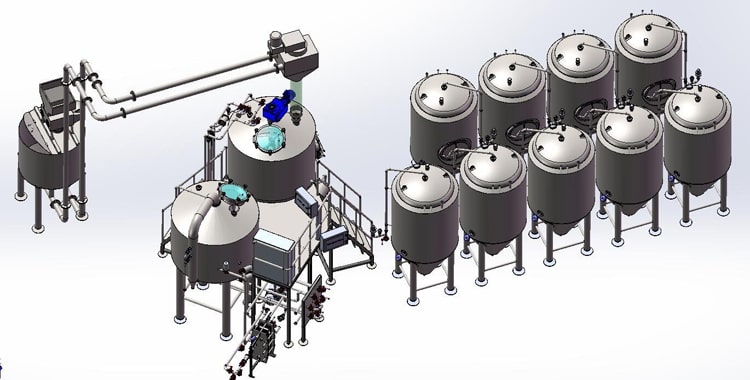 2-vessels Beer brewhouse of beer brewery system:
The 2-vessels Beer brewhouse is composed by malt grinder/screw conveyor,mash/lauter tank,boiling/whirlpool tank,hot water tank,wort pump,plate heat exchanger,pipeline filter,wort aerating device,electric control cabinet,pipes and pipe fittings.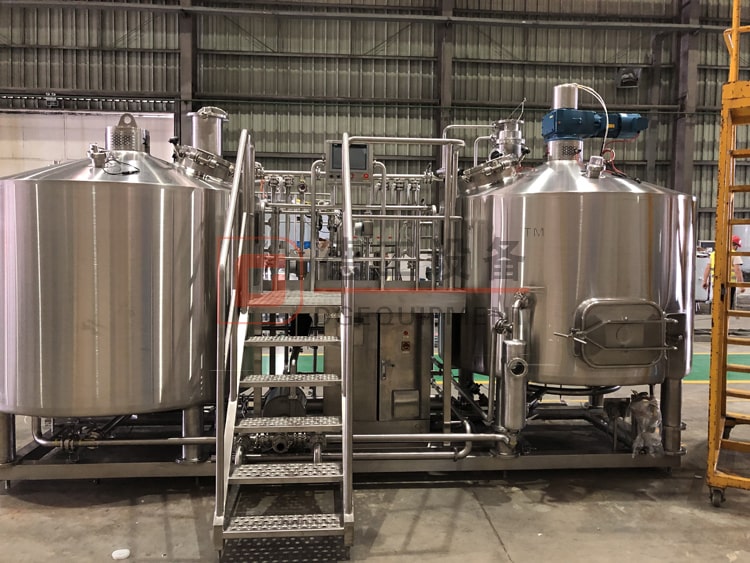 2000L beer brewery system
1.Depending on the size of the brewery, mashing and lautering,boiling and whirlpool can be done in the same vessel or separate vessels,so the brewhouse can be divided into 2-vessel,3-vessel,4 vessel brewhouse.The beer brewhouse is made out of stainless steel or copper and has a typical capacity of 50L,100L,2hL,3hL, 5hL, 10hL, 15hL, 20hL ,and more.(1hL or hectoLiter equals 100 liters).
2.Heating method can be electric heating,steam heating and direct fire heating according to your requirement.
Fermentation system of beer brewery system:
This fermentation system is composed by fermentation tank,beer storage tank/bright beer tank and yeast tank. We have specification of 50L,100L,200L,300L,500L,800L,10hL,20hL,and we can also customize specification according to clients order.
20bbl beer brewery system
Technical parameter of fermentation tank
Most of  Fermentation tanks are corn-shaped and can be used as beer storage tank.
All equipments are made of high quality stainless steel which meets the international food safety standards.
Inner Shell: 3mm,  304 Stainless Steel
Outer Shell: 2mm,304 Stainless Steel
Inner shell design pressure 29PSI(2bar), testing pressure 29PSI(2bar), designed to suit all types of craft breweries
25% headspace for fermenting process.
Minimum 80mm Thermal Polyurethane Insulation with both cone and shell coolant jackets.
Tank inner side is polished within 0.6µm sanitary finish.
Tank outside is 2B stainless steel plate(optional brushed stainless, #4 finish).
Shell and bottom cone cooling jacket for better temperature control.
Pillow Plate on shell body and cone; Omega laser welded and inflated
All necessary accessories on tank,such as pressure guage………
Other customization possibly available upon request.