Description
The Brewhouse is the Foundation of your Brewery
Our commercial brewhouses come in multi-vessel configurations, with brew kettle, hot liquor tank and mash tun included.  We offer larger free standing 1 bbl to 30 bbl brewhouses and skid mount systems in sizes ranging from 1 bbl to 30 bbls
Skid Mounted Brewhouses Copper brewing system
All of our skid mount brewhouses offer the advantages of a fast and easy setup. They come pre-piped and, except for utility or steam connections, do not require skilled trades to get going, and typically include the following features (unless otherwise requested):
Advanced touch-screen controls
Insulated mash tun with rakes, plow and grist hydrator (Mash tuns can be made with rakes and plow or be hand stirred).
Insulated or non-insulated kettles
Glass wort grant with automated pump controls
Hard piping and platform
Stairs with wheels for easy access under platform
Stainless steel brewing systems 7bbl
What Size Brewhouse is Right for You?
1 bbl brewhouse:
Our 1 bbl brewhouses for sale are excellent pilot systems for testing ingredients, processes and supplying your tasting room with variety. Test your batches before committing to a full brew length. Easy to install and low footprint is perfect for limited spaces.
2 bbl, 3 bbl, and 3.5 bbl brewhouses:
Excellent for tap room, small brew pub or "proof of concept" brewery. These are the systems that launched a thousand breweries!!
A very popular way to supply pubs with limited production ~300-500 bbl/year. Custom tanks and equipment available to fit your process needs.
5 bbl brewhouse:
The 5 bbl brewhouse is an excellent small to medium brew pub system! Get your brewery started with variety and flexibility in mind. Easily expandable as demand grows, this brewing system is great for the beginning entrepreneur, restaurateur and artisan. Custom tanks and equipment for sale is available to fit your demands, just let us know your needs and we can build the brewing system you're dreaming of.
7 bbl brewhouse:
An excellent system for medium brew pubs! The ultimate in capacity flexibility – brew half batch seasonals, full batch rotators and double batch flagships. Get your brewery started with variety and flexibility at your fingertips. Easily expandable as demand grows, this system will allow your craft to reach out into your community. Custom tanks and equipment available to fit your process needs.
10 bbl brewhouse –  15 bbl brewhouse:
Our 10 bbl and 15 bbl brewhouse systems that are for sale are the production size brewing systems that bring your beer to market. If you plan a medium to large size brew pub or beer hall, our distribution system is for you. Here at DEGONG, we build a vast array of custom tanks and brewing equipment available to fit your needs.
20 bbl brewhouse and larger: 
Distributing breweries that are distributing require larger systems, which are more customized than our smaller systems. Reach out to our brewery design experts for help taking your brewery to the next level.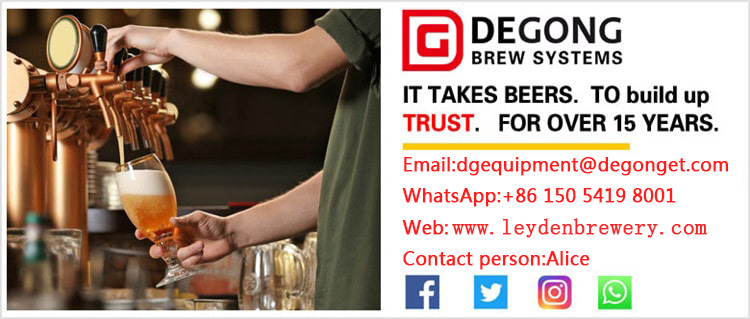 When it comes to brewing technology, DEGONG is the specialist. With our extensive know-how and vast engineering experience we are uniquely qualified to build brewery plants. Like no other supplier, DEGONG covers the complete brewing process in the finest detail – from the mill to the valve manifold of the bright beer tanks. This level of attention gives you exceptional security in terms of operation, process design and spare parts.