Description
These mini breweries and home brewing system are fully installed and plumbed in the factory. The installation process at customer site is fast and economic.
Composition of copper, stainless steel or copper with stainless steel dish heads provide beautiful look of pubs and restaurants with non-compromising quality of the beer.
Classic microbreweries and home brewing system produced from 1HL to 10HL with 2 or 3 vessels mash system and electric or steam heating.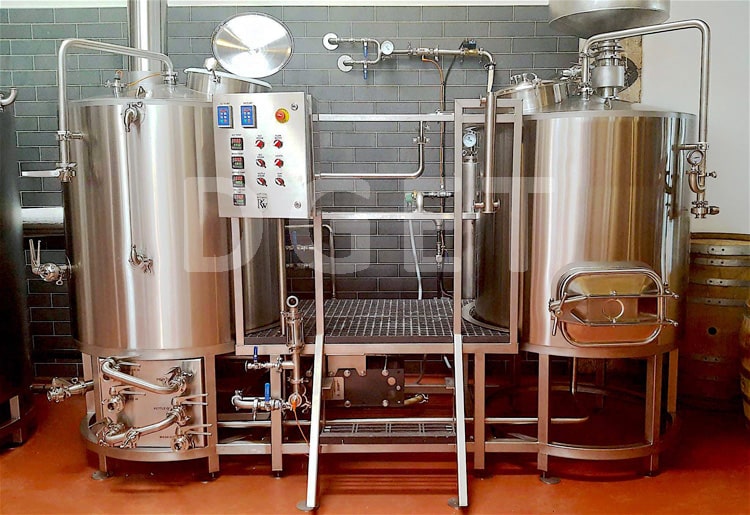 Mini beer brewhouse-home brewing system
---
Mash/lauter tank+Boiling/whirlpool tank

1.Be made of food sanitary stainless steel 304

2. Inner surface treatment: welds grinded to Ra 0.4µm without dead corner.

3. 100% TIG welding with pure argon gas shield

4. Insulation: Polyurethane-thickness 80 mm.

5. Temperature way:Double metal thermometer

6. Grain washing round pipe; CIP rotary spray device

7. Thermo well for high accuracy temperature sensor

8. Sanitary liquid level indicator with valves

​Supporting equipment

Motors with agitators/Raker for mixing

Wort cooler (may be used as external part)

Wort aeration candle (may be used as external part)

automatic control system of  brewing process.

False bottom in lauter tank with gap of 0.7um

a hot water tank and a cold water are usually needed

Pump,pipes,platform

Stainless steel laser cutting False Bottom for lauter tank

Tangential port for whirlpool tank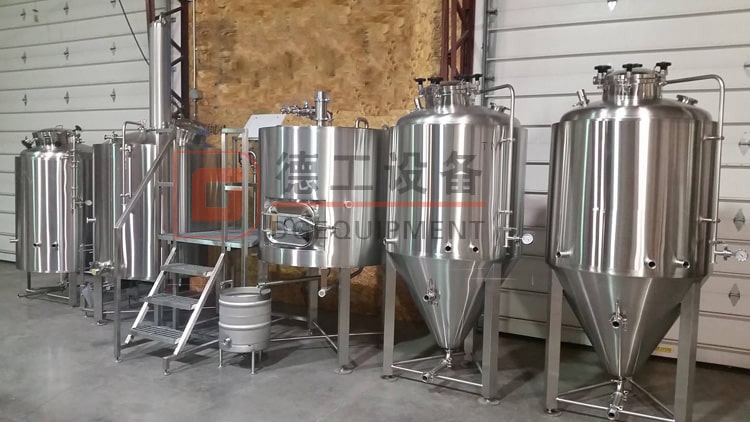 ---
1. Stainless steel 304

2.Equipment with : cone 60°resist compression design

3.

4. Interior Finish: Sanitary 2B finish

5. Exterior Finish: Oil brushed finish

6. Interior full polished to 0.4 μm

7. Insulated with Polyurethane foam 80mm

8. TC connected CIP arm with 360° coverage spraying ball

9.Full sanitary metallic sealed sampling valve

10.Pressure relief valve PVRV 2 bar on CIP arm

11.Hydraulic shock pressure gauge on CIP arm

12.Rotating racking arm

13.Thermowell for high accuracy temperature sensor

14.Dry hopping port 4" TC with solid end cap
Other necessory system-home brewing system
---
Miller system:Breaker Roll Type; Adjustable mill degree;
Cooling system:Glycol water tank; Cold water tank; Chiller; Circulation pump
CIP system:Alkali tank; sterilization tank; pump
Control system:PLC Control or PID control,Siemens,Omron,Schneider,Danfoss component
Company information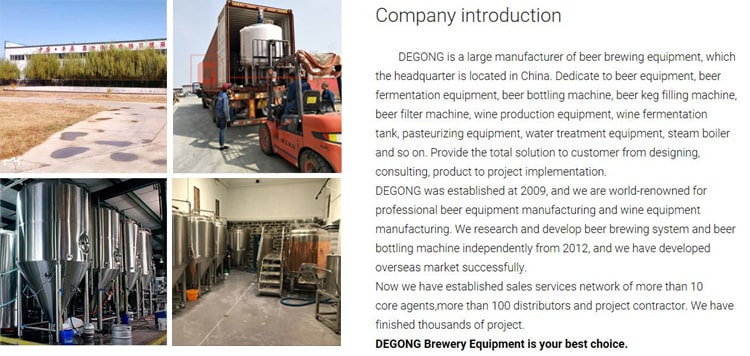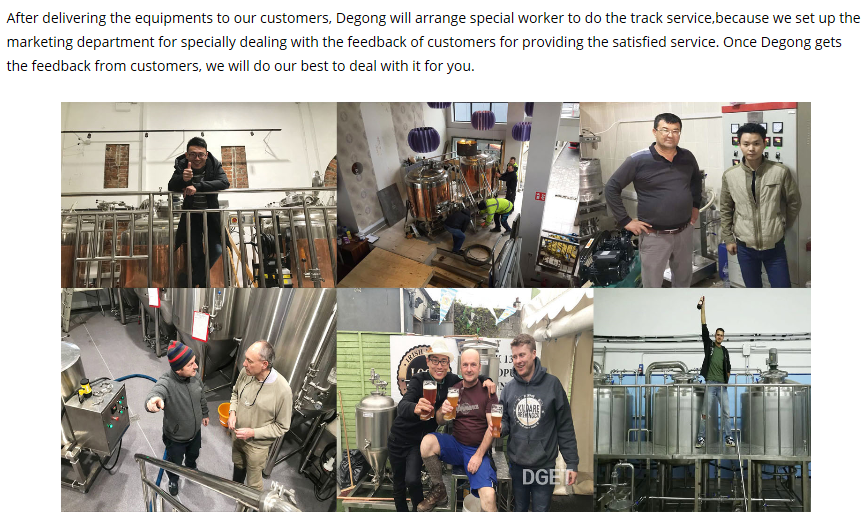 Weather you want to brew craft beer or brew commercial/industrial beer,weather you want to start a new beer brewery project or expand your brewing scale.No matter what you want to brew lager or ale, stout beer or light beer,barley beer or wheat beer,fruit beer or corn beer,low concentration beer or high concentration beer….DEGONG brewing equipment always can meet your requirement.
If you have interest in home brewing system/craft microbrewery,welcome to contact me freely