Description
2000L beer equipment overview
---
Mill machine
Grain mill machine was designed to help you get most of the grain.
with optimized spiral fluting patterns on it, can be easily adjusted to provide suitable gap for making different grain types, which can meet both decoration brewing and infusion brewing.
stainless steel mill machine
2000L beer equipment brewhouse
Heating method can be steam/electric/direct fire heating.
Steam heating:
It requires a boiler.It heat evenly and fast, easy to control temperature, not scorch the pot.
Electric heating:
The electric heating behaves well for the volumeunder 500L, saving the investment on the boiler/burner, if there is no condition to use the boiler/burner or it is more economical by using electricity.
Direct fire heating:
The burner and agitator are equipped with kettle.If you adopt decoction mashing way, the wort is easier to scorch. If so, the steam heating is more suitable.
2000L beer equipment
For 2000L brewhouse, we recommened 2-vessel, 3-vessel or 4-vessel.
2000L 2-vessel: mash/lauter tun+boiling/whirlpool tun
Mash/lauter/whirlpool tun+boiling tun
2000L 3-vessel:mash tun+lauter tun+boiling/whirlpool tun
Mash/lauter tun+boiling tun+whirlpool tun
2000L 4-vessel:mash tun+lauter tun+boiling tun+whirlpool tun
About 2000L brewhouse accessories:
Operation platform:stainless steel (for ease of operation)
Plate heat exchanger(PHE): two stage corrugated board type
Glass manhole:easy to observe the tank inside
False bottom:
use the Laser cutting V-wire False Bottom/Filter.This kind of False Bottom/Filter is more stronger,  nonpollution of welding.Using this false bottom when lautering, you will find that the grain bed is easy to form well and it will be easy to clean when you finish the lautering.
Raker:
the teeth of the rake is varied so that it can agitate the wort lengthways and transversely, plus its length, the rake can help to make the malts mix with the water soon, make the wort flow smoothly, help to form a efficient grain bed for better lautering.
raker&false bottom
operation platform
glass manhole
PHE&wort pump
2000L beer equipment fermentation system
Function: Used for keep wort fermentation or maturation.
Standard stainless steel conical cylindrical fermentation tanks
Single, double, triple or more size
Tanks quantity is exactly calculated by fermentation cycle for various beers
Cooling method: dimple plate or glycol cooling jacket
All manhole, valves, pressure gauges, fittings etc.
Design pressure is 0.3MPa; Working pressure is 0.15MPa.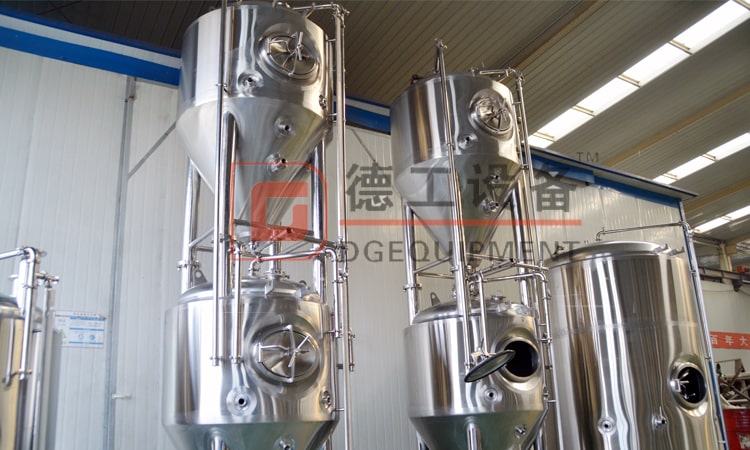 stacked fermentation tank
If you have interest, get in touch with me freely.