Description
The design of conical fermentation tank is based on our vast beer knowledge, especially the fermenter bottom and the fact that we combine fermentation and maturation in the same vessel is very important. When calculating your fermenting and lagering capacity and configuration sufficient time,for fermenting and lagering to produce quality beers must be taken into consideration.
A row of conical fermentation tank
Conical fermentation tank feature
1.A conical fermenter allows for the fermentating and the aging/storing of the brewing process to occur in the same vessel. The cone bottom collects the sediment which is then easily removed by slowly opening a bottom valve until the liquid runs clear, leaving the beer to age.
2.For this reason they are often referred to as "Uni-Tanks" as opposed to their flat-bottom counterparts that require transferring beer to a secondary conditioning tank to separate the sediment.
3.Modern commercial conical fermenters have the advantage of being made from stainless steel which can be reused indefinitely, is impregnable to odors and discoloration, and can be sanitized easily. Most jacketed fermenters sit atop legs and thus allow siphoning to occur through gravity. Additionally, yeast can be drawn off at any point during fermenting, to be washed and reused again.
4.These features yield considerable cost and time savings for commercial breweries, as well as faster turn-over rates for batches. Glycol-jacketed fermenters have the added benefit of an efficient cooling system built right into the tank.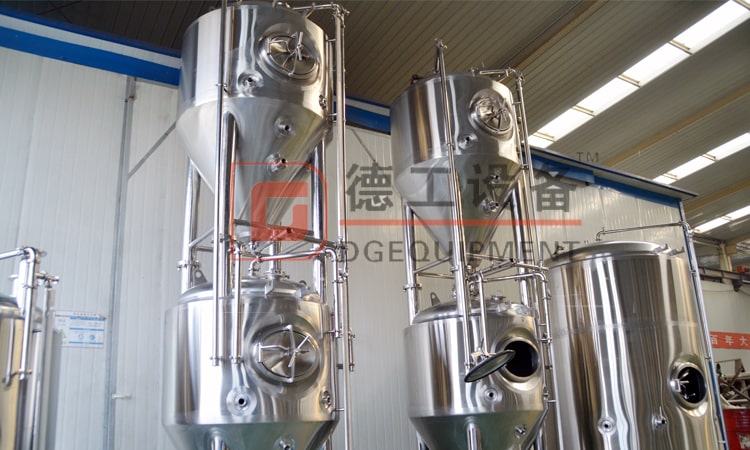 stacked conical fermentation tank(save space)
More information about Conical fermentation tank
DEGONG stainless steel fermenters controls the temperature independently through glycol jackets.
All stainless steel 304 sanitary construction
100% TIG welded and sanitary polished with quality controls, inspection and pressure testing.
4 heavy duty stainless steel legs with leveling footpads
Interior shell: 304 stainless steel, thickness=3.0mm
Interior and exterior finish bright polish, sanitary surface
Exterior shell: 304 stainless steel, thickness=2.0 mm
Polyurethane insulation thickness=80mm for cooling jacket on side and bottom
Jacket design pressure 1.5bar Test Pressure 3 bar
60 degree cone bottom, with minimum 20% head space
Rotating racking port and discharge port with butterfly valve and fittings
Side manway door
Dual zone cooling jacket with glycol inlet and outlet
Fully welded exterior shell
CIP arm and spray ball
38mmTri-clamp sanitary fittings
Pressure gauge
Thermometer
Sample valve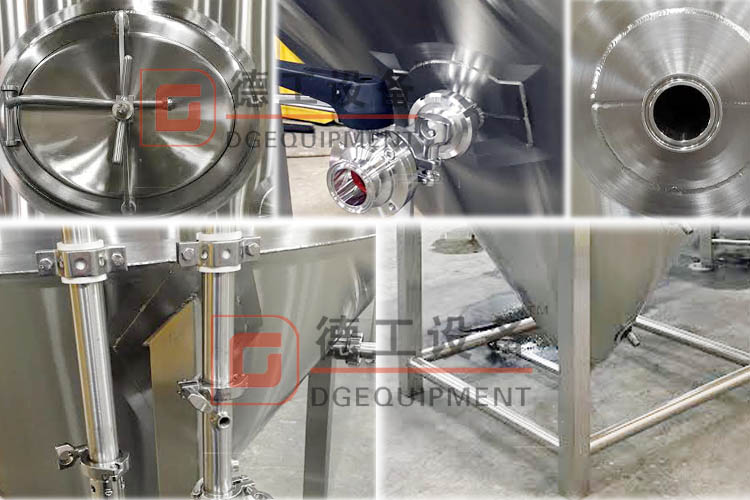 conical fermentation tank
Company profile
We, DEGONG are a professional manufacturer and leading supplier of good quality beer brewing system, ranging from 50L-20000L per patch (used for home, pub/hotel, factory, etc.) at a competitive price, with product design, production, sales, and installation support. We have been exporting beer brewing tanks to many places like USA, Canada, Ireland, Germany, Finland, Belgium….etc. Engineers are available for Overseas service. Provide installation, commissioning/testing, maintaining and personal training, beer production technology.