Description
Craft Fermentation Vessel feature
Brand: DEGONG
Configuration: fermentation tank, bright beer tank(including vertical bright tank or horizontal large tank)
Application: beer bar, pub, restaurant, brewery factory etc.
Volume: 50L-50000L(can be customized)
Certificate: CE, ISO, TUV
Warranty: 3years
Material: stainless steel 304/316, red copper
Weight:Various in different models
Inner Polishing Precision:0.4 Micrometer
Good insulation effect: the equipment is divided into two kinds of heat insulation and cold insulation, which is the best to ensure the temperature of the beer brewing process.
Low energy consumption: environmental protection, energy saving, low powerconsumption.
Craft Fermentation Vessel more
Function: Used for keep wort fermentation or maturation.
Processing: beer fermentation
Standard stainless steel conical cylindrical fermentation tanks
Cooling method: dimple plate or glycol cooling jacket, both bottom and top.
Design pressure is 0.3MPa; Working pressure is 0.15MPa. (MPa can be customized).
Tanks quantity is exactly calculated by fermentation cycle for various beers
Craft Fermentation Vessel details
4 stainless steel legs with leveling footpads
Interior shell: 304 stainless steel, thickness 3mm
Exterior shell: 304 stainless steel, thickness 2mm
Interior and exterior finish bright polish to 0.4μm, hygiene surface
60 degree cone bottom, other angles can be specified during the design process
Combined drain extensions and beer port in cone are standard
25% headspace
Top or side manway door
Dual zone in sidewall and cone dimple cooling jacket with glycol inlet and outlet
Polyurethane insulation thickness 100mm for cooling jacket on side and bottom
Fully welded exterior shell
Non welding CIP arm and rotating 360 degree reach spray ball
Ice water solenoid valve, pressure relief valve (safe valve) are standard
Pressure gauge, Temperature probe,Sanitary sample valve,mechanical regulator valve,raking arm and port
All clamps and gaskets to attach all accessories
Tank complete with piping, fittings, sanitary valves and all parts.
Carbonation port is available for special request
Dry hop ports and/or hop bag hooks in any fermenter of any size for special request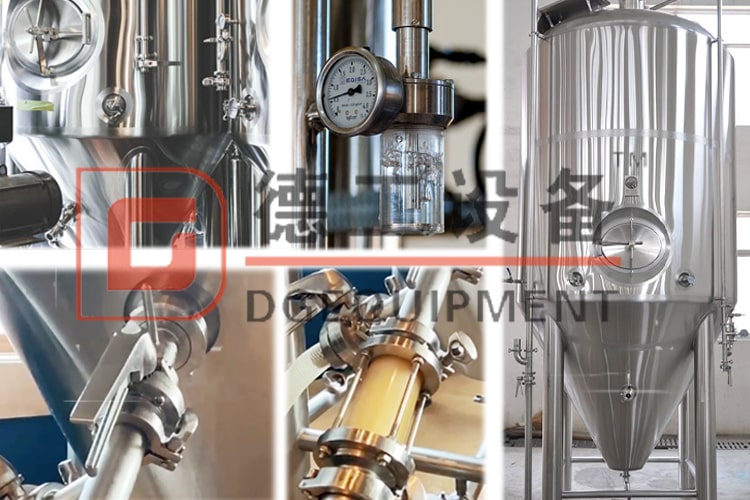 Fermentation tank details
Vertical bright beer tank show
If you want to know more, get in touch with me freely.