Description
Stainless steel beer fermentation tank is a fermentation device that completes the fermentation function required by the process.Beer Fermentation tank is usually has two types: vertical fermenter and horizontal fermenter. Vertical fermenter generally adopts cylindrical and cone bottom structure.The upper head is a cone seal or a dish. The horizontal fermenter is a cylindrical cylinder and a dish head structure. The inner is made of high-quality stainless steel. The cladding can be brushing/mirror/copper. It is equipped with breathing safety valve, sample valve, temperature probe, CIP interface, wort interface, top or side manhole etc.
1000L Beer Fermentation Tanks as a reference
Fermentation is the next step in the brewing process after the wort has been prepared.
Beer Fermentation tanks hold the wort while yeast converts to sugar in the wort into alcohol and carbon dioxide. These tanks should have a cone-shaped bottom, which facilities the process of recovering the yeast for later use.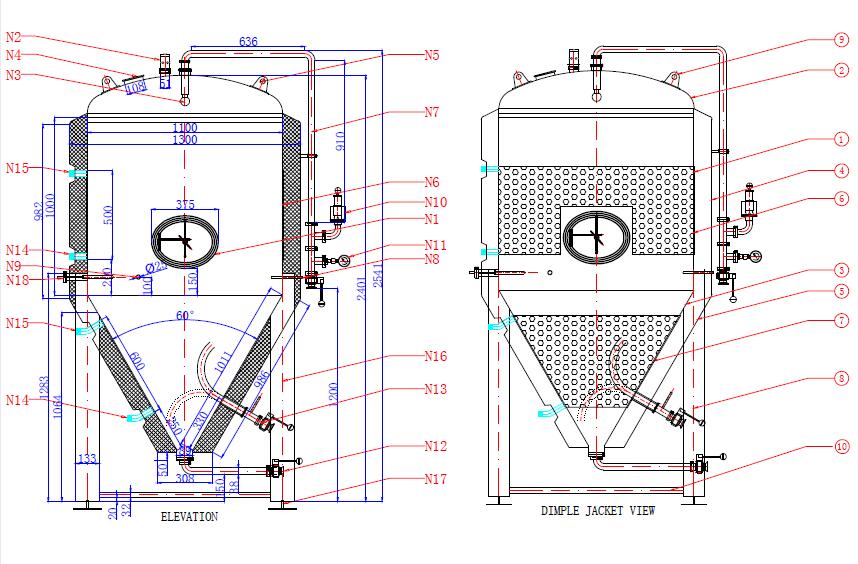 N1.Side manhole     N2.Breathing valve      N3.Cleaning ball     N4.Dry hops adding port     N5.Lifting lug     N6.Cooling jacket   N7.CIP Pipe  N8.Temperature sensor   N9.Sample valve     N10.Mechanical regulation valve    N11.Pressure gauge    N12.Drain outlet N13.Racking arm N14.Cooling inlet     N15.Cooling outlet    N16.Legs   N17.Base plate   N18.Carbonation stone
Features of beer fermentation tank
MANWAY:Option of top or side manway c/w hand-turn knobs provides fast and easy access to vessel.
CIP cleaning ball:Static cleaning ball provides reliable cleaning performance and optimized flow pattern to minimize cleaning time and water usage. Optional rotating cleaning nozzles are also available.
CIP/VENT ARM:Provides easy connection point at comfortable working height for brewer. Includes pressure gauge and gas valve c/w quick-connect gas connection.
PVRV:Protects against over pressurization or vacuum collapse of tank. Self sealing after operation for reduced risk of beer contamination. Easy disassembly for cleaning.
LADDER SUPPORT:Locks into the rung on a standard ladder providing safe access to top of vessel.
ADJUSTABLE FOOT PADS:Tilting pads ensure full floor contact without gaps and simplify vessel leveling
CONE BOTTOM:60 degree cone bottom is optimized for excellent yeast settling characteristics and harvesting of yeast from the bottom drain without channeling.
INSULATION:Pour-in polyurethane foam insulation has a high insulating value and expands to fill every corner of the insulating space achieving a superior performance compared to fiber batts. Insulating foam is specially formulated for use with stainless vessels.
COOLING JACKETS:High efficiency glycol cooling jackets are specially designed to create turbulence and improve heat transfer. Dual side jackets are located to minimize thermal stratification and maximize cooling performance for single or double batch sizes.
HEAD SPACE:Minimum 25% headspace allows for vigorous ale fermentations without foam losses. Height to diameter ratios optimized for fast fermentations and high attenuation.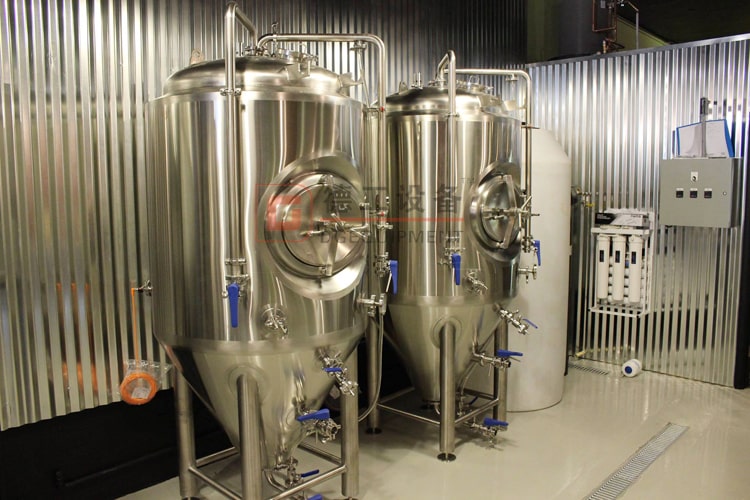 500L Fermentation tank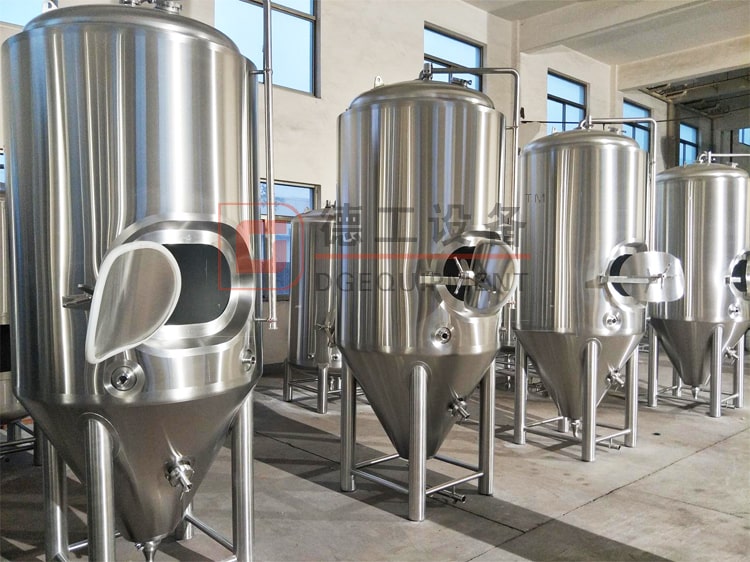 1000L Fermentation tank
5000L Fermentation tank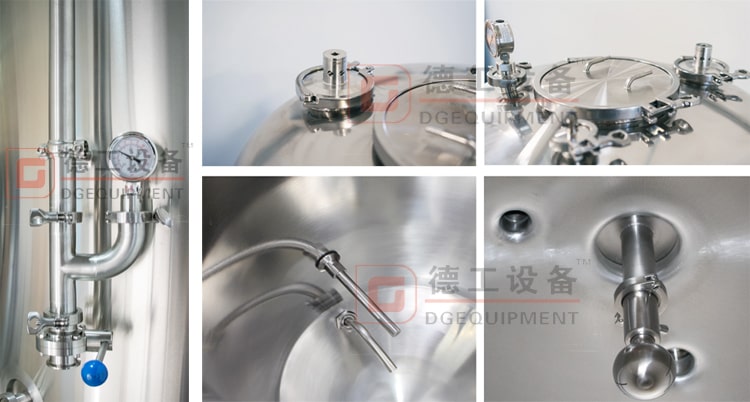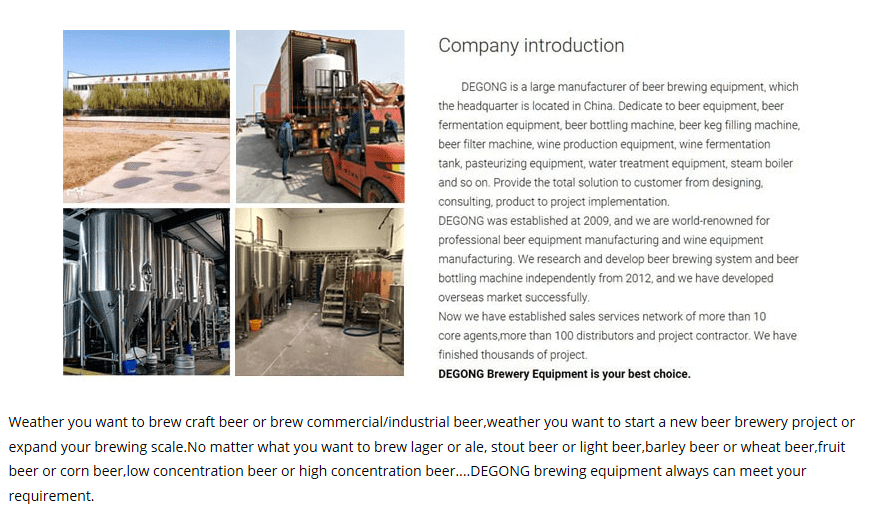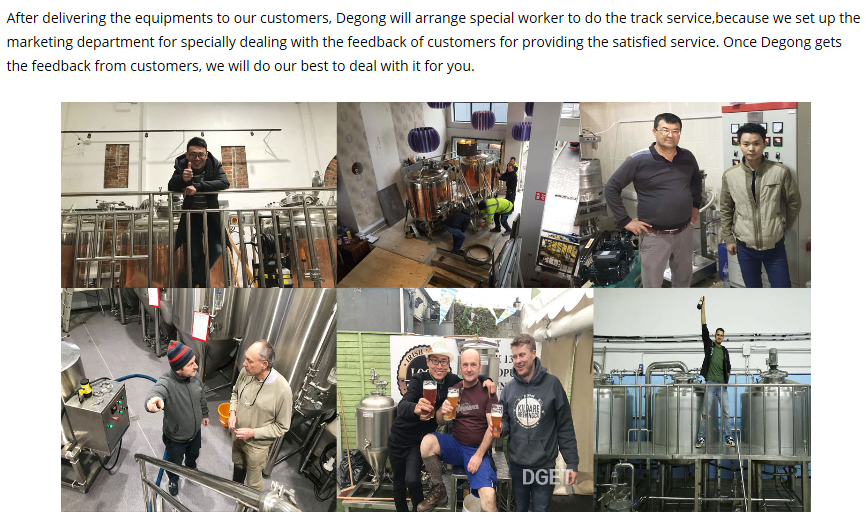 If you have interest in DEGONG Beer brewing system,welcome to contact me freely