Description
We manufacture and supply beer brewery equipment that vary in size from 200 to 5000 litres beer per brew. All our brewery equipment is suitable for brewpubs, restaurants, craft breweries and beer production. Our restaurant brewery equipment enable you to produce outstanding and full-bodied beers. Beginners will find it easy to brew with this fairly automated equipment.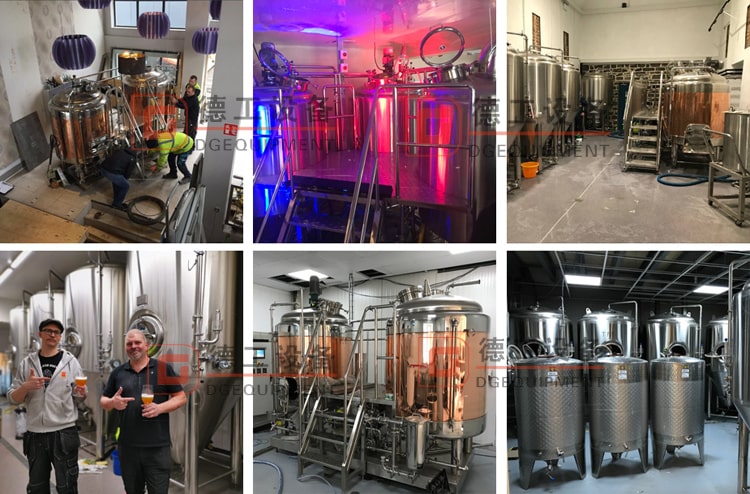 Restaurant brewery equipment beer brewhouse introduction
The 500l beer mashing system for preparation of wort has a traditional design. All components that are necessary to production of wort are integrated to two functional tanks,which is mash lauter tank+boiling whirlpool tank.This type of the 2-vessels beer brewhouse is able to produce 1-2 batches of wort per day.The brewhouse is usually placed and operates directly in interior of the restaurant,which is a good marketing tool which pull a customer attention
We produce the brewhouse in two different variations – with the stainless steel or copper outer design.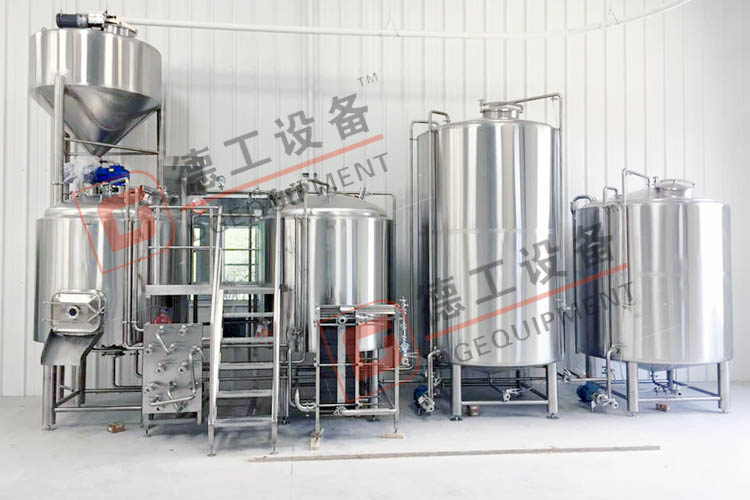 Restaurant brewery equipment 2-Vessel brewhouse basic configruation
---
1.Mash/boiling tun/whirlpool
It is designed for mashing and boiling of wort with hops.It has a mixing machine,driven by an electric motor.The tank has heating steam jacket which covers the cylinder and its bottom.There is a tangential port on the cylindrical conical tank,and its function is to seperate hot solidification and clear wort.Mash tun is thermally insulated with 80mm rock wool.Temperature sensor located in the cylindrical part of the tank.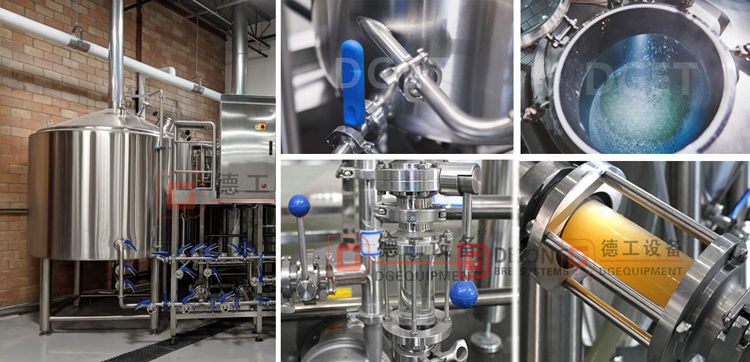 2.Lauter tank
It is intended for filtration of mash-separation of its solid and liquid.Lauter tank is carried our through removable sieve,consisting of several individual segments.it is also has a raker,driven by an electric motor.It is thermally insulated with 80mm rock wool.Temperature sensor located in the cylindrical part of the tank.The tank has a rectangular hatch in the cylindrical part for spent grain removable.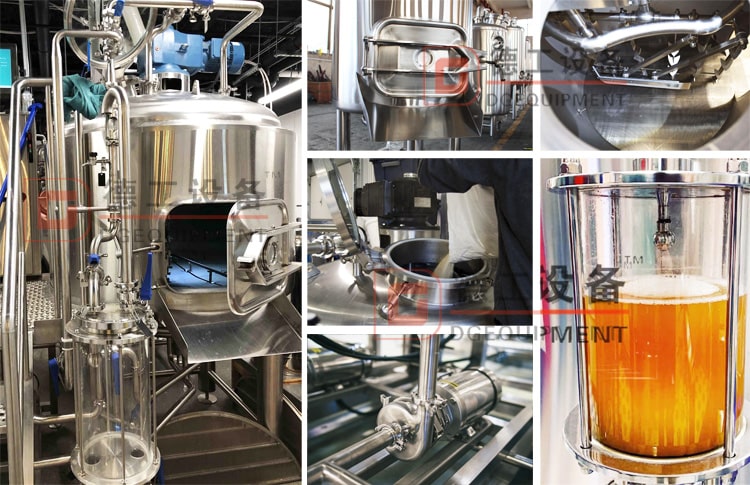 3.Hot water tank
Hot water tank is intended for heating water,which is used to cover the sieve before filtration in lauter tank(deaeration of space beneath the sieve) and washing of grains.The wokring volume is 1000L.
4.Wort pump
It is intended for pumping of mash and wort between tanks of the brewhouse(mash tun-lauter tun-boiling tun-whirlpool tun) at different stages of brewing process.PowerL0.75kw,3t/h,18m lifting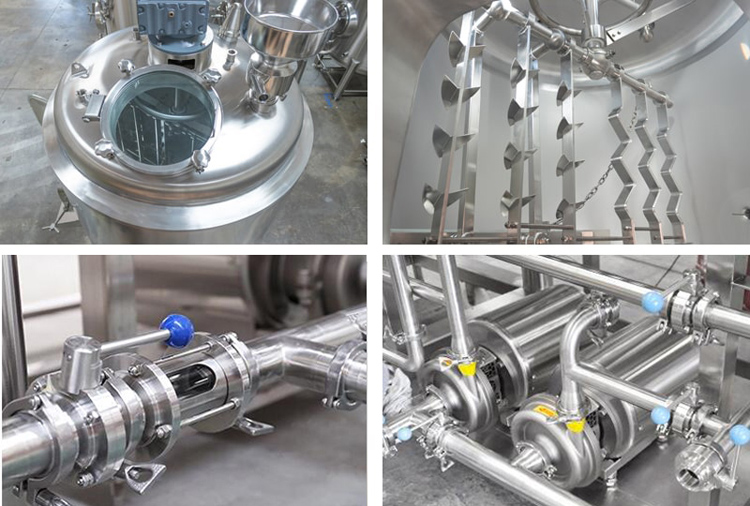 5.Plate heat exchanger
It is double stage plate heat exchanger.It is intended for cooling of wort before it pumping into fermentation tank.The cooling in the first stage is carried out with cold water and with the glycol water in the second stage.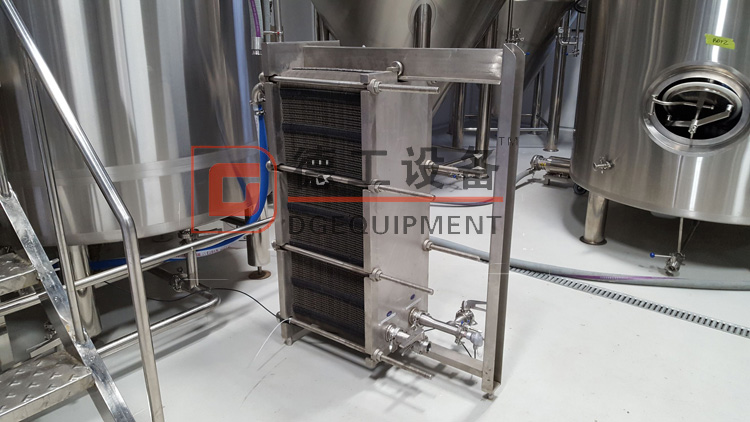 Restaurant brewery equipment fermentation tank introduction
Each fermenting and storage tank is completely manufactured from stainless steel, operable up to 3 bar pressure and comes with CE certification, PU-insulation, cooling jackets, cleaning nozzles and automation of temperature and pressure. All tanks can be operated individually for different beers.
Component: It is consisted of Shadowless manhole, apunding valve,PRV, Aseptic sample valve, Pressure gauge, Rotate racking arm, Butterfly valve, Solenoid valve and etc.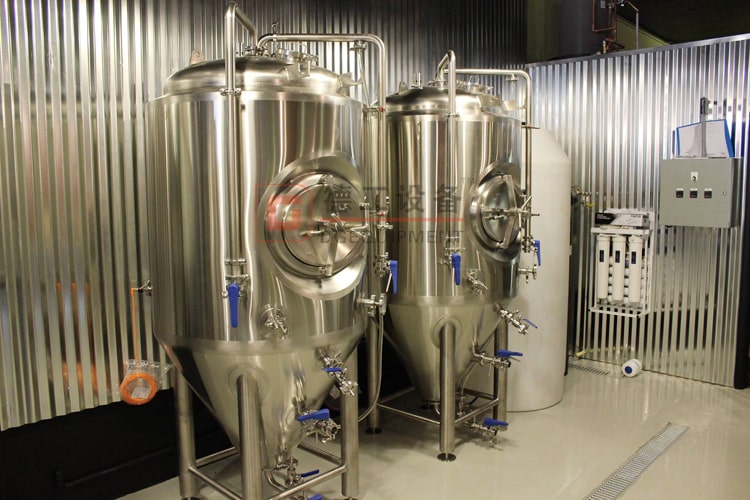 Function: Use for keep wort fermentation or maturation.
Material: Stainless steel 304 or 316,or red copper
Capacity: effective volume is 50L-30000L, 1BBL-300BBL
Cooling method: dimple plate or glycol cooling jacket around tank.
Cooling media: glycol water or alcohol water.
Design pressure is 0.3MPa; Working pressure is 0.15MPa.( Our standard design, MPa can be customized).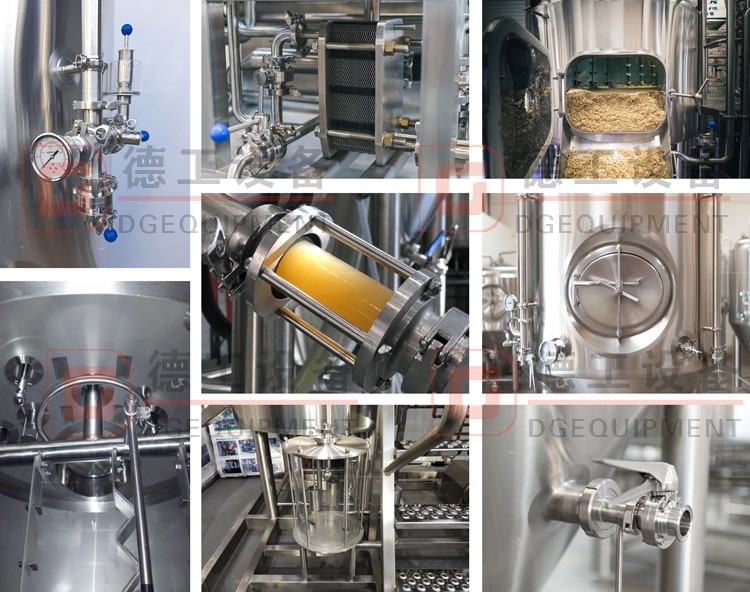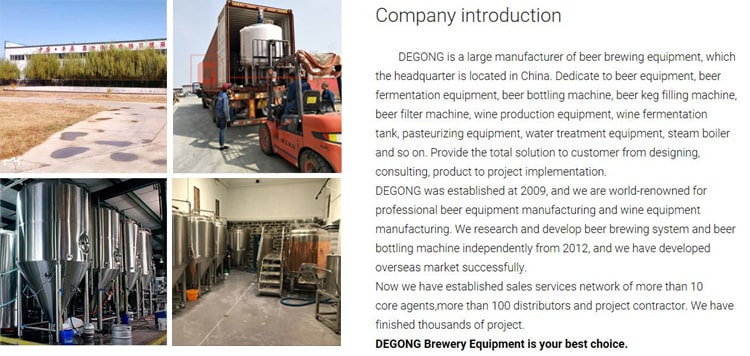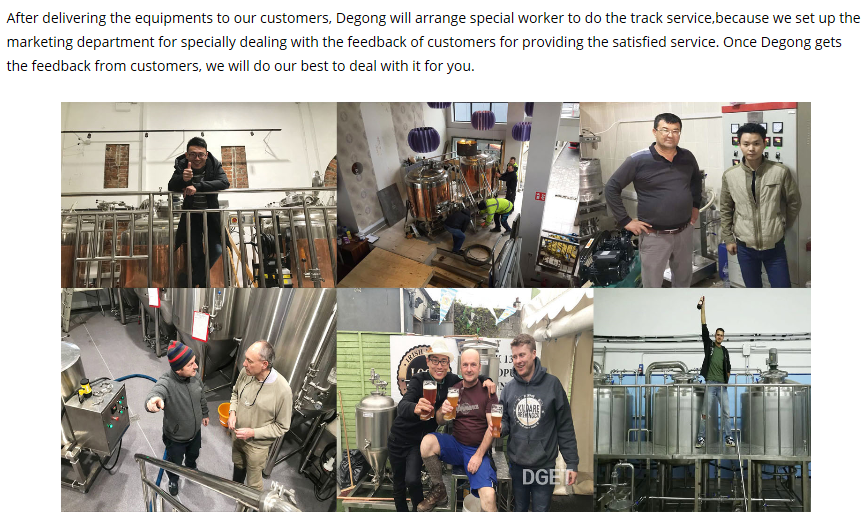 If you have interest in DEGONG beer brewing equipment,welcome to contact me freely