Description
DEGONG equipment feature
We only use quality 304 stainless steel or 316L stainless steel
Welders who have been welding for more than ten years only.
Key components only use internationally renowned brands
Such as: SIEMENS, ABB control instrument using the best
No matter which part of the weld is welded, we shall protect it with argon of 100% purity.
Quality standard:
All the machines will be customized to your required voltage.
Construct with high quality SUS 304 or 316 food grade stainless steel, all fitting &valves are tri-clamped;
All the welding is TIG full welded, Mirror polish inside, welds will be acid cleaning;
All tanks will be tested before leaving from factory; Test pressure: 3Bar, jacket working pressure: 1.5Bar.
---
500L brewhouse of beer brewery equipment 
1.Mash tun:
Equipped with suitable jacket and mixer to ensure temperature rise rate, avoid coking
large volume, wort boiling, improve the overall system's efficiency.
2.Lauter tun:
Combined plow knife structure increase lautering efficiency,increasing the diameter of the center circular construction has improved lautering efficiency and spend grains discharge speed greatly. Because of the center circular construction basic design, the mash will be filled into the lauter tun steadily and speedily, the wort will be circulated with low oxygen uptake.Set more suitable wort outlets accord with hydrodynamics principle, assure wort flows through piping etc. long wort collection ring, make wort collection steadily and speedily.
Use specially designed raking arm to raise main shaft seal, avoid leaking to improve sanitation.Can be used as mash tun, meet a variety of process demands of craft beer.
3.Boiling tun
With inner heater, jacket, mixer. This design makes the kettle tun can be used as adjunct cooker or mash tun, meet the special demands of craft beer process; benefit for heating low-temperature wort more.Inner heater functions to wort forced circulation
4.Whirlpool tun
Specially designed whirlpool tun bottom accord with hot trub sedimentation characteristics, combined with specially designed hot trub collection zone, can make the hot trub more closely and be discharged directly no need for washing, avoid remixing hot trub into wort when we pump the wort to PHE.
Customers can combine them according to their own needs.
---
500L beer brewery equipment for brewhouse more…
Material:SUS316L or SUS304
Interior Shell: 2B/mirror plate; TH=3.0mm
Exterior Shell:2B/mirror/brushed plate; TH=2.0mm
Heating method:steam, electric or direct fire
Dimple jacket or dribbling for heat exchanger, polyurethane insulation,TH=80-100mm
Lauter plate:milling
Grain removal:side discharging or bottom discharging
Tank equips with manhole, light sight glass, washing tube, temperature sensor
achieve temperature control, 360 degree sanitory washing ball,material inlet and outlet etc;
Plate heat exchanger: Cooling form,capacity and piping meet requirements
Oxygenation system:oxygenation form, capacity and interface form meet requirement
Operation platform:stainless steel 304
Heating system: design capacity meet the requirement
Cooling system: design capacity meet the requirement
Accessories:cold water pump, hot water pump, wort pump, mixer,material &water mixer, wort tester, ABB motor, hop adding device,hop filter device, saccharimeter,raker,spent grain recovery and transfer device, CIP system etc.
---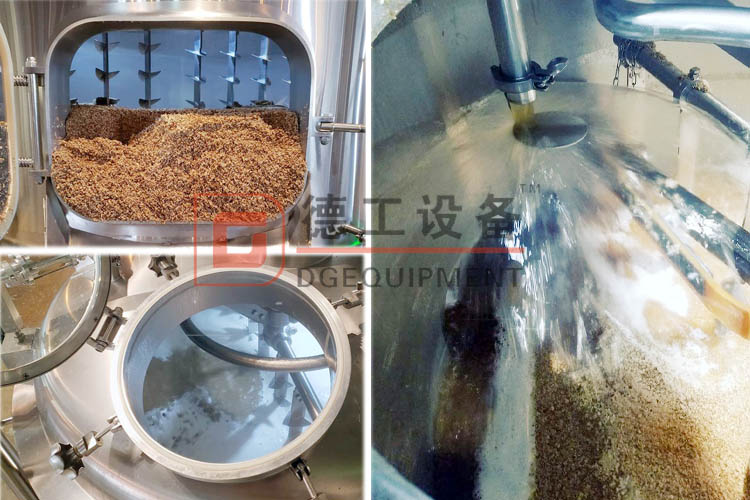 500L beer brewery equipment details
500L beer brewery equipment in pub
If you are interested in DEGONG beer equipment, get in touch with me freely.