Description
DEGONG offers beer brewing equipment designs to ensure that optimal efficiency is achieved while including all requirements that a customer may have (such as spacing, tank distribution, etc.) Producing a high quality beer requires consistent brews and although experience plays a crucial rolein the process, the limiting factor is the quality of the beer brewing equipment used. Having a high quality Brewhouse will ensure that you have the necessary tools to keep the same flavor profile with every batch!

Beer brewing equipment can be designed according to the requirements of different brewers.The whole set commercial used beer brewing equipment includes miller, mash system, fermentation system, cooling system, control system, cleaning system, filtration system, sterilizer, filling line (bottle, barrel, can), packaging.
Beer brewing equipment produce
Milling system:The milling system contains malt miller and flexible auger.If the equipment is bigger,it will need a flexible auger to transfer malt.
Beer brewhouse/beer mashing system:Brewhouses can be 2-vessels,3-vessels,4-vessels,with electric heating,steam heating or direct fire heating.And the material can be stainless steel and red copper.Except brewing tanks,the system also include pump,plate heat exchanger,wort grant,operation platform,hos filter and other auxiliary equipment you need.
Beer fermentation tank:Fermentation Tanks are equipped with separate cooling zones which can be individually controlled and entirely insulated. CIP tube and a cleaning head included. The materials used and the surface finishing depend on the intended application and the customers' specifications.
CIP System:The CIP system is refer to cleaning system,normally,it contains an alkali tank,a sterilization tank and a circulate pump,sometims customer also will require an acid tank.
Control system:The control system controls the whole brewing progress.All of the component is Siemens,Schenider or Omron.And it is accord with European standard.
Cooling system:The cooling system contains cold water tank,glycol water tank,chiller and circulate pump.The capacity of cooling system is according to quantity and capacity of fermentation tank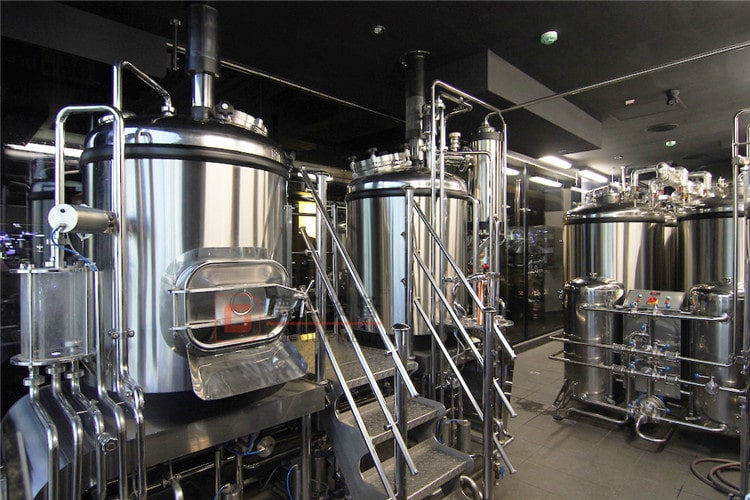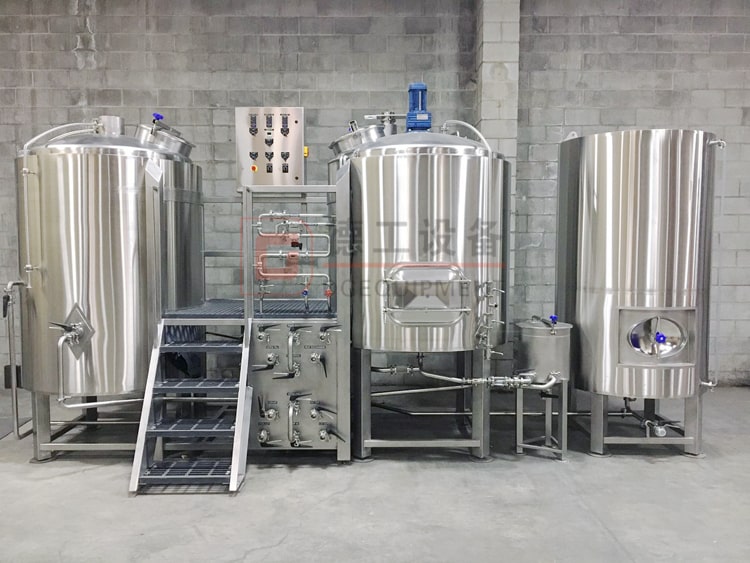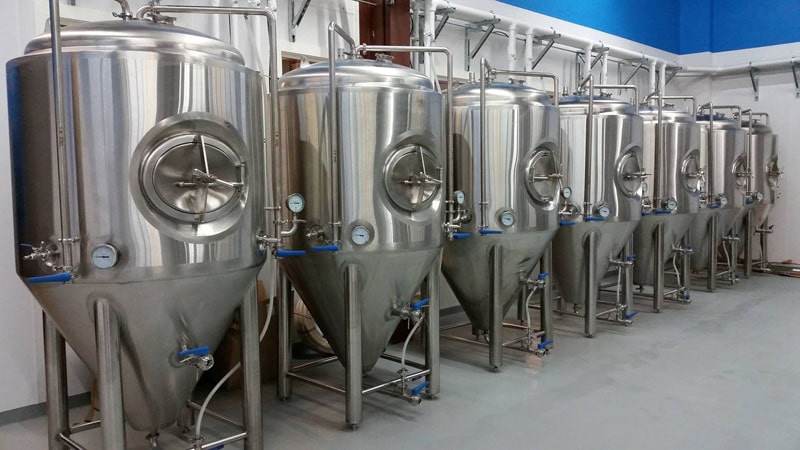 Beer brewing progress
– Malt milling – the germination of cereal grains (usually barley), drying and cleaning of germs,
– Mashing – malt is ground and mixed with water. The mixture then becomes sweet taste,
– Mash filtering – mash is pumped into the filter – vat, where it is divided into wort without hop and spent grain,
– Wort boiling – the wort with hops, and other ingredients, cooked for 1-2 hours,
– Clarification of the wort – wort is pumped into a whirlpool to remove insoluble residues of barley and hops,
– Cooling and aeration of wort – the wort is pumped into a fermentation tank,
– Fermentation – simple sugars in the wort with yeast transformed into alcohol and carbon dioxide,
– Filtering – beer is filtered from the remnants of yeast,
– Pasteurization – some beers are pasteurized – heated to a temperature of 68-72 ° C, for longer storage.
| | | | | | | |
| --- | --- | --- | --- | --- | --- | --- |
| Size/batch | Fermenters size | Number of fermenters | Beer production per year | Floor space BH+Cellar+filling+store | Height Brewhouse | Height Cellar |
| 2HL(200L) | 4HL | 4 | 320HL | 30m2 | 1.9m | 1.90m |
| 3HL(300L) | 6HL | 4 | 480HL | 40m2 | 2.0m | 2.06m |
| 5HL(500L) | 10HL | 5 | 1000HL | 70m2 | 2.15m | 2.50m |
| 10HL(1000L) | 20HL | 5 | 2000HL | 100m2 | 2.5m | 3.10m |
| 15HL(1500L) | 30HL | 5 | 3000HL | 140m2 | 2.6m | 3.40m |
| 20HL(2000L) | 40HL | 5 | 4000HL | 180m2 | 2.8m | 3.80m |
After delivering the equipments to our customers, Degong will arrange special worker to do the track service,because we set up the marketing department for specially dealing with the feedback of customers for providing the satisfied service. Once Degong gets the feedback from customers, we will do our best to deal with it for you.
Why choose us:
1.Always delivery in time
2.Guarantee is 3 years
3.Install equipment freely
4.Real food grade SUS 304
5.Promise good pre service and after service