Description
Micro brewery tank in restaurant is usually not complex. Compared with the ones in commercial or independent brewery, the restaurant micro brewery tank normally configure the most basic brewing machine including brewhouse, fermentation tank, bright beer tank, glycol cooling system, control system, cleaning system. Usually, the restaurant will devide out an separate space as cellar, but prefer to set the brewhouse where people can see and watch the brewing operation directly, for example behind the big window or the bar counter. The copper kettle is also the first choice for most restaurant micro brewery tank brewing system. Beer is normally served from the kegs or directly from the tanks, sometimes a walk-in cold room is necessary to store packed beer. For micro brewery equipment in restaurant, we suggest to start from 500l/brew minimum.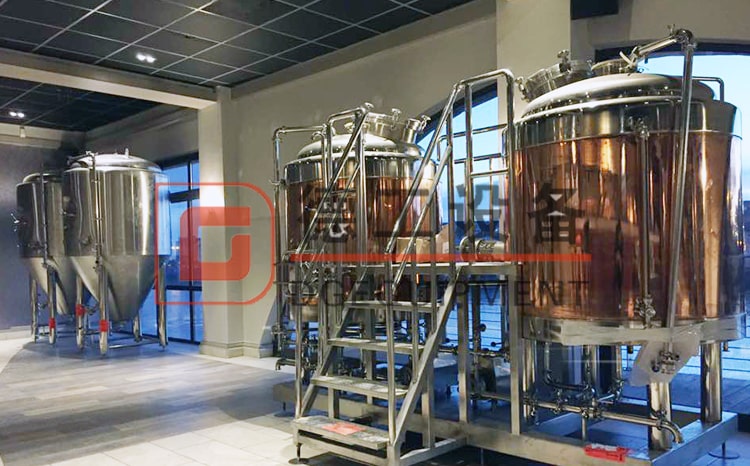 Raw material
Beer brewing equipment is used for brewing a variety of beer , such as ale,lager, IPA and so on. The raw material of beer brewing is four basic ingredients (water, malt, yeast, hops) and some auxiliary ingredients (sorghum, rice).
Mash system/brewhouse-Micro brewery tank
Mash system, it is the most important part of beer brewery equipment. It consist of mash tun,lauter tun, kettle, whirlpool tank. The tanks can be combined freely,for 500L brewing equipment,we recommend such as mash/lauter tank,boiling/whirlpool tank.
A combination mash/lauter tun is used to steep the malted grain in hot water to extract the soluble goodness (wort) from the grain to prepare for brewing. Upon completion of this step, the spent grains are discharged through the chute on the front of the brew house.
A combination  boiling whirlpool tank the wort is then boiled for a prescribed time interval to precipitate unwanted elements and to infuse the addition of flavorful hops.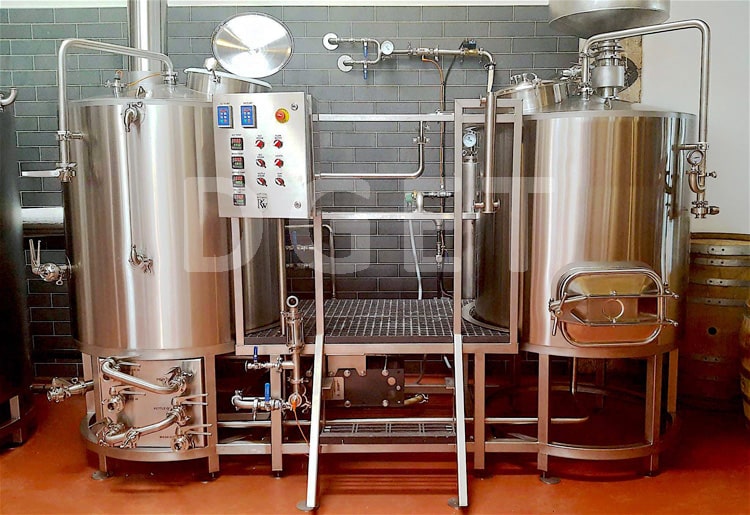 ---
Hot water tank and cold water tank for optional in special combinations
Infusion or decoction brewing methods are designed exactly
Stainless steel cladding is even the unique because of easy maintenance and clean
Two stages or single stage heat exchanger for wort cooling
Completely stainless steel integrated work platform
Sanitary and efficiency wort pump
All pipings, pipes maniford and fittings
Fermentation system-Micro brewery tank
Fermenting system consists of Fermentation Tank and Bright Beer Tank. Fermentation Tank structure and design differs depending on fermentation process. The normal beer brewery equipment fermentation tank structure is dish head up and cone down and it is equipped with cooling installation,there is a cooling jacket on tank cone section,columnar part has two or three cooling jackets.This not only can meet the relevant requirements of cooling, guarantee cooling rate of fermentation tank, also help to precipitation and storage the yeast.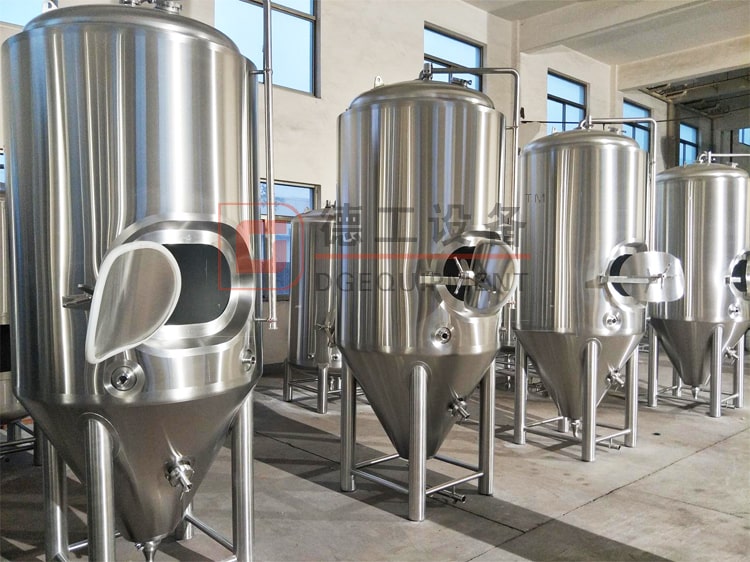 ---
Function: Used for keep wort fermentation or maturation.
Standard stainless steel conical cylindrical fermentation tanks
Single, double, triple or more size as brewhouse is common used in commercial breweries
Tanks quantity is exactly calculated by fermentation cycle for various beers
Roof walkway is for special request
Cooling method: dimple plate or glycol cooling jacket both bottom and top.
All manhole, valves, pressure gauges, fittings etc are included
Design pressure is 0.3MPa; Working pressure is 0.15MPa. (MPa can be customized).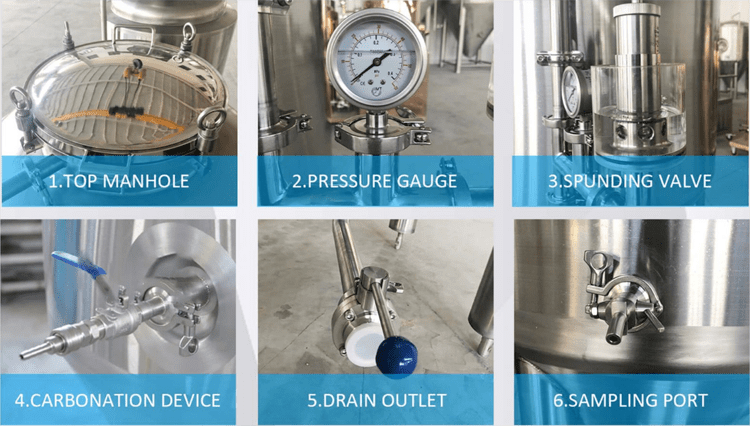 Other necessary system
| | |
| --- | --- |
| Miller system:Breaker Roll Type; Adjustable mill degree; | Cooling system:Glycol water tank; Cold water tank; Chiller; Circulation pump |
| CIP system:Alkali tank; sterilization tank; pump | Control system:Siemens,Omron,Schneider,Danfoss component |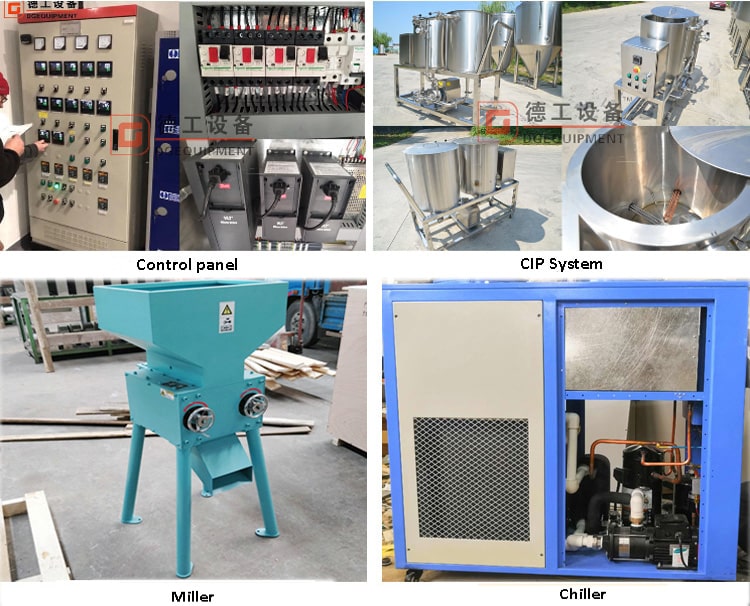 Company information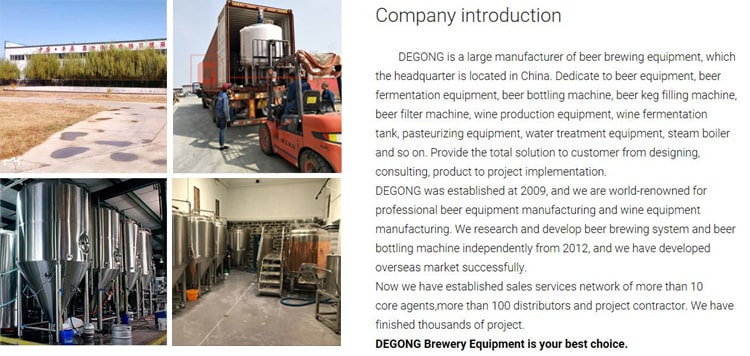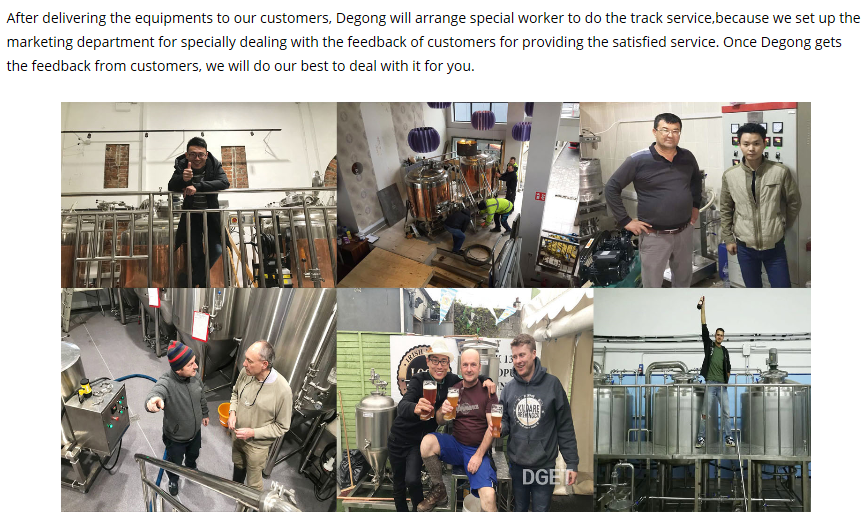 Weather you want to brew craft beer or brew commercial/industrial beer,weather you want to start a new beer brewery project or expand your brewing scale.No matter what you want to brew lager or ale, stout beer or light beer,barley beer or wheat beer,fruit beer or corn beer,low concentration beer or high concentration beer….DEGONG brewing equipment always can meet  your requirement.
If you have interest in beer brewing,welcome to contact me freely