Description
 Craft microbrewery for 500L brewhouse 
2-vessel:mash/lauter tun+boiling/whirlpool tun
3-vessel:mash tun+lauter tun+boiling/whirlpool tun
mash/lauter tun+boilign tun+whirlpool tun
Hot water tank is optional
Heating method:steam heating,electric heating and direct fire heating
Plate heat exchanger: Double or single stage plate heat exchanger.
Pump(wort pump and hot water pump): horizontal or vertical
craft microbrewery brewhouse
Craft microbrewery fermentation system:
Fermentation tank: SUS304, conical vertical tank ; Test pressure:0.3Mpa, working pressure: 0.15Mpa; Dimple type glycol cooling jacket,thickness is 1.5mm; Top safety valve, Side manhole door, Rotary CIP spray balls, temperature sensor, Sample valve, Mechanical pressure valve, Pressure gauge, Glycol solenoid valves, Stainless steel legs with screw assembly to adjust legs height,Complete with associated valves and fittings.
Optional: bright beer tank, yeast adding tank etc.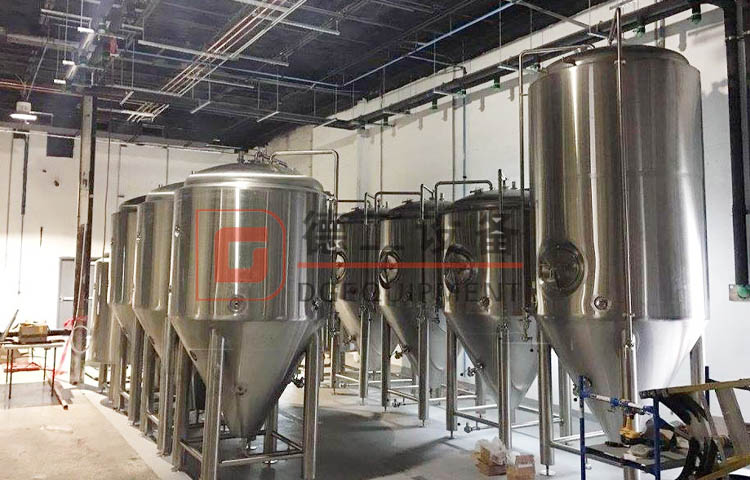 Function: After fermenting, beer will be stored in BBT for carbonation and serving.
Component:side/topmanhole, mechanical regulation valve, Aseptic valve, Pressure gauge, sample valve, Butterfly valve, Solenoid valve, carbonation stone and etc.
Capacity: effective volume is 100L-30000L, 1BBL-300BBL
Cooling method: dimple plate or glycol cooling jacket around tank.
Cooling media: glycol water or cold water.
Design pressure is 0.3MPa; Working pressure is 0.15MPa.
 Craft microbrewery
Packing & Shipping of Craft microbrewery :
All tanks will be packaged with soft protection material and mounted on strong carbon steel frame
All accessories and spare parts will be packaged with separate box.
After loaded into containers, all equipments will be well fixed to the containers.
Transportation mode: ocean, railway or air transportation.
Service & Guarantee
Free charge for consultation
Our professional engineers and technicians can customize the equipment, and we can provide beer production technology and brewing formula, equipment design, installation and debugging, and personnel training service.
Contact us
If you have interest, please feel free to contact me.