Description
The 5 or 10 hl. DEGONG's brewery is the ideal model for microbreweries and brewpubs that want to enter into the craft beer world, but also for wineries, farms, beverage manufacturers and restaurant owners looking to diversify an existing business.
Consisting of an AISI 304/316 stainless steel single-block structure with all its parts already connected, this Brewhouse is ready for operation after connection to the electric, water and/or gas supply lines. Complete with a mash / kettle / Whirlpool tun, a lauter tun, a hot liquor tank and a cooling exchanger, the single-block Brewhouse also provides the possibility to connect another tun for the production of double batches.
5HL DEGONG brew system         
---
---
Suitable for the production of any types of beer, this Brewhouse is user-friendly, simple to operate and requires no extra labour when being moved or replaced. The wort recirculation process inside the wall under the level of the liquid and the transfers from the lower part that limit the possibility of oxidation of the wort, together with the lautering performed in a independent tun, guarantee the high efficiency of this Brewhouse.
5HL brew system with HLT
Mash/Kettle/Whirlpool tun(brew system)
AISI 304 stainless steel material
Steam or electrical heating
Mechanical Agitator with two blades connected to the bottom
Internal cleaning spray-ball
Termal insulation 100mm
Tangential inlet for Whirlpool
Safety probe to control overboiling
Lauter tun(brew system)
AISI 304 stainless steel material
Stainless steel removable filtration plate trapezoidal passage.
Side hatch with chute to unload spent grain
Internal cleaning spray-ball
Double wall thermal insulation
External glass level indicator to control filtration speed
Rake
Rotating blade to cut and extract spent-grain
Components
AISI 304 stainless steelone or two-stage tubular/multitube or plate heat exchanger
Plate degree (°P) cooled inspection station and basin
Hygienic stainless steel piping and valves
Flowmeter
Flowmeter to check the filtration speed and wort clarity
Liquid transfer pump
Electric control
AISI 304 stainless steel panel
Pump and agitator control
Touch-Screen PLC for the automatic control of the mash and production process with the possibility to memorize the recipes
Inverter to regulate the speed of pumps and agitator
Hot Liquor Tank(brew system)
AISI 304 stainless steel tank
Internal washing device
Termal insulation
Water heating system
Water delivery pump
Temperature control
Brew system FERMENTATION TANKS
---
---
FERMENTATION TANKS/UNITANKS
Useful capacity from 1 to 200 hl; Available with simple or cooled/insulated wall; with conical bottom.
Possibility to choose among various finishing: satinized, 2B, mirror polished;
Constructed with at least 20% more useful volume, in order to prevent spilling of foam during the fermentation phase, and high-quality, hermetically welded AISI 304 stainless steel coating;
Constructed with food-grade TIG welding with Argon inert gas protection;
Complete with insulating system at the bottom and on the shell in order to avoid temperature loss;
Supplied with upper manhole or side manhole
Equipped with spray balls to guarantee complete cleaning;
CE Certified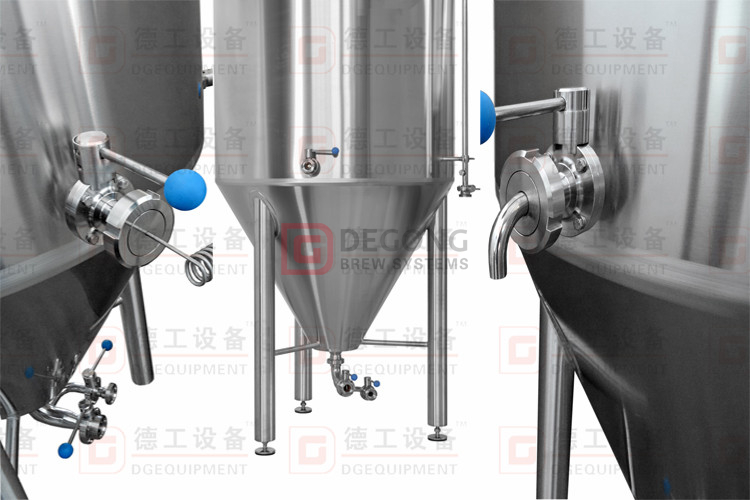 Brew system Fermentation tanks details
DEGONG BREWERY                                                         
---
---

Ready to Get Started Building Your Dream brewery?
Contact DEGONG Alice Today!