Description
5HL brewery equipment is the best option of brewery equipment for a starting your own brewery business.And it also is a good choice for large restaurant used or creating your own beer brand.The brewery consists of a brewing part(mashing system/brewhouse),fermentation part and other auxiliary equipment.
Beer brewhouse of 5HL brewery equipment introduction
The compact Brewhouse section consists of two universal apparatus: Mash-Lauter tun (M-L) and Kettle-Whirlpool tun (K-W). Both devices are able for heating, which gives a wide range of opportunities for the implementation of creative ideas of brewers. Small dimensions and well-thought-out piping system of the brewhouses makes the workflow simple and convenient.
Combined 2-Vessels Brewhouse System:
500L Mash-Lauter Tun
500L Kettle-Whirlpool Tun
1000L Hot Liquor Tank
3T wort pumps
7m2 plate heat exchanger
Hops filter
Aeration device
External wort grant (optional)
Brew kettle condensate collector (optional)
Grist case/hopper (optional)
Hop back (optional)
Steam boiler(optional for steam heating method)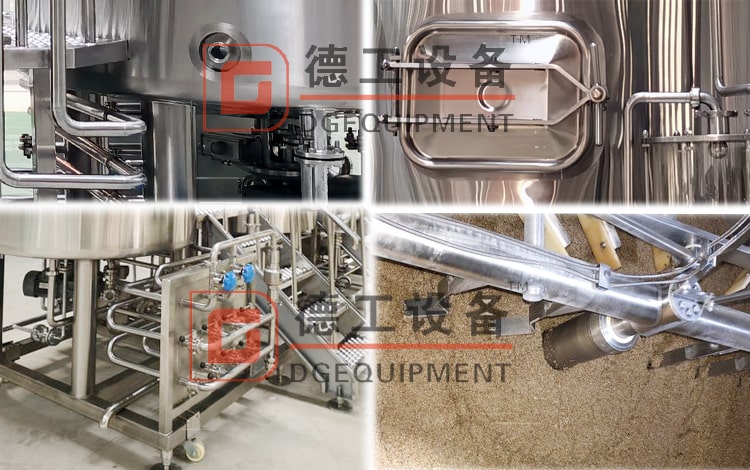 | | |
| --- | --- |
| Heating method | Electricity/steam/gas direct fire heating |
| Polishing | Mirror polishing to 0.4-0.6 micron |
| Welding | 100% TIG welding |
| Certification | CE, PED, ISO9001 |
| Control system | Semi-automatic |
| Warranty | 3 years |
| Manufacturer | Yes |
| Cooling system | Dimple plate |
| False bottom | 5mm, removable and easy clean |
| Material | SUS304 or red copper |
| Thickness | Inside: 3.0mm, outside: 2.0mm |
| Insulation | Polyurethane 100mm |
Beer fermentation tank
DEGONG beer fermentation tank is made in top grade certified stainless steel materials(2B or precise polish for available surface).Fully equipped pressure resistant, glycol jacketed, stainless steel cylindroconical vessel designed for fermentation, maturation and carbonisation of most types of beverages.
We have specification of 50l~50000l stainless steel beer fermentation tank,also we can produce as our client's request.
Fermentation tank(CCT/Unitank)

 

 

V total=1300l, V net=1000l;

Н = 2550 mm , Ø = 1300 mm,

Material: Steel AISI 304

– Thermal insulation (polyurethane) – 100mm;

–  Rotary cleaning ball

–  Upper/side manhole

–  Wort-hose connection DN 32

–  Cooling jacket (cone + cylinder)

–  Pressure-relief device

–  Temperature sensor

–  Sampling valve

–  Level indicator

–  Carbonation stone

–  Hops adding port


Exhibition


Our engineer go to Visit customer's brewery and explore brewing technology

We have obtained ISO/CE/PED ceritification,which is issued by Germany institution TUV


Factory/Working shop