Description
The basic brew system is composed of 6 systems.which is malt miller,mashing system,fermenting system,cooling system,control system and cleaning system.Some craft breweries provide fresh beer locally,so they just need to fill beer in keg or bottles and don't need to filter and sterilizer;Some commercial used large breweries also need pasteurizer to sterilize,diatomate filter to filter,packing machine to package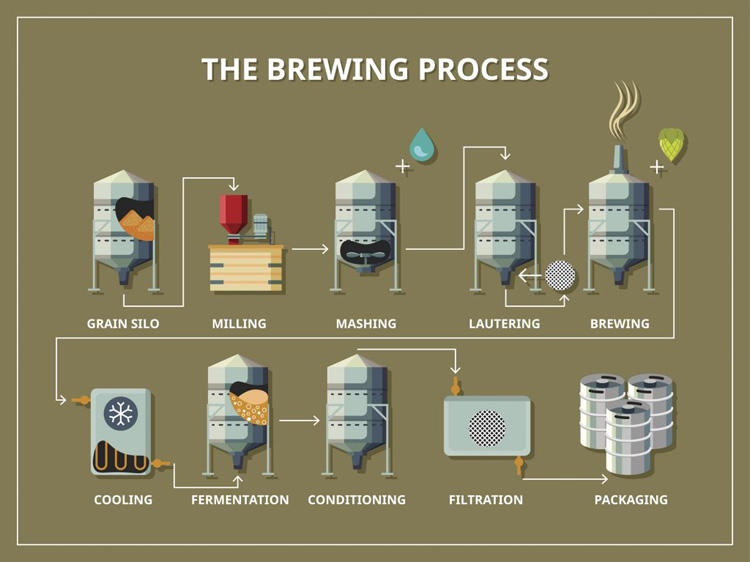 The output of beer brewing equipment depends on the type and size of mashing equipment, the batches of mashing per day; the size and number of fermentation tanks, and the fermentation cycle of beer.
Beer brew system/brewhouse/mashing system introduction
The mashing system is the core of the whole set of equipment and is responsible for the process of making malt into wort. Namely: "mashing-lautering-boiling-whirlpool" four main process steps. These four functional proceed by several tanks. The hot water tank is auxiliary equipment.
A single tank can proceed one function or several function.The mashing system with four tanks is 4 kettle brew system. The four functions with three tanks is 3 kettle brew system. The simplest combination of mashing system with two tanks is 2 kettle brew system
Main types of brew system:
2 kettle brew system:mash/lauter tank+boiling/whirlpool tank;
Two-tank three kettle brew system: mash/lauter tank& whirlpool tank(mash/lauter tank is above the whirlpool tank) + boiling kettle);
3 kettle brew system: mash tank+lauter tank+boiling/whirlpool tank;
4 kettle brew system, :mash tank+lauter tank+boiling tank+whirlpool tank
Hot water tank is an optional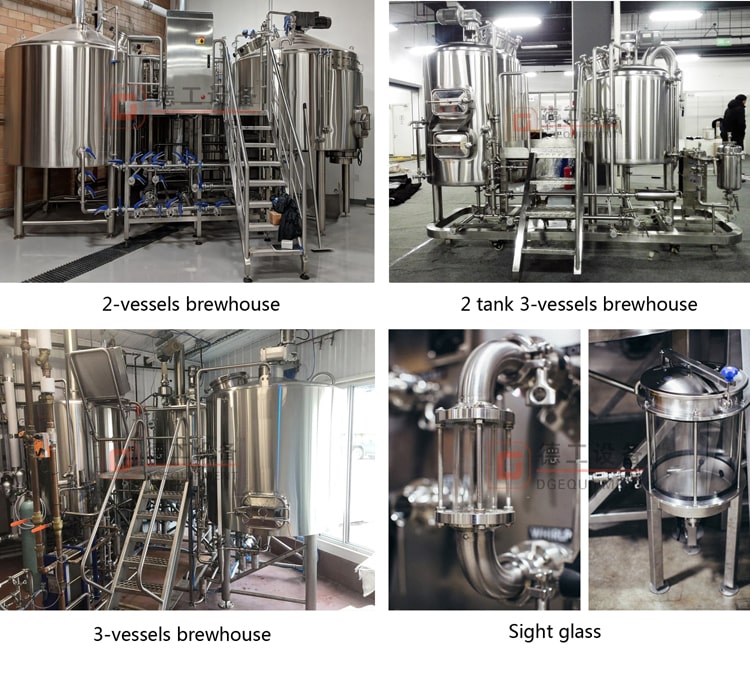 2 kettle brew system+hot water tank is suitable to the microbrewery,hotel,brewpub,restaurant……And most of them choose equipment below 2000L.3 kettle brew system or 4 kettle brew system is suitable for commercial brewery.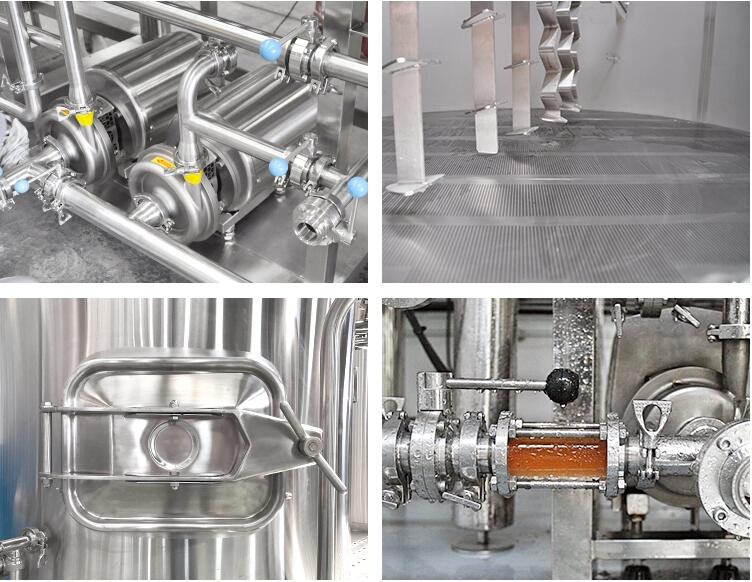 Investment suggestion: The size and type of mashing system should be based on individual site, capacity requirements and investment budget. The larger the mashing system is, the higher the energy consumption is and the higher the investment cost is. However, the cost of later reconstruction is relatively high. So you can think about early saccharification in one step.
Fermentation system
The wort ferment into beer in the fermentation tank. Fermentation tanks are equipped with separate cooling zones which can be individually controlled and entirely insulated. Include CIP tube and a cleaning head. The materials and the surface finishing depend on the intended application and the customers's specifications.
Include all necessary accessories,such as breathing valve,carbonation stone,sample valve,themometer, pressure gauge,mechanical regulation valve…….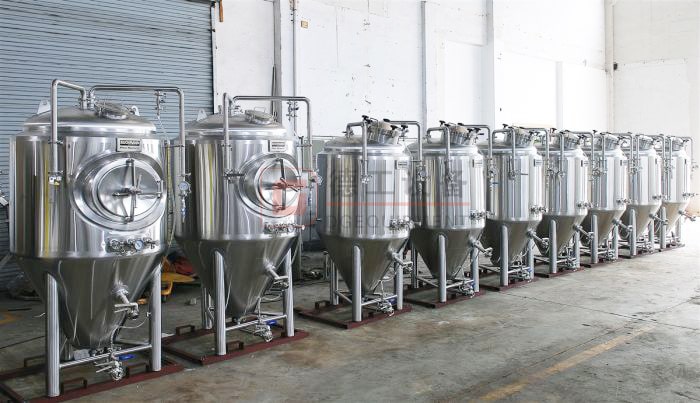 The volume of the mashing system and the fermentation system can be 1:1, 1:2…The volume of the fermentation tank is a multiple of mashing system. Simply speaking,the wort should enter into fermentation tank in 24 hours.
The quantity of fermentation tank is depend on output plan and fermentation cycle.
Company information

Service