Description
7 barrel 3 containers mashing system affordable beer brewery equipment is usually installed in small breweries, bars, restaurants, hotels, etc. Now with the development of society, people are not satisfied with the boring taste of commercial beer. So many beer brewing enthusiasts started their own craft beer brewing journey. They buy small beer brewing equipment (50L-1000L) and research various flavors of beer. We can see that many shops and other places sell fresh beer, most of which are provided by small craft breweries, with unique taste and rich taste, which are most popular.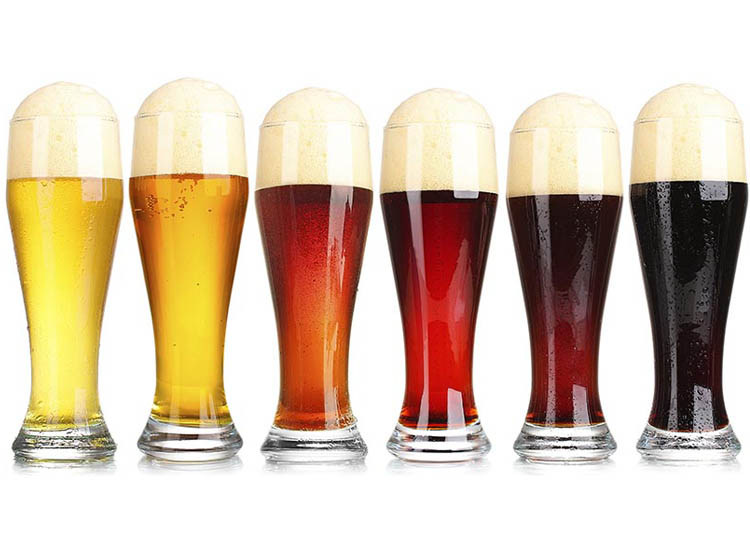 7 barrel 3 containers mashing system brewery equipment is a good choice.The configurations is  :
—Malt Mill  (200kg/h,1set), double roller style
—Mash (700L,1set) ,double wall stainless steel
— lauter(700L,1set) ,double wall stainless steel
—Boiling/whirlpool tank  tank (700L,1set), double wall stainless steel
—Fermentation tank (700L,6sets), 60 degree conical bottom
— Glycol water tank(1500L,1set), with glycol jacket
—Wort pump (3000L/h),Motor Power for mash lauter tank,boiling tank, whirlpool sharing
—  Plate heat exchanger  (BR0.05-3,1set)  304 stainless steel, the two phase cooling
— Refrigeration unit (Freon R-404A,1set) 2.35KW, 380V, cooling capacity 5P full-closed
— Circulate pump (SGR40-6-20,1set)  220V, 0.75KW, the standard nozzle Path.
— CIP pump (3000L/h,1set) Motor Power: 0.75KW
— Wort aerating device (1 entry)  All argon arc welding, made in 304 stainless steel.
— Wort sugar measuring device (1 pc) ,All argon arc welding, made in 304 stainless steel.
— Power cabinet (1set) .
— Yeast additional tank(30L,1set)
—Fittings and accessor
After beer brewing,we need to fill it into bottles,cans or kegs,so it will need bottling line,canning line or kegging machine.Some beer suppliers will sell commercial beer,so it will need to be filter and sterilized to improving their shelf life,then filter and pasteurization machine is necessary……And some breweries will sell beer in their bar or restaurant,so they will need beer dispenser.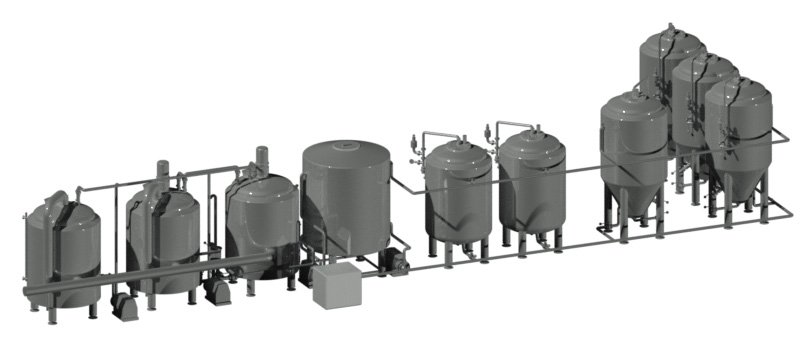 The whole brewing system layout with 3 containers mashing system
Features of DEGONG 7 barrel brewery equipment
Brewhouse structure (can be 2 containers;3 containers or 4 containers which depends on daily batches and budget)
Steam heated brewhouse, can also be electric or gas heated if request.
60° conical bottom with cooling jacket fermenter
Thickness of outer shell is 2.0mm, of inner shell is 3.0mm, of dimple jacket is 2.0mm
Color version touchable screen with programmable logic controller
ABB variable frequency drives for wort pumps and motors of raker and blender
High quality manual butterfly valves ( can be pneumatic valves if request)
Discharging spent grain automatically
Design pressure: 3.0 bar   working pressure: 1.5-2 bar
CIP cleaning ball with 360° of coverage
Insulation: Polyurethane    thickness: 100mm
Temperature controlling
Brewhouse built in platform, which is easier for workers to operate
The brewery equipment is completely turnkey