Description
From the beginning of the saccharification process to the cooling of the wort and then entering the fermentation tank, our commercial beer equipment is used in beer brewing systems.
Decoction mashing and infusion mashing can be done with our equipment.The service includes: complete set of microbrewery equipment, installation turn key, recipes and technology of branded beers, staff training and more.
Commercial brewery equipment configuration
Commercial brewhouse With Different Combinations
We can combine according to customer needs.
2 vessels: Mash Lauter tun & Kettle Whirlpool tank
                 Mash Lauter tun+Hot water tank & Kettle Whirlpool
                 Mash Kettle tun & Lauter tun + Whirlpool tun
3 vessels: Mash tun & Lauter tun & Kettle Whirlpool tun
Mash Lauter tun & Hot water tank & Kettle Whirlpool tun
4 vessels: Mash tun & Lauter tun & Kettle Whirlpool tun
Commercial brewhouse three heating method
Electric heating: The equipment is heated by electric heating pipes. (Electric heating is not recommended for equipment over 1 ton)
Steam heating: The equipment configuration has a steam jacket, a steam boiler. (Steam boiler: electric boiler, diesel boiler, gas boiler.)
Direct fire heating: There is a boiler under the saccharification equipment to burn gas or coal. Now the direct fire heating equipment mainly burns gas. In foreign countries, the price of steam generators is extremely high to reduce equipment purchases and not directly use fire for heating.
Details of commercial brewhouse
Commercial brewery equipment fermentation product features
1.Our Fermentation tanks/tun available from 100L to 20000L (1 gallon to 20 gallon) and average
25% Head Space.
2.All tanks have a Dish top, Cylinder body & 60/70° Cone Bottom.
3.Certified stainless steel(304,316) material for all tanks, with 100% TIG welded joints and seams
with sanitary interior polish.
4.Dimple Plate jacket for Glycol cooling & high efficient Polyurethane foam insulated.
5.We can customize fabricate any tank to meet your brewery's space and height restrictions.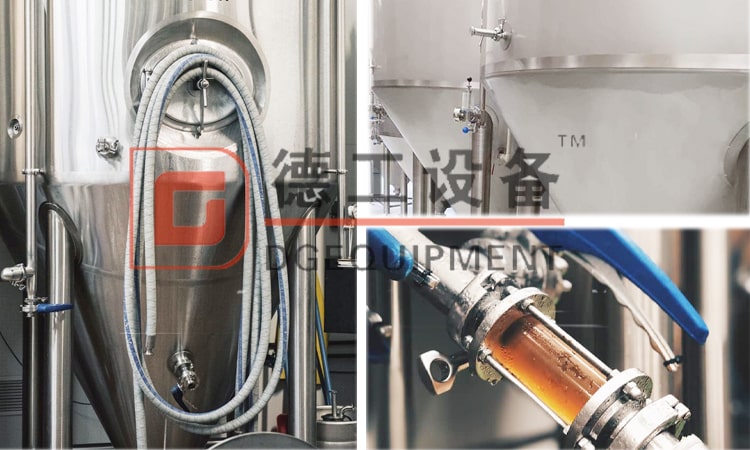 Details of fermentation tank
Commercial brewery equipment bright Beer Tank
Standard stainless steel bright tanks for beer maturation, conditioning, service, carbonation
Single size or double size fermenter used for restaurant or bar
Tanks quantity is exactly calculated for various beers and the function
Our advantage
Contact us
If you are interested in beer equipment, or want to build your own brewery, and have your own beer brand. Please feel free to contact us Welcome to order beer equipment. My pleasure.
Whatapp:+86 17860525597
EMAIL:[email protected]
Contact person:Kate