Description
7BBL beer equipment brief introduce
7BBL beer equipment can meet the wort production requirements of self- made beer bar and can complete the whole process from grinding of raw material, material feeding, mash, lauter, boiling, whirlpool and cooling to the final oxygenation.
There are three heating methods: steam heating, electrical heating and direct fire(gas).
mash/lauter tun is equipped with variable frequency mixer which can achieve the exchange of rotating speed and meet the requirements of rotating speed for mash mixing and lauter tank mixing.
7BBL beer brewing equipment Operation and control are achieved by automatic control or semiautomatic control with computer industrial control system.
Input and output of material and self- circulation are connected by sanitation material pump and hose and the cleaning adopts CIP cleaning tanker and hose connection to achieve self-circulation cleaning.
Connection type of pipelines for requirements is quick assembly which is convenient for cleaning, maintenance and repair during production.
Reasonable design, delicate, process,nice appearance,durable service, easy for operation, repair and maintenance.
It can save costs and bring huge economic benefits
---
Beer brewing process
Mill grains→grist→mash/lauter tun→boiling(adding hops)/whirlpool tun→cooling→fermentation tank(adding yeast)→green beer→bright beer tank→beer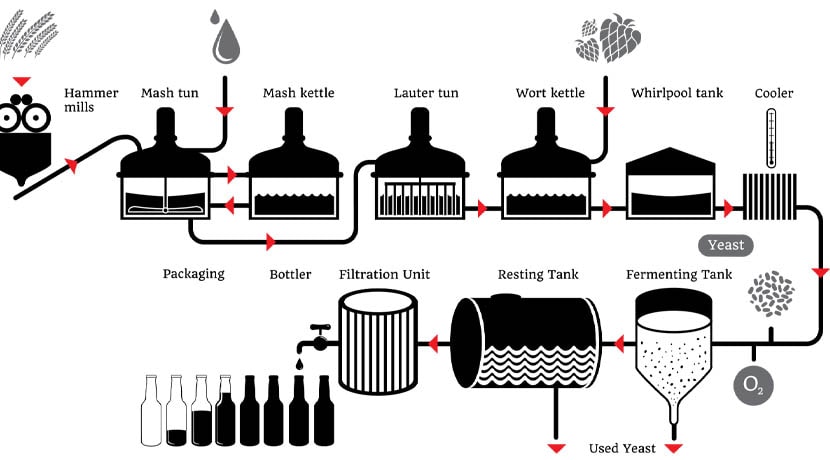 ---
7BBL beer equipment for brewhouse system
| | |
| --- | --- |
| unit | configuration |
| mash/lauter tun | raker with ABB VFD motor, temperature sensor, Rotary CIP spary balls, level light tube, false bottom |
| boiling/whirlpool tun | high accuracy temperature sensor Sparage ring, sus304 spent grains hatch,Stirring blades |
| heating method | steam/electric/direct fire |
7BBL beer equipment brewhouse(2-vessel)
---
7BBL Beer Equipment fermentation tank
Fermentation is also an important part of brewing process, it can insure the health of the fermentation process.
Equipment composition: a group of fermentation tanks and bright beer tanks.
Structure pattern: opening, horizontal and vertical form
Cooling way: low temperature refrigerant cooling, direct cooling and cold storage
Volume range: each tank 20HL-200HL ,30BBL-200BBL(customized)
Appearance style: stainless steel sanitary design
Special customization: horizontal and opening fermentation tanks accept customizing according to specific customer requirements
Equipment features: beautiful appearance, exquisite polish
Control features: Automatic control, easy to operate
7BBL beer equipment for fermentation tank
---
Application places
7BBL brewing equipment is suitable for restaurants, bars, hotels etc, with less investment, high economic benefits.